Your Evening Briefing
Here are today's top stories for Europe.
Bloomberg News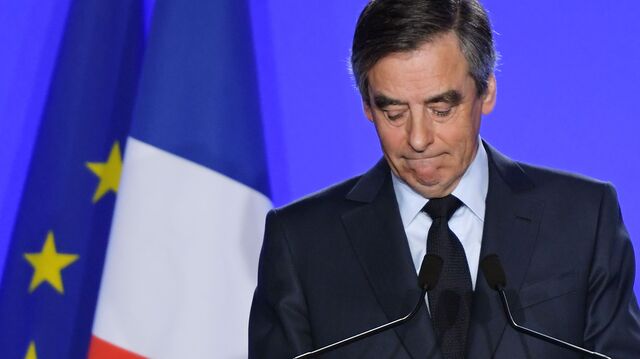 The evening briefing will soon be available in your inbox every day. Sign up here.
Market-watchers have wondered for weeks whether the imminent formal start of Brexit was already priced into the pound. Now we know. On Monday evening, as Parliament gave Theresa May the green light to invoke Article 50, sterling held steady. This morning anxiety kicked in and the pound tumbled to an eight-week low. It can't have been helped by a new Scottish push for independence. Former First Minister Alex Salmond told Bloomberg TV today that a separate Scotland could pursue single-market access via the Nordic model. — Andy Reinhardt
François Fillon had a pretty bad day (again). François Fillon was charged with misuse of public funds over allegations he hired his wife for a no-work job, casting a permanent shadow over his bid to become France's next president. The center-right former prime minister has vowed to stay in the race no matter the outcome of any probe 
Charlotte Hogg's day may have been worse. The Bank of England's chief operating officer — appointed just this month as deputy governor — resigned from both positions after a parliamentary committee said her professional competence "falls short of the very high standards required." Hogg had come under fire for failing to disclose that her brother works at Barclays. Her departure is a blow to BOE Governor Mark Carney, who has lost a close ally at an awkward time.

Nothing cuts through Europe like the Rhine. A life-blood of trade since Roman times, the river and its delta bind Switzerland to Rotterdam, Europe's biggest seaport. On an 800-kilometer trip along the river, Bloomberg found plenty of discontentment with the EU and support for emerging populist parties. But the commitment to peace, integration and the Single Market was stronger.
Lowering their exposure. Banks in Europe are starting to get nervous about real estate again. Led by Europe, the amount of money available for property investment globally has fallen on an annual basis for the first time since 2011, according to broker Cushman & Wakefield. Lenders are also shunning riskier properties.
Give me your tired, your poor. Well, not quite. But while Western European nations confront a rising tide of nativism and xenophobia, Russia is welcoming a growing number of immigrant workers to help rebuild its economy. Most come from former Soviet states. As Andrey Movchan, a director at the Moscow Carnegie Center, explains: "We badly need cheap labor that cannot be found inside the country."
The spending power of hipsters. Laugh if you like, but hipsters are now shaping more than just their beards. Britain's Office of National Statistics is adding non-dairy milk, bicycle helmets and gin to the "shopping basket" it uses to gauge U.K. inflation. Meanwhile, it's dropping the basic mobile handsets now largely run out of town by smartphones. Pity the poor, relaunched Nokia 3310.