Valls Hints at Macron Support in France as Fillon Woes Mount
By
Former prime minister says he won't back Hamon in first round

Le Parisien publishes more details of Fillon family's finances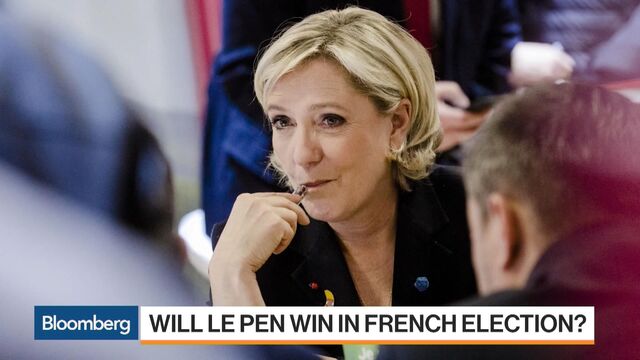 Former Socialist Prime Minister Manuel Valls withheld his support from his party's nominee in the presidential election as French media said he may be considering endorsing independent front-runner Emmanuel Macron.
Valls told Paris Match he won't back Benoit Hamon before the first round vote on April 23 while Le Parisien reported he might even throw his weight behind Macron instead, judging him the best bet to keep nationalist Marine Le Pen out of power.
Hamon, who beat Valls in the Socialist primary in January, is running in fourth place in polling for the first ballot and set to be eliminated before the runoff on May. 7. An aide to Valls said the ex-premier has still to make up his mind but wants to see a progressive, pro-European agenda implemented after the election.
"It's baffling that Valls isn't supporting Hamon," Alexis Bachelay, a spokesman for the Socialist candidate, said Tuesday on RMC radio.
Macron, 39, has emerged as favorite to be France's next president after quitting his position as economy minister under Valls in Francois Hollande's government last year to run for president. With the Republican Francois Fillon battling a succession of financial scandals, Macron is attracting support from establishment figures on both the left and the right who want to stop Le Pen's campaign to rip France out of the euro.
For a dashboard tracking European political risk, click here
While Le Pen is leading most surveys of first round voting intentions, Macron was projected to win the runoff by 21 percentage points in Ifop's rolling daily poll on Monday.
French bonds have stabilized this month, with the extra yield investors demand to hold French 10-year debt instead of their German equivalents rising 1 basis point to 63 basis points at 9:48 a.m. in Paris. The spread reached a four-year high of 79 basis points in late February as attempts at a left-wing alliance threatened to undermine Macron's bid.
As Fillon, 63, prepares to be questioned, and potentially charged, on Wednesday by judges in Paris investigating allegations he handed his family fake jobs as parliamentary aides, Le Parisien reported that Fillon's children paid part of their parliamentary salaries back into their father's bank account.
For an explainer on Fillon's financial scandals, click here
Having started the year as front-runner, Fillon stumbled in mid-January when Le Canard Enchaine newspaper reported that his wife and children had earned almost 1 million euros ($1.1 million) in public salaries over a number of years while doing little real work.
The Republican nominee is also facing scrutiny from the French parliament over reports he obtained 48,500 euros worth of tailored suits. Fillon on Monday acknowledged receiving suits as a gift from a friend, and brushed off questions about whether it was appropriate. "So what?" he said, in a Les Echos interview.
The office for parliamentary standards is looking at the issue to decide whether it may constitute a conflict of interests.
"What shocks people is the personal enrichment," Florian Philippot, a senior adviser to Le Pen, told Radio Classique Tuesday. Le Pen herself is under investigation for allegedly using EU funds to pay for National Front staff in France.
Fillon is trying to turn the campaign back to policy issues, and has been setting out his plans to overhaul the French economy. He will speak at a rally of the French hunters federation Tuesday while Macron will talk about justice and the independence of the judicial system in a speech in Lille in the north of France.
Before it's here, it's on the Bloomberg Terminal.
LEARN MORE