Five Things You Need to Know to Start Your Day
Get caught up on what's moving markets.
By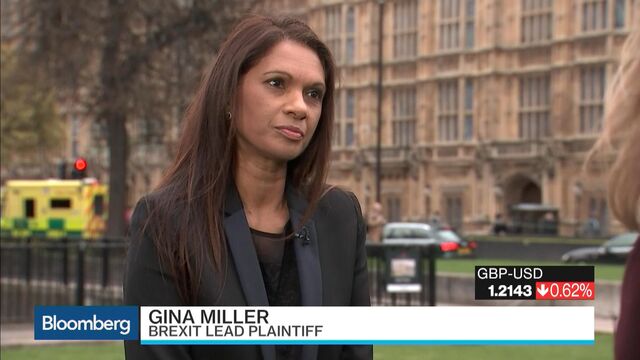 Want to receive this post in your inbox every morning? Sign up here.
Britain moves closer to the exit, a two-day Fed meeting begins, and it's snowing in New York. Here are some of the things people in markets are talking about today.
May gets approval
The U.K. Parliament has passed legislation allowing Prime Minister Theresa May to invoke Article 50 of the Lisbon Treaty, with two officials familiar with her plans saying she will use that clause to trigger Brexit negotiations by the end of the month. Scotland's First Minister Nicola Sturgeon threw a spanner in the works when she called for a second Scottish independence referendum to be held by the spring of 2019. The pound, which had proved resilient yesterday, is selling off this morning, and was trading at $1.2143 by 5:20 a.m. Eastern Time. 
Fed meeting begins
The two-day Federal Reserve meeting kicks off in Washington later today, with the bank widely expected to announce an interest-rate increase when its decision is published tomorrow afternoon. Economists expect the path for rates to include three hikes this year. While the market seems prepared for that, attention is starting to turn to how the Fed will unwind its $4.5 trillion balance sheet.
Snow day
The mid-Atlantic and northeastern United States is being hit by a winter storm that's expected to bring as much as 20 inches of snow to New York City. Airlines have cancelled thousands of flights, with schools also closed across the region. The massive disruptions, coupled with the Fed decision tomorrow may make for a quiet day in markets today.
Markets slip
Overnight the MSCI Asia Pacific Index dropped 0.1 percent, while Japan's Topic Index closed 0.2 percent lower. In Europe, the Stoxx 600 Index was 0.3 percent lower at 5:47 a.m. on the eve of the Dutch election. U.S. stock-market futures pointed to a lower open. 
Hogg out
Bank of England Deputy Governor Charlotte Hogg resigned from her post this morning after U.K. lawmakers on a Treasury committee said she didn't meet the standards required for the position. She had come under pressure for the non-disclosure of the fact her brother works at Barclays Plc., which the BOE regulates. Her resignation means that once Kristin Forbes leaves at the end of June to MIT, there will be no women in the monetary policy-making levels of the U.K.'s central bank.
What we've been reading 
This is what's caught our eye over the last 24 hours.
Before it's here, it's on the Bloomberg Terminal.
LEARN MORE