Scotland Looks at Nordic Back-Door to Europe's Single Market
By , , and
Former Scottish first minister speaks on Bloomberg Television

Scotland has 'many, many friends' in Europe, he says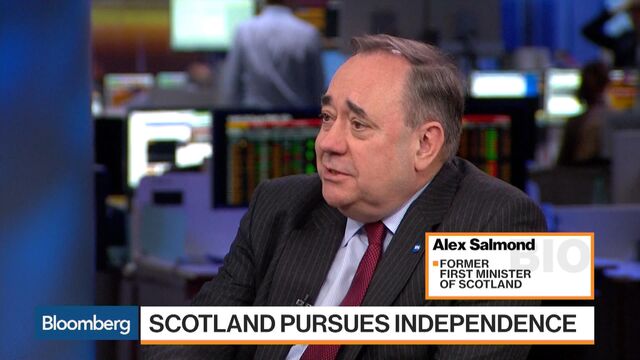 Scotland could retain access to the European single market by initially joining the parallel trade association that includes Norway and Iceland, according to former Scottish leader Alex Salmond.
In an interview with Bloomberg Television, Salmond said European countries would be receptive to an independent Scotland should the country split from the U.K. Scottish First Minister Nicola Sturgeon on Monday announced plans for a referendum by spring 2019 in an effort to stop the nation being pulled out of the European Union because of Brexit.
Follow @Brexit for all the latest news, and sign up to our daily Brexit Bulletin newsletter.
"Scotland has many, many friends in Europe," said Salmond, who led the failed independence campaign in 2014 and is now the Scottish National Party's spokesman on foreign affairs. "More than the U.K. at the moment."
The EU has said Scotland can't retain the U.K.'s membership and would have to apply as a new state, meaning Spain could veto it because of concern its region of Catalonia would want to follow the same path. A quicker option could be to seek access to the single market via the European Free Trade Association, which was established in 1960 and included countries like Britain and Sweden before they joined the EU.
Let's See
It's not clear whether the four remaining EFTA members -- they also include Liechtenstein and Switzerland -- would welcome Scotland or what the EU would think of the back-door route to the single market. 
QuickTake Scotland's Independence Is Back on the Table
The Swiss Economy Ministry would "look into it" should Scotland leave the U.K. and apply for EFTA membership, according to Noe Blancpain, head of communications. Icelandic Foreign Minister Gudlaugur Thor Thordarson said only sovereign states can be considered for membership so Scotland is a hypothetical debate. Liechtenstein's ambassador to the EU, Sabine Monauni, said by email that the question "has to be decided by common accord of all EFTA states once an application has officially been made."

Frank Bakke-Jensen, the Norwegian minister responsible for European Affairs, said it was too early to take a view.
"It's a consideration we will make in due time," he said in an interview. "Seen from a Norwegian perspective, it only shows really that the Brexit process is considerably more complicated than the relatively simple picture that was drawn up by Brexit fans before referendum."
Read More: Scotland to Pursue Another Independence Vote
Battle Memories
Scotland's EU status was a key battleground in the 2014 independence referendum, which resulted in voters choosing 55 percent to 45 percent to remain in the U.K. That's now changed because of Brexit and Sturgeon aims to time a new vote so Scots would be choosing between independence -- with some EU ties maintained -- and following the U.K.'s path out of Europe.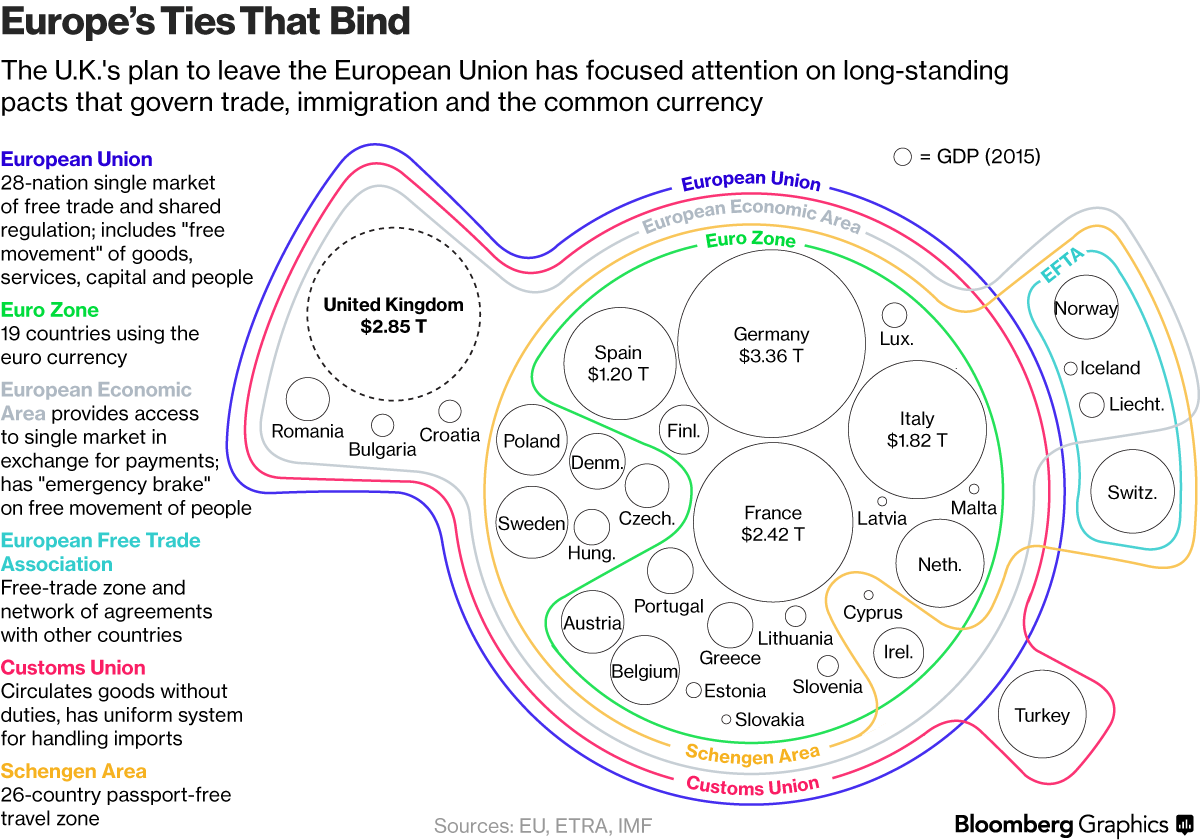 EU Commission spokesman Alexander Winterstein said on Tuesday an independent Scotland's membership remains "a question which is as interesting as it is hypothetical." He said the EU's position with regard to secessionist regions hasn't changed since 2012, when then President Jose Manuel Barroso said European treaties would no longer apply to the new state.
Another area that cost the nationalists in the last campaign was the currency, with the U.K. rejecting the idea Scotland could unilaterally keep the pound. While Sturgeon said on Monday that decision was yet to be made, Salmond dismissed the idea that Scotland would have to join the euro. New EU members are expected to join the single currency eventually.
"Negotiations about Scotland would be a good deal easier than negotiations in London and Brexit," Salmond said.