Pound Tumbles in Delayed Reaction as May Gets Brexit Go-Ahead
By and
News brings 'a whole new catalog of uncertainty': Rabobank

Sterling touches lowest level in eight weeks versus the dollar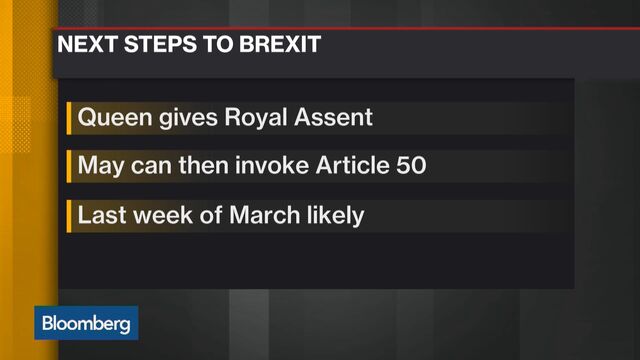 The pound tumbled against all of its Group-of-10 peers, touching an eight-week low versus the dollar, after U.K. Prime Minister Theresa May was given the go-ahead to trigger Brexit.
Sterling had a delayed reaction to the news, which came out late Monday in London and gives May the chance to formally kick off negotiations with the European Union. Investors had been reluctant to sell the pound during Tokyo trading hours as markets were quiet before the Federal Reserve policy decision on Wednesday, according to Masashi Murata, a currency strategist at Brown Brothers Harriman. The selloff comes a day after Scottish First Minister Nicola Sturgeon signaled the start of a legal process for an independence referendum.
Follow @Brexit for all the latest news, and sign up to our daily Brexit Bulletin newsletter.

The pound has been one of major victims of the U.K.'s vote to exit the EU, and has fallen about 19 percent versus the dollar since the June referendum. Sterling has also shown a propensity to drop after new developments in the Brexit process, even if, as is the case for Monday's votes, they have been widely expected.
"Now that Parliament have cleared the way for Theresa May to trigger Article 50, there is a real realization in the market that the U.K. government is right on the edge of potentially difficult negotiations with the EU regarding Brexit," said Jane Foley, a senior currency strategist at Rabobank International in London. "This could unleash a whole new catalog of uncertainty about the U.K.'s future relationship with the EU many of which could be detrimental to investor confidence."
Sterling fell as much as 0.9 percent to $1.2110 on Tuesday, its lowest since Jan. 17, the day May outlined her Brexit plans which would prioritize regaining control of laws and immigration at the cost of losing access to the single market.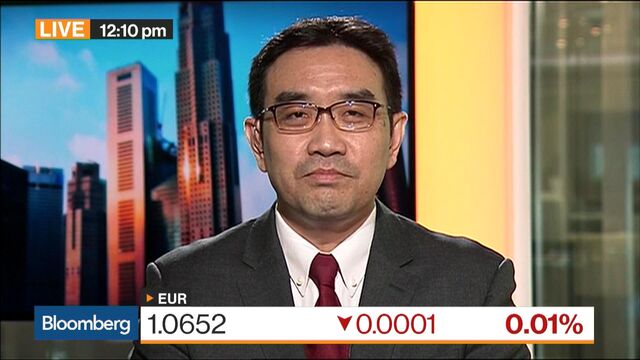 Pound drops 0.7% to $1.2128. Bearish signal confirmed after 21- and 55-DMAs crossed last week. Support at Jan. 16 high of $1.2085
EUR/GBP rises 0.6% to 0.8768, close to erasing Monday's decline
While SEB AB's strategist Richard Falkenhall doesn't "foresee any immediate major market reactions connected with triggering Article 50," he said this should "in no way be interpreted to mean we have become more optimistic on the outlook" for the pound

"Divorce negotiations will soon begin, during which we expect very harsh and perhaps downright hostile statements from both sides as they assume their respective negotiating positions," Falkenhall writes
SEB maintains its target for EUR/GBP close to 0.90 in 3Q