Modi's Win Sends Indian Stocks to Record, Rupee to 16-Month High
By and
Nifty surpasses March 2015 peak, Sensex gains as much as 2.1%

Bigger-than-expected victory seen as endorsement of reforms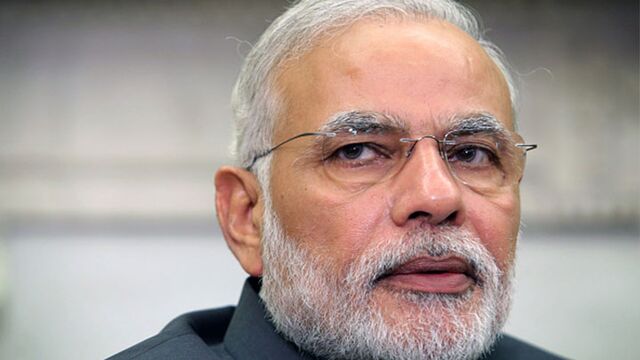 Indian equities rallied to a record and the rupee climbed the most since 2013 after Prime Minister Narendra Modi's resounding victory in state elections boosted expectations for a continuation of his reform agenda.
The NSE Nifty 50 Index climbed 1.7 percent to 9,087, crossing its March 2015 record close, as the market reopened after a holiday. The India VIX Index, a gauge of expected stock-price swings, touched an all-time low. The rupee surged 1.2 percent to 65.8175 per dollar, the strongest level since November 2015. The central bank was seen buying dollars in early trade to cap gains but moved away later, Mumbai-based traders said.
"This win will give Modi the confidence to push ahead with more reforms and not pursue populist policies," Sampath Reddy, chief investment officer at Bajaj Allianz Life Insurance Co., said by phone. The insurer, which oversees 480 billion rupees ($7.3 billion) of assets, is bullish on financial-services companies and metal producers, he said.

Modi's Bharatiya Janata Party won 312 seats in the 403-member assembly of Uttar Pradesh, according to the Election Commission of India, up from 47 in 2012. The results in India's largest state were seen as a litmus test of Modi's popularity and reforms, including opening up the country to more foreign investment and seeking to introduce a goods and services tax, ahead of general elections in 2019.
Read more: India State Vote Holds Key to Modi's Future: QuickTake Q&A
While exit polls released last week suggested a large BJP victory was possible in Uttar Pradesh, the scale of the win was stark in a state that has long been divided along religious and caste lines. It is also a repudiation of political foes who assumed that Modi's disruptive Nov. 8 move to junk high-value currency notes would be politically unpopular.
"Uttar Pradesh is a state where mandates have tended to be mostly divisive, so the result is a mandate for development, which has been sorely missing in the state," Gautam Sinha Roy, a fund manager at Mumbai-based Motilal Oswal Asset Management Co., said by phone. "Markets will now start assigning higher probability to a BJP victory in the 2019 polls."

India's economic growth has been 7 percent or more in each of the last four quarters, which has helped lure $3.4 billion of foreign funds into local stocks and bonds this year. Mutual funds bought shares for seven months through February, including a record $2.1 billion in November. The S&P BSE Sensex has risen 11 percent in 2017, and the rupee is up 3.2 percent against the dollar.
"We expect the Reserve Bank of India to more actively cap further rupee gains given the sharp swing higher in the real effective exchange rate in recent months," Divya Devesh, an Asia FX strategist at Standard Chartered Bank in Singapore, said by e-mail. He forecasts the rupee at 69 rupees to the dollar by year-end.
Pricey Valuations
The Nifty came off an intraday high of 9,122.75 as investor focus turned to a near-certain interest rate hike from the Federal Reserve this week and expected revival in corporate profitability. The Nifty and the Sensex are valued at about 21 times forward earnings, the highest level since April 2010.
"Valuations look stretched and investors are cautious with the Fed meeting round the corner," said Sushant Kumar, a fund manager at RAAY Global Investments Pvt. in Mumbai. "Stocks have priced in the expected increase in rates. The focus is on Fed's outlook." The Nifty may reach 10,000 by March 2018, accompanied by as much as 14 percent expansion in earnings of its 50 members, he said.
Still, the scale of the BJP's victory paves the way for further reforms and should lead to more inflows, supporting asset prices, according to Vikas Gupta, chief investment strategist at OmniScience Capital Pvt. in Mumbai.
"For international investors, India is one of the few emerging markets that has everything going for it: demographics, economics and politics," he said. "With elections settled, it is clear that the federal government is now going to be fully in charge of the parliament."