Japan's Abe Backs Embattled Defense Minister Amid Scandal
By and
Opposition calls for Inada to resign for misleading parliament

Furore over suspicious land deal has hurt Abe's support rate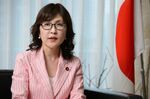 Japanese Prime Minister Shinzo Abe backed his defense minister Tuesday after the main opposition party called for her to resign for misleading parliament about her links to a controversial educational foundation.
Abe told parliament Defense Minister Tomomi Inada should fulfill her responsibility to explain the situation, but stay in her job. Inada, a former lawyer, apologized for telling a parliamentary committee she had never advised a nationalist kindergarten operator at the center of a scandal over a suspicious land deal. The defense chief said she had later confirmed that she represented the group in court years ago in place of her husband, also a lawyer with the same practice.
Documents indicate that Inada appeared in court on behalf of Moritomo Gakuen in 2004, Kyodo News reported, citing a person connected with the case.
"I didn't remember this at all. I answered questions based on my memory, so I don't see my responses as false," Inada told reporters earlier. "I don't see any need to take responsibility for this."
Abe's support levels have fallen in a series of media polls this month amid the scandal over the foundation, which had links with his wife. While most surveys still show approval over 50 percent and the opposition remains weak, he will be anxious to avoid a further dip in popularity, in order to maintain his party's majority in an election due by the end of next year.
Prewar Curriculum
Parliamentary debate has been dominated for a month by questions over Moritomo Gakuen, which runs a kindergarten in Osaka that espouses elements of the prewar nationalist curriculum and explicitly backs Abe. Questions have been raised over how the group purchased state-owned land for what the opposition has said is a fraction of its assessed value, as part of a plan to open an elementary school.
The Tsukamoto kindergarten is known for making children bow to portraits of the emperor and recite a 19th century imperial decree on education -- practices dropped elsewhere after Japan's World War II defeat. Last month, the kindergarten apologized for using expressions that "could cause misunderstanding among foreigners." Kyodo news agency reported that the principal had been questioned over alleged slurs against Koreans and Chinese.
'False Remarks'
Abe's wife Akie has severed her links with the school, for which she had been scheduled to act as an honorary principal. She has visited the kindergarten, but no evidence has emerged to link her or Abe to the land sale. Opposition attacks are now focusing on Inada, an Abe protegee and one of only three women in the 20-strong cabinet.
"This means she made false remarks in parliament," Hirofumi Ryu, an opposition Democratic Party official in charge of parliamentary affairs, said by phone. "It cannot be tolerated. She should take responsibility by resigning."
In a later committee session, Democratic Party lawmaker Naoki Kazama said records for Inada's funding group showed donations from Yasunori Kagoike, the head of the educational foundation, and from his wife in 2007. Inada said she had no memory of the donations, but did recall seeing the couple at a fundraising party that year and assumed they had bought tickets.
— With assistance by Kenzo Taniai
Before it's here, it's on the Bloomberg Terminal.
LEARN MORE