French Candidates Target Foreign Workers as Le Pen Makes a Mark
By and
Regions seek to ban foreign languages on construction sites

Largest candidates share willingness to overhaul EU program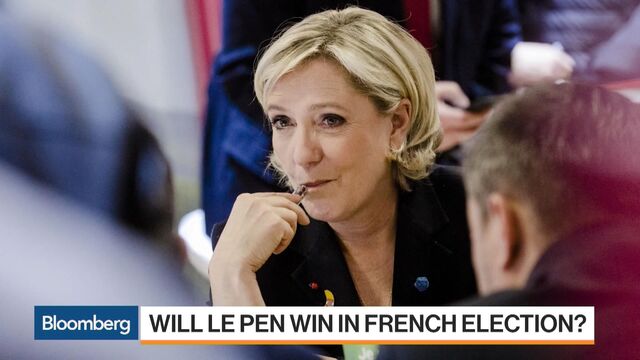 No presidential candidate's platform is complete in France these days without a finger pointed at foreign workers.
Even the multi-lingual liberal Emmanuel Macron wants to limit the time that European Union citizens can work in France under the temporary guest-worker program.
National Front leader Marine Le Pen, who's built a political career fueling fears of immigration, plans to scrap it altogether, while Republican Francois Fillon and Socialist Benoit Hamon both want to stop foreigners with fewer labor rights undercutting French workers.
With less than six weeks before the first round, candidates are vying for support from voters at the bottom end of the labor market who feel threatened by the influx of cheap foreign labor. On the right, Fillon and Le Pen are also competing to outdo each other's "economic patriotism" with their plans to clamp down on immigration.
"There is a populist push in France, among most campaign teams," said Elisabeth Morin-Chartier, a Republican lawmaker in the EU parliament to overhaul the guest-worker rules. "I'm not sure that chasing after Le Pen is doing us any good. Foreign workers are essential to the economy in every country. And it's a fundamental EU freedom."
Those who arrive on the guest-worker program pay social security contributions in their home countries -- typically much lower than in France -- and offer a cheaper alternative to French workers, though they do have to make at least the minimum wage. Some 286,000 EU citizens were working on those terms in 2015, up 25 percent from a year before.
"I'm ready to arm-wrestle with those who don't want to make a move on guest workers," Fillon told reporters in Paris on Monday as he unveiled his policy platform. "I want the cost for each worker to match the average labor costs."
French-Language Rules
The heat on foreign workers, often low-skilled migrants laboring in agriculture, construction or domestic service, was turned up a notch last week when lawmakers in France's two biggest regional economies introduced measures to encourage companies only to hire French speakers. The Paris region and Auvergne-Rhone-Alpes -- both controlled by Republican allies of Fillon -- brought in measures to encourage companies to use French-speaking workers on their building sites.
An official at the Economy Ministry told daily newspaper Le Monde the plans are racist, discriminatory and unworkable, while Morin-Chartier wrote to Fillon Friday to warn him that he risked provoking swift retaliation against 200,000 French citizens working as guests in other EU states.
"We're following in the footsteps of the National Front, it's scandalous," Philippe Martinez, head of France's biggest union, said on France Inter radio on Tuesday. "It's only being done to win votes in the presidential race."
Austria, Brexit
Still, Jacques Chanut, the head of the French Building Federation, said the French-language requirement will help improve safety on sites and denied the construction industry is xenophobic.
"We are not fighting against foreign workers, we only demand the normal application of existing rules and safety procedures," he said. "We can't allow French construction sites to operate like the Wild West."
In 2015, construction firms employed 27 percent of guest workers. On average they spend 52 days in France, so they don't have incentives to learn the language, Chanut said.
The proposals in the French campaign are following developments in many of the EU's richer member states. Opposition to immigration helped swing the Brexit vote in the U.K. last year and is fueling criticism of Angela Merkel in Germany. Austria's center-left chancellor, Christian Kern, has proposed incentives for companies that hire Austrian workers over foreigners after the anti-immigrant Freedom Party came within 30,000 votes of winning the presidency last year.
Kern has accused eastern European countries of exporting their joblessness to Austria, echoing a complaint that French President Francois Hollande made on a trip to Romania in 2013.
At a campaign event in Paris Tuesday, representatives of most of the main candidates pledged to bring guest workers' wages and social contributions into line with their French counterparts.
"Same work, same salary, full stop," said Arnaud Leroy, who's in charge of transport-industry policy for Macron's team.

Before it's here, it's on the Bloomberg Terminal.
LEARN MORE