European Stocks Slip in Broad Decline Before Dutch Election, Fed
By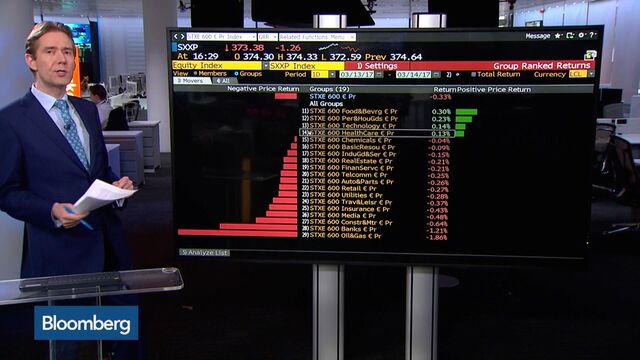 European stocks fell in a broad decline as traders were cautious before the Dutch elections and a Federal Reserve meeting on Wednesday.
The Stoxx Europe 600 Index dropped 0.3 percent the close, with 15 of 19 sectors lower. The benchmark ended Monday just 0.3 percent below its highest close of the year, propelled by gains in commodity producers. The U.K.'s FTSE 250 slipped 0.4 percent from yesterday's record-high close.

* With just one day to go until the Federal Reserve's rate decision, futures traders held fast to their wagers that an increase is a virtual certainty; policy updates from central banks in the U.K., Switzerland and Japan will follow.
* France's CAC 40 Index lost 0.5 percent, the most in almost three weeks. French presidential candidate Francois Fillon was charged Tuesday with misuse of public funds, casting a permanent shadow over his bid to become France's next president.
* The Dutch benchmark AEX Index lost 0.4 percent on Tuesday after its highest close since 2007 on Monday. Opinion polls were split, with two showing Rutte's Liberals ahead of the anti-Islam, anti-European Union Freedom Party and the other showing the two parties tied.
* The FTSE 100 wasn't fazed by Scottish First Minister Nicola Sturgeon's calls for a second independence referendum. The index ended the session little changed after closing 0.3 percent higher Monday.