Bridgegate Prosecutor Faults Abrupt Ouster of U.S. Attorneys
By
Fishman among 46 prosecutors ordered to resign last week

Successor William Fitzpatrick served as his top deputy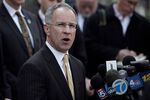 New Jersey's former top federal prosecutor criticized the Trump administration's handling of his forced resignation, saying despite more than seven years on the job he was given only seven hours to leave and no time to prepare his successor.
Paul Fishman, who prosecuted the political scandal known as Bridgegate, was landing at an airport in Newark at 5 p.m. on March 10 when he received a barrage of texts from friends asking if was all right. He then saw news report saying he was one of 46 prosecutors ordered to resign. Fishman said he confirmed it with a top Justice Department official, who said he was out at midnight.
"All of us knew that as a result of the election that our tenures were coming to an end," Fishman said in an interview. "I certainly expected that to happen. What I didn't expect is that we would all be asked to leave within seven hours. I didn't think that was good for the office, and not really good for law enforcement."
Fishman's temporary successor, William Fitzpatrick, was his top deputy. Fishman, 60, secured the Bridgegate convictions of three allies of Governor Chris Christie for creating traffic jams near the George Washington Bridge. Fishman's office also prosecuted major cases of computer hacking, health care fraud and political corruption.
"It's not my job to keep forever, and it's not about being a sore loser," Fishman said. "This is simply about the administration handling this in a way to ensure continuity, to ensure that cases were properly handed off, and the groundwork was laid for strong relationships with the community and other law-enforcement organizations."
Bharara Fired
The most high-profile U.S. attorney, Preet Bharara in New York, was fired on March 11 after he refused a Justice Department request to resign.
Deirdre Daly, the U.S. Attorney for Connecticut, and Richard Hartunian, the top prosecutor for northern New York, announced Monday that they will continue in their jobs in order to complete two decades with the Justice Department.
Trump must nominate replacements for the 94 U.S. attorneys who will serve under Attorney General Jeff Sessions, and the Senate must confirm those choices.
Fishman was as a federal prosecutor in New Jersey from 1983 to 1994, rising to the top deputy's job, before spending three years at the Justice Department in Washington. He then spent 12 years in private practice before President Barack Obama appointed him to the U.S. Attorney's post.
The Bridgegate case generated intense public interest because Christie was once a leading contender for the Republican nomination for the White House, and it became a political thriller that engrossed the public and political class. Fishman never charged Christie, saying he couldn't prove the case. Sentencing of two defendants, Bill Baroni and Bridget Anne Kelly, had been scheduled for Wednesday, but was moved to March 29 because of a snowstorm.
Christie Reaction
Christie called "all this moaning and complaining" by Fishman and Bharara, two of the region's prominent U.S. attorneys, "ridiculous," according to NorthJersey.com.
"That notice was given to them by the people of the country on Nov. 8, when they elected a Republican president," Christie said during an event in Englewood Cliffs, according to the online publication.
Fishman also prosecuted the largest hacking ring to hit corporate America, dozens of doctors in a kickback case and secured a $646 million settlement with Olympus Corp. to resolve a different kickback case.
"I don't have immediate plans," Fishman said. "I had always planned on leaving the office first. Once I left I would try to sort out what I wanted to do next. I'm not going to rush to do that."