Drinks
A Whisky Startup Unearths Rare Scotch You Never Knew Existed
That Boutique-y Whisky Company woos connoisseurs with rare blends and comic-book packaging—and now, experimental, one-of-a-kind gins.
By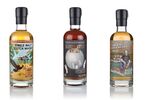 Whisky is one of the most time-consuming artisanal productions — to be declared Scotch, the spirit must be aged in oak barrels for a minimum of three years, though many go for 12- and 18-year stints or longer. 
With so much product patiently maturing in its cask and not yet ready for release, a distillery's stock can easily become unwieldy. When vodka's popularity was surging in the late 1980s, many cash-strapped whisky distilleries began selling their overstock casks to private individuals or other commercial entities. Usually, these were barrels that didn't fit easily into the brand's established flavor portfolio. Thus, the independent bottler was born.

One such independent bottler with packaging halls in Edinburgh, Kent, and partner facilities throughout Scotland has carved out an unlikely niche at the intersection of whisky fetishism and comic-book geekiness. TBWC, short for That Boutique-y Whisky Company, started in 2012 by sourcing unique barrels of whisky aimed directly at the aficionado, like a 33-year from the legendary Port Ellen distillery, which shuttered doors in 1983, and a 50-year blended whisky that will sell for less than $200 (a relative steal considering its contents entered the barrel before the invention of the floppy disk).
Last year the company released about 100 batches of limited-edition whiskies, and last month alone it launched 23 new whiskies—most of them in editions numbering double digits. 
"We work with dozens of brokers, intermediaries, and also with some distilleries direct," says Ben Ellefsen, a sales director for TBWC's parent company, Atom Group, a collection of companies that has been independently bottling whisky through other brands for more than three decades. "We also buy a reasonably significant amount from private individuals who own casks […] still tenured at the relevant distilleries." 
Such precocious barrel-picking has made a splash in the competitive world of whisky. Jim Murray's Whisky Bible 2017 named the brand's 25-year Macallan as the single malt Scotch of the year (single-cask), and in 2015 the World Whiskies Awards gave TBWC's Blended Whisky #1 its highest award for best blend.
The winning combination of superlative barrel-sourcing and skillful blending is offset by an irreverent, graphic novel-inspired approach to packaging from illustrator Emily Chappell. "We wanted to create labels that were fun, funny, and sometimes outrageous," says Ellefsen. This can mean anything from a Tintin-inspired label for their bottling from the Arran Distillery, to artwork illustrating the difference between "good sulphur" and "bad sulphur" for their release of Dailuaine distillate.

The team has begun to expand its reach with a sister brand, That Boutique-y Gin Company, which launched earlier this year as the world's first independent gin bottler. Since a gin can take mere weeks to create, unlike a whisky, which takes years, there's much greater room for experimentation in bottling off-kilter examples of the juniper-forward spirit.
"Gin distillers and brands—even the really big ones—seem to be a lot more open to collaboration and experimentation than—certainly the larger—whisky players," says Ellefsen. For the launch, 11 gins have been bottled and released (all less than $55), with plans to release almost 10 times that this year. Noteworthy experiments include Swedish Hernö Distillery's London Dry Gin blended with spirit aged in juniper wood casks, and Scottish McQueen Gin using orange peel and cocoa nibs to yield something akin to Terry's Chocolate Oranges.
"Every single gin distiller we've spoken to has a list of ideas as long as their arm, and very little time for implementation or bandwidth for marketing," says Ellefsen. "We're able to provide an outlet for their creativity."
Before it's here, it's on the Bloomberg Terminal.
LEARN MORE