Treasuries, Stocks Jump as Fed Sees Gradual Pace: Markets Wrap
By and
Officials raise rates, leave timeline for futre hikes in place

Euro strengthens as Liberals look set to prevail in Dutch vote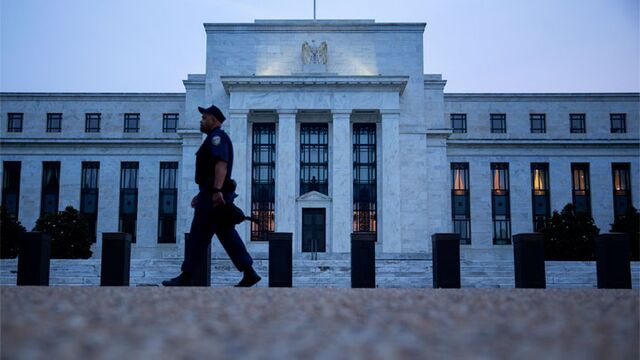 U.S. stocks rose the most in two weeks, Treasuries rallied and the dollar tumbled after the Federal Reserve raised interest rates as expected without accelerating its timeline for future tightening. The euro added to gains after Liberals looked set to prevail in Dutch elections.
The S&P 500 Index jumped as the first rate hike of 2017 didn't alter officials' expectations that the central bank will tighten a total of three times this year. Equities extended gains as Chair Janet Yellen said in a press conference that the "simple message is the economy is doing well." The yield on 10-year Treasury notes tumbled below 2.50 percent, gold climbed to $1,220 an ounce and the Bloomberg Dollar Spot Index slid more than 1 percent. West Texas Intermediate oil jumped more than 2 percent, adding to gains as the dollar weakened.
The euro touched the highest level in more than a month after an exit poll showed Dutch Prime Minister Mark Rutte's Liberals easily beat the anti-Islam Freedom Party of Geert Wilders in Wednesday's election, allaying concerns about the spread of populism in the currency bloc.
The Fed raised its benchmark lending rate a quarter point and continued to project two more increases this year. Investors anticipated the tightening and Treasury yields had climbed with the dollar on speculation the central bank might signal a faster pace of tightening. Those trades unwound Wednesday afternoon as the Fed indicated it hasn't fallen behind with its efforts to keep inflation in check as economic growth shows signs of accelerating.
The rate decision kicks off a two-day period brimming with central bank moves, European political drama and a raft of economic data. At the same time, oil's recent swoon had investors weighing whether energy prices will touch off any market turbulence after commodities contributed in large part to firming inflation numbers.
Read our Markets Live blog here.
What investors will be watching:
The Bank of Japan is set to keep its rates and yield-curve policy unchanged in its policy decision on Thursday. The Bank of England, Swiss National Bank and Bank Indonesia are also expected to stand pat with policy decisions.
U.S. Secretary of State Rex Tillerson travels to Japan, South Korea and China in his first visit to the region since taking office.
U.S. President Donald Trump's first budget outline for fiscal 2018 is expected on Thursday. He's said he'll seek a $54 billion boost in defense spending, paid for by an equal amount of cuts to non-defense agencies.
Here are the main market moves:
Stocks
The S&P 500 added 0.9 percent to 2,385.26 at 4 p.m. in New York, adding to a gain of 0.3 percent before the 2 p.m. announcement.
Energy shares led gains with a 2.1 percent rally as crude rebounded. Utility and materials stocks rose more than 1.6 percent.
Financial shares were the only of 11 groups to retreat, sliding 0.1 percent.
The Stoxx Europe 600 Index added 0.4 percent as mining companies rallied 1.5 percent as a group.
The MSCI Emerging Market Index rose 1.1 percent.
Commodities
WTI gained 2.4 percent to settle at $48.46 a barrel in New York.  
A government report showed U.S. crude stockpiles unexpectedly declined last week.
Gold jumped 1.5 percent to $1,220 an ounce in New York.
Currencies
The Bloomberg Dollar Spot Index slipped by 1.3 percent, the most since Jan. 17.
The euro rose by 1 percent to $1.0709, following its 0.5 percent drop a day earlier.
The yen strengthened 1.4 percent to 113.20.
Bonds
The yield on 10-year Treasury notes fell 10 basis points to 2.4966 percent, after slipping three basis points in Tuesday trading. 
Dutch bonds rallied as voters went to polls, outperforming Germany across the curve, after final polls show a last-minute drop in support for anti-European PVV party.