business
Your Evening Briefing
Here are today's top stories.
By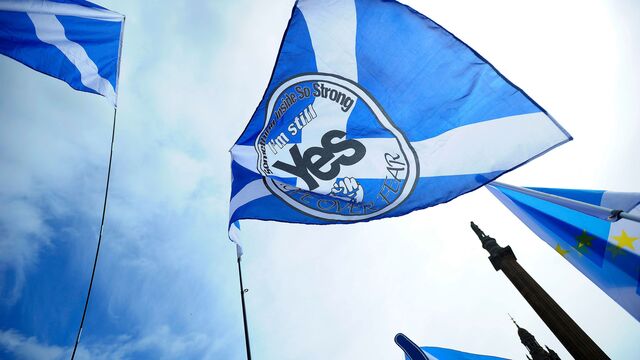 As a blizzard bears down on the East Coast, a different kind of storm is brewing elsewhere. Scotland is headed for another vote on independence, opening a new front in the Brexit battle. The reasoning: Scots didn't vote for Brexit and are now being sidelined, according to First Minister Nicola Sturgeon. This potential breakup just got a lot messier.  —Megan Hess
Wall Street has found its next big short. With bad news piling up for mall chains like Macy's and J.C. Penney, bearish bets against commercial mortgage-backed securities are growing. Like the run-up to the housing debacle, a small but growing group of firms are positioning to profit from a collapse that could spur a wave of defaults. Their target: securities backed by loans taken out by beleaguered mall and shopping center operators.
A second shot at Scottish independence. Scottish First Minister Nicola Sturgeon said she'll start the legal process of preparing for a second independence referendum, threatening to open a new front in the Brexit battle as the U.K. government prepares to trigger negotiations. Here's why the vote is back on the table.
The Kushners are set to receive $400 million from a Chinese company investing in the family's marquee tower in Manhattan. The planned $4-billion transaction includes terms that some real estate experts consider unusually favorable for Kushner Companies: It provides them with both a sizable cash payout from Anbang Insurance Group for a property that has struggled financially and an equity stake in a new partnership.  
Intel will make its second-biggest acquisition, paying about $15 billion for Jerusalem-based Mobileye in an attempt to dominate self-driving car technology. While Intel's chips are dominant in personal computers and data centers, the world's largest semiconductor maker has struggled to spread the use of its products to other areas. Intel estimates the vehicle systems, data and services market to be as much as $70 billion by 2030.
Waiting for evidence on Trump's wiretap claim. Republican and Democratic lawmakers said they still haven't seen proof to support President Donald Trump's unverified claim that his predecessor tapped his phones, but they expect the facts will soon emerge. The House Intelligence Committee set a Monday deadline for the Department of Justice to provide any documentary evidence relating to Trump's allegation.
What to expect when you're expecting a Fed rate hike. Monetary policy doves serve as better beacons of the central bank's future policy path, according to 30 economists surveyed by Bloomberg. They rated Fed officials on two scales: hawk versus dove, and their reliability in signaling future policy. Their responses come as the Fed appears to be on the cusp of a more aggressive hiking cycle.
March Madness Cinderella stories send applications soaring. Big upsets can mean a 10% boost for little basketball schools. According to a Bloomberg analysis of Department of Education data, schools that showed significant improvement in the NCAA men's basketball tournament also had some of the highest year-over-year changes in applications the following fall.

Before it's here, it's on the Bloomberg Terminal.
LEARN MORE