Tillerson Could Prove to Be 'Inspired' Pick for Secretary of State, Australia Says
By
Foreign Minister Bishop cites Tillerson's business expertise

Says Trump's officials are in listening mode on Asia affairs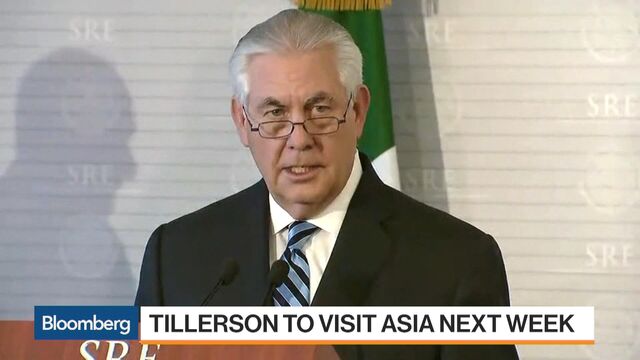 Former Exxon Mobil Corp. chief Rex Tillerson could prove to be an "inspired choice" for U.S. secretary of state, bringing a "refreshing approach" to the job given his business background, according to Australia's foreign minister.
Julie Bishop met recently with three senior officials in President Donald Trump's new administration during a U.S. visit -- Tillerson, Vice President Mike Pence and National Security Adviser H.R. McMaster.
"I was very reassured with the meetings I held with all three," Bishop said Monday in a speech in Singapore. "They are measured, they are intelligent, they are engaged and they were in listening mode and sought from me and from Australia ideas, our perspectives, our insights."

Commenting on Tillerson, Bishop praised him for being "acutely aware of international affairs from a business perspective." That homage comes after the State Department last week rejected media reports that Tillerson was out of touch with his officials and shut out of Trump's White House foreign policy discussions. And after Trump and Prime Minister Malcolm Turnbull had a heated phone call in January.
"This could well be an inspired choice because he has visited every country that has had an Exxon Mobil project or a proposal for an Exxon Mobil project over many years," Bishop said. "He's dealt with kings and presidents and prime ministers as a global business leader and understands what it is like to do business and invest in those countries, which necessarily means an appreciation of their political, social, economic outlook."
"So he brings a different perspective to it but I found it refreshing."
Read more: Relief Over Tillerson at State Department Replaced by Unease
Bishop spoke both in an interview Monday with Bloomberg and later in her speech of her desire for the U.S. to remain engaged in Asia, saying it had been the security guarantor and defender of the liberal rules-based global order since World War II. The U.S. is a key strategic ally of Australia's in the region and the two have close defense ties which Australia must balance against its reliance on China for trade.
311113459

Trump has signaled a less predictable approach to foreign policy that raises questions about the U.S. commitment to Asia. While he has recently backed military alliances with Japan and South Korea, the U.S. president has also said countries should pay more for their own security.
Tillerson -- who visits South Korea, Japan and China this week -- is seeking to implement Trump's narrower focus on advancing his "America First" theme. That means largely doing away with the global promotion of democracy and other "soft power" initiatives.
'Very Engaged'
Still, in a change troubling to some in the foreign policy community, Tillerson hasn't offered an overarching vision for the U.S. role in the world -- and may never do so. Instead, he sees himself as a manager with an eye toward corporate-style reform, an outgrowth of his four decades in the private sector, officials familiar with his thinking have said.
Last week the State Department pushed back against claims Tillerson was out of touch with his organization and shut out from Trump's White House on foreign policy.
Acting department spokesman Mark Toner said Tillerson had focused so far on building relationships at home and abroad. "I can also assure you that Secretary Tillerson is very engaged with the White House, is very engaged with the president, speaks to him frequently," Toner said.
Bishop said it was "very early days" for the Trump administration and wholesale changes to America's foreign policy were unlikely "until they have reviewed and assessed where they stood."
Chinese Competition
"Clearly the administration has its priorities," Bishop said. "It wants to have a constructive relationship with China but it sees China as a competitor. It sees North Korea as a significant regional and global threat and wants to engage China more deeply in trying to find a resolution."
A key focus of Tillerson's trip to North Asia is likely to be North Korea, and looking at new ways of approaching a problem that has vexed American presidents since Bill Clinton: how to get Pyongyang to drop its nuclear weapons program. For almost two decades the U.S. has refused to engage in direct talks with North Korea.
Officials are in discussions about a potential meeting between Trump and Chinese President Xi Jinping that could take place as soon as next month in the U.S., with the goal of reducing tensions over North Korea.
"I believe there is more that China can do given its special relationship with North Korea," Bishop said in the Bloomberg interview. "No other country has a relationship with North Korea as China does."
Trump has also demanded more from China, North Korea's key ally and main supplier of food. Bishop said Beijing had clout up its sleeve.
"I believe that should be tested," she said.
— With assistance by Nick Wadhams, and Niluksi Koswanage
Before it's here, it's on the Bloomberg Terminal.
LEARN MORE