Scotland's Most Successful Soccer Team Could Change Hands
By
Rangers Chairman King knew of associates' deals, panel rules

Decision follows reports of billionaire Mike Ashley's interest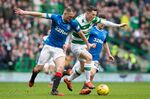 The chairman of Scotland's most successful soccer club must make a takeover offer after acting "in concert" with three other businessmen to purchase shares in the company, according to a ruling on Monday.
Rangers Football Club Chairman David King, fellow Scots George Letham and Douglas Park, and Hong Kong-based George Taylor were aware of each others' share purchase plans, the Takeover Appeal Board said, citing emails from December 2014.
The four investors' collective holding reached 34.05 percent, the panel added, exceeding the 30 percent level that triggers an obligation under U.K. takeover rules to make an offer to buy out other shareholders.
"I do not agree with the Takeover Appeal Board's much-delayed ruling nor follow its logic," King said in a statement. "I shall take the appropriate time to reflect upon it and consider the best course of action." King doubts there will be a substantial group of shareholders willing to accept the 20 pence per share offer required.
Monday's decision comes two weeks after reports of former board member and Sports Direct CEO Mike Ashley considering a separate bid for Rangers FC, who have won Scottish football's top professional league a record 54 times. A spokeswoman for Sports Direct didn't immediately respond to an email and phone call seeking comment.
Ashley left Rangers's board after shareholders led by King ousted his long-time ally, then-chief executive Derek Llambias, in March 2015. King and Ashley have since had a number of public disputes. In 2015, the High Court rejected Ashley's allegations that King's media interviews breached an injunction order by revealing contents of meetings related to contracts with Ashley's Sports Direct.
Earlier this month, Ashley backed a purchase of collapsed British lingerie brand Agent Provocateur for an undisclosed price.