Pound Shows Resilience in Face of Second Scottish Referendum
By
Scotland's Sturgeon to start second independence vote process

Sterling remains stronger on proposed timetable for vote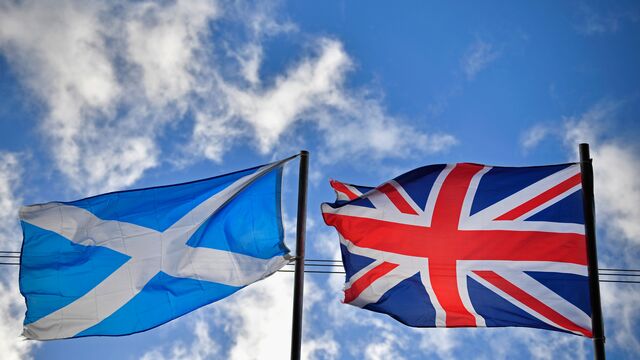 The pound stayed higher as Scottish First Minister Nicola Sturgeon signaled the start of the legal process of preparing for a second independence referendum, with the currency demonstrating a resilience to political risk that has largely eluded it since the U.K. voted to leave the European Union.
Sterling, 2017's worst-performing currency, climbed against all of its Group-of-10 peers, even as the call for another independence vote threatens to further complicate the U.K.'s outlook as it prepares to trigger Brexit. The British currency's stability could be partially attributed to Sturgeon's timetable, according to Jeremy Stretch, head of Group-of-10 foreign-exchange strategy at Canadian Imperial Bank of Commerce in London. The first minister said the referendum would be held between the fall of 2018 and the spring of 2019.

In a Bloomberg survey before the 2014 Scottish referendum, which ultimately saw the unionists triumph, analysts forecast that a vote to split the U.K. could weaken the pound by as much as 10 percent from its then level of about $1.6250. Brexit has completely changed that currency's landscape, and the British currency now trades at about $1.2220. It has fallen about 18 percent against the dollar since the EU vote and has regularly shown its sensitivity to political developments as Prime Minister Theresa May prepares to formally trigger the U.K's exit.
Still the currency was more robust on Monday, rising 0.4 percent as of 1:17 p.m. in London. It fell to as low as $1.2199 at the start of Sturgeon's speech, before rebounding as she laid out her proposed timetable.
A survey published last week showed Scots were evenly split between going it alone and sticking with the status quo, while a poll in the Herald newspaper on Monday put support for remaining in the U.K. at 52 percent versus 48 percent for independence. In the first independence referendum, in September 2014, Scots voted 55 percent to 45 percent in favor of the union with England, Wales and Northern Ireland.
Before it's here, it's on the Bloomberg Terminal.
LEARN MORE