No Trichet Flashback for Poland as CPI Jolts Eastern Europe
By and
Inflation accelerated to 4-year high of 2.2% in February

Pickup in inflation surprising Hungarian, Czech central banks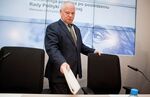 Adam Glapinski knows the perils of an ill-timed rate increase.
The current head of the Polish central bank was a member of the Monetary Policy Council when he backed an increase in borrowing costs in 2012, a decision that came to resemble a U-turn by then-European Central Bank Governor Jean-Claude Trichet because it had to be undone only six months later.

Now, against a drumbeat of calls for policy makers to get serious about inflation, Glapinski is doubling down instead. Although price growth has already reached the central bank's target range for the first time in four years, after the steepest monthly increase since 2004, the governor said last week Poland's record two-year pause on rates may get longer still as updated forecasts suggest the acceleration won't last.
"The Polish central bank is not going to hurry with monetary policy tightening, unless it sees a really dramatic change in the inflation environment," said Maciej Reluga, chief economist at Bank Zachodni WBK SA.
Inflation is on a roll across eastern Europe as countries emerge from the grip of unprecedented price declines. Hungary and the Czech Republic this month reported bigger-than-forecast readings for February, which put price growth near or above their targets.
In Poland, data on Tuesday showed the annual index in positive territory for a third month in February, rising to 2.2 percent from a revised 1.7 percent in January. The reading came a tenth of a percentage point above the median of 19 estimates in a Bloomberg survey. While reaching the highest in more than four years, it remains below the central bank's goal of 2.5 percent.
'Upside Surprises'
"Given the upside surprises in inflation in the Czech Republic, Hungary as well as in a number of EU countries, there's a good chance Polish inflation will also pick up beyond what is now expected," Gabor Ambrus, a strategist at NatWest Markets in London, said before the data was published. "The Polish central bank will come to terms with the changing inflation dynamics, and it will signal the growing probability of a faster rate hike."
The central bank has countered by emphasizing that core inflation remains close to zero, "pointing to still-low demand pressure." Core inflation, which excludes food and fuel prices, was at zero in December. Figures for January and February will be reported by the central bank on Wednesday.
Updated central bank projections, released on Monday after upward revisions, showed inflation accelerating to 2 percent this year and staying at that level in 2018, while also undershooting the 2.5 percent target in 2019. Under that outlook, Glapinski said he saw no "grounds for rate hikes this year. What's more, based on this projection, I wouldn't see any need for tightening even in 2018."
With no support in sight from the central bank, the zloty's longest rally since May 2015 is fizzling out. After gaining 3.4 percent over the last three months versus the euro, the zloty has fallen 0.7 percent in March on concern its yield advantage is waning. The zloty was little changed on Tuesday, trading at 4.3236 per euro at 2:06 p.m. in Warsaw.

Still, after a rate meeting last week, policy makers pledged to remain on alert to any risks and surprises that could prompt them to change their bias. The central bank expects "a breakthrough" in the inflation path around the middle of this year, when price increases will slow, confirming the risk of a target overshoot is "limited," according to Glapinski. For that to happen, the central bank is counting on the fading effect of higher global commodities prices.
A base effect accounted for about 0.8 percentage point of January's 1.7 percent inflation, according to Jacek Kotlowski, the Polish central bank's deputy head of economic research. The statistical impact will be the opposite in the second half, bringing the headline index down. As core inflation quickens, consumer-price growth will stabilize, he said on Monday.
Brighter prospects for the economy will "only gradually" boost domestic inflationary pressure, policy makers said. The new projection raised this year's forecast for growth in gross domestic product to 3.7 percent from 3.6 percent, with GDP gains set to ease to 3.3 percent in 2018 and 3.2 percent in 2019.
"In our opinion, the council underestimates the impact of the improving economic performance on prices," said Tomasz Kaczor, chief economist at Bank Gospodarstwa Krajowego in Warsaw. Prices measured by "the CPI, while increasing not as dynamically as in the past months, will be still surprising us with readings much higher than in the projection. As a result, the wait-and-see bias may be more and more difficult to justify."
— With assistance by Barbara Sladkowska, and Piotr Bujnicki
Before it's here, it's on the Bloomberg Terminal.
LEARN MORE