Mystery at Gambler's Trial: Will Phil Mickelson Take the Stand?
By
Las Vegas's Walters faces wager of his life on insider case

Defense signals that Walters was simply aggressive investor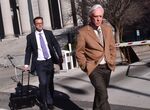 Las Vegas legend Billy Walters is no ordinary gambler. And it's safe to say his insider-trading trial will be no ordinary trial.
Walters, often considered the most successful sports gambler in the country, is set to appear in Manhattan federal court Monday, having pleaded innocent to charges of conspiracy and securities fraud. But Walters, a secretive figure who parlayed his winnings into a business empire of golf courses and car dealerships, isn't the only attraction in what is already one of the strangest insider-trading cases in memory.
Read more: How Billy Walters Saw a Hot Hand Go Cold
Phil Mickelson, the champion golfer, figures into the case too, though it is unclear if he will make an appearance. So does Carl Icahn, the Wall Street financier. And Tom Davis, the former chairman of Dean Foods Co., who pleaded guilty and is expected to be the prosecution's star witness.
For Walters, the stakes could scarcely be higher. Accused of making $43 million on inside tips from Davis, a golfing buddy, Walters faces as many as 20 years in prison.
Prosecutors haven't said publicly whether they will call Mickelson to the witness stand. Nor is it clear if they will be able to introduce evidence of Walters's trades tied to Icahn's 2011 takeover bid for Clorox Co., which was the subject of a federal inquiry. Icahn wasn't accused of wrongdoing.
Powerful Witness
Peter Henning, a law professor at Wayne State University in Detroit, said Mickelson -- who made almost $1 million on Dean Foods trades based on tips from Walters -- would make a powerful witness for the government because "he doesn't carry the baggage that Davis does." Mickelson wasn't accused of wrongdoing, but he paid back the money from the trades.
"Mickelson has a very winning personality," Henning said. "If Mickelson were to testify, you'd have Davis and Mickelson as the brackets. Here's the source, Davis, and here's the downstream tippee, Mickelson. It makes it harder for Walters to say, 'I didn't get the information.'"
Still, the case is the highest-profile insider-trading trial in the last three years, when federal prosecutors in New York won a conviction that sent former SAC Capital Advisors LP fund manager Mathew Martoma to prison for nine years. Since then, an appeals court made it harder to convict money managers, forcing the government to abandon 14 of the 90 convictions won during an eight-year crackdown on illegal tipping. (The Supreme Court has since restored some of the leverage the U.S. lost after that decision).
The case offers federal prosecutors in New York the chance to return to their winning ways, said Anthony Sabino, who teaches law at St. John's University in New York.
"This is definitely an opportunity for prosecutors to reclaim past glory," he said.
Glenn Cohen, an attorney for Mickelson, declined to comment on whether his client will testify. Winner of three Masters titles, Mickelson didn't play in the Valspar Championship in Florida this weekend.
Susan Gordon, a spokeswoman for Icahn Capital LP, didn't respond to questions about the case. A spokesman for the U.S. attorney in New York declined to comment, as did attorneys for Walters and Davis.
Want to know how the Feds pulled off its biggest insider-trading probe? Click here
An acclaimed gambler who kept a low profile after earlier brushes with the law, Walters told told CBS's "60 Minutes" in a rare interview in 2011 that he wagered millions of dollars on football and basketball and had never had a losing year as one of Nevada's biggest sports bettors. He had a $20 million jet and seven homes, the program reported.
Walters, 70, and Davis, 68, met more than 20 years ago on a Southern California golf course and forged a relationship based on "sports, golf, gambling and business," prosecutors said. In his guilty plea, Davis, a Harvard Business School graduate and former investment banker, admitted he gave tips to Walters in return for money and loans to support a luxurious lifestyle and gambling habit.
Prosecutors said Walters gave Davis a disposable burner phone to pass along stock tips which Walters used to place unusually large bets on Dean Foods at least 10 times. In a six-year scheme, Walters allegedly told Davis to use "Dallas Cowboys" when referring to Dean Foods. Davis, who is cooperating with authorities, admitted he tossed the phone in a creek near his Dallas home.
Walters's lawyers, Barry Berke and Paul Schoeman, won't talk about his defense, though clues have emerged in court papers suggesting they will argue he was an aggressive investor who did research into his stock picks and had traded in Dean Foods for years. They haven't said whether Walters will take the stand.
But they may try to tell jurors that the government failed to get any incriminating evidence after wiretapping Walters's mobile phone and recording about 1,700 calls in 2014, according to a March 11 court filing. Prosecutors are trying to block Walters from using the wiretaps as evidence, arguing he went out of his way to make innocent explanations for his trades after he became aware from media reports that he was under investigation.
Walters may have no choice but to testify if the case against him is strong -- and that may draw Icahn in. Prosecutors have said that if Walters claims his trades were legitimate, they may offer rebuttal evidence that Walters closed a brokerage account in 2011 to shield what the government calls "suspicious trading" in Clorox around the time of Icahn's takeover bid.
In another twist, Walters's lawyers are likely to highlight leaks by an FBI supervisor about the investigation to two newspapers in 2014. They unsuccessfully tried to have the charges dismissed based on FBI misconduct, saying the articles may have pressured Davis to cooperate, but the judge has allowed the defense to ask about the leaks at trial.
"The leaks don't have anything really to do with the case, but if Davis admits he responded to the news stories, that may be a back door to getting the FBI agent's misconduct into the case," Henning said. "It might be hard to put the government on trial in this case, but that might be the avenue to do it."
Before it's here, it's on the Bloomberg Terminal.
LEARN MORE