May Wages Brexit Battle to Overturn Lords Amendments
By and
'Don't tie the prime minister's hands,' Davis urges Tories

Brexit secretary speaks as Article 50 bill returns to Commons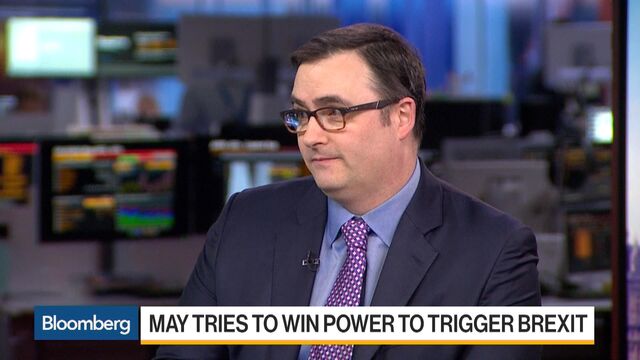 Follow @Brexit for all the latest news, and sign up to our daily Brexit Bulletin newsletter.
British Prime Minister Theresa May will attempt to quell a rebellion in her ruling Conservative Party as she tries to win the power to trigger Brexit.
The House of Commons is set to vote Monday on whether to accept amendments attached by the unelected House of Lords to the draft law granting May the authority to file for divorce from the European Union. Meanwhile, May could face an additional challenge to her Brexit plans from the pro-EU Scottish administration, as First Minister Nicola Sturgeon called an "important" news conference for 11:30 a.m. in Edinburgh.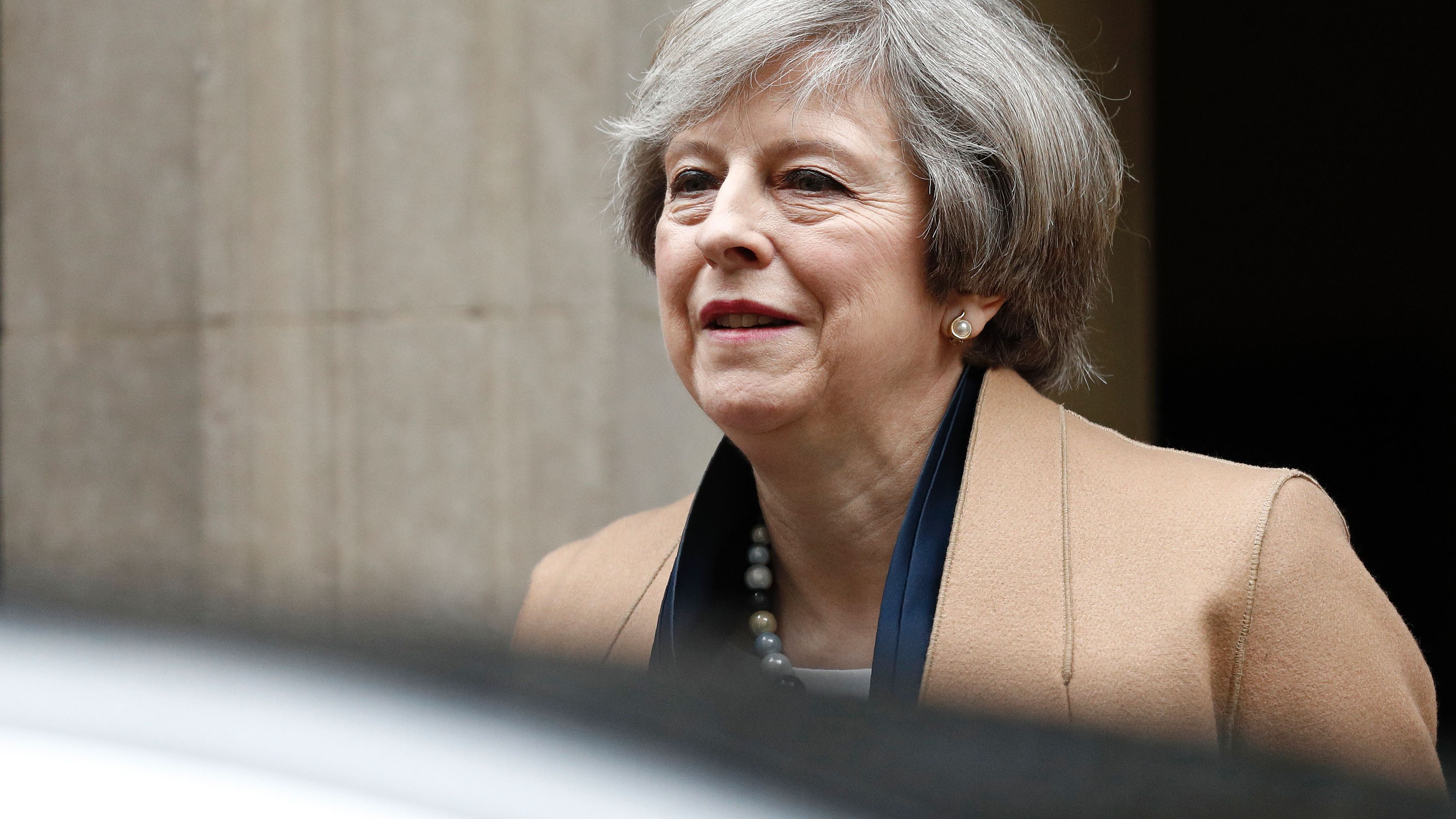 Keen to maintain the flexibility to negotiate as it wants, the government is urging opponents, including some on its own side, to overturn the amendments. If May prevails she would likely be able to invoke Article 50 of the Lisbon Treaty as soon as Tuesday, although there remain questions over whether she would act so swiftly.
"Please don't tie the prime minister's hands in the process of doing that, for things which we expect to attain anyway," Brexit Secretary David Davis said on BBC Television's "Andrew Marr Show" Sunday. "It's inconceivable to me that there wouldn't be a vote on the outcome."
For more on the next Brexit steps, click here
The main opposition Labour Party, which backed the passage of May's bill through the Commons last month, will support both amendments, which aim to guarantee the rights of EU nationals in the U.K. and give lawmakers a binding say on the ultimate outcome of talks. Leader Jeremy Corbyn is due to speak at a demonstration in Parliament Square later Monday in support of EU nationals resident in Britain. He told BBC Radio that lawmakers "must be able to have a say on the final deal."
"We want a clear decision to come from Parliament at the end of negotiations with a full report back from the government," Corbyn said.
Withholding Support
Some Tories are withholding their support from May as they wait to see what assurances the government might be willing to provide during the Commons debate. The two houses must agree on the same version of the bill and so will engage in what's known as "ping pong" to find common ground. Peers typically give way if the Commons votes against their revisions.
At the same time, May is fighting to contain another potential crisis in Scotland. Sturgeon wants Scotland to have a greater say in the Brexit process, and wants her nation to remain in the European single market. She has threatened to call another independence referendum, and last week said the fall of 2018 would be a good time to hold another plebiscite.
May needs the law to pass so she can meet her pledge to officially start two years of talks with the EU by the end of March.
If the law is backed on Monday, one option being considered is for May to signal this week that she'll wait until the end of the month to file Article 50, according to two people familiar with the government's discussions. A statement she's due to deliver to Parliament on Tuesday would provide one opportunity to do that.
European Summit
Such a plan would give European leaders room to organize a summit on April 6 at which they would be asked to approve negotiating guidelines for the European Commission. It would also help May clear a series of hurdles while providing greater clarity over her intentions. The Netherlands holds elections on March 15, the Scottish National Party convenes a conference March 17-18, and there's a celebration in Rome of the EU's founding treaty on March 25.
Keir Starmer, Brexit spokesman for Labour, told Sky News on Sunday he thinks the government will serve formal notice to the EU on Wednesday or Thursday.
Standing in May's way are some of her own lawmakers, who may side with the Labour, the Liberal Democrats and the majority of the Lords. May has a narrow majority of 17 in the Commons, meaning her government is vulnerable to defeat if as few as nine Tories flip.
Seven Conservatives, including former Chancellor of the Exchequer Kenneth Clarke, voted for a similar amendment when the Commons debated the bill in February. Another five abstained from voting, including another former chancellor, George Osborne. 
Potential Rebels
If May refuses to allow Parliament to have a say on what happens if negotiations break down without an agreement, some Tories may oppose her in Monday's vote, one potential rebel, former Education Secretary Nicky Morgan, told Bloomberg late on Sunday.
"David Davis has to really address what happens if the government comes back with no deal," Morgan said in a phone interview. "Parliament has to have a proper vote on that."
Morgan's remarks echoed those made by Alistair Burt, another former minister, on Friday. Former Business Minister Anna Soubry said her support rides on what Davis tells lawmakers in the debate. 
"I want a commitment from him that in the event of no deal it will come in to Parliament and Parliament will determine what happens next," Soubry told the BBC's "Sunday Politics" show.
The government has set aside time on three days this week for a to-and-fro with the Lords.
Commons Prevails
There are signs the Lords may give in if the Commons rejects the amendments. Dick Newby, leader of the Liberal Democrats in the Lords, has said "there are a lot of people in the Lords who think that you can only vote against a bill once."
Dianne Hayter, a Labour peer who proposed the amendment on the parliamentary vote, told the Lords last week that if Parliament's two chambers disagree, "we are absolutely clear that ultimately the will of the Commons must prevail."
Ministers came under further pressure Sunday after a panel of lawmakers warned of a "real possibility" that the Brexit negotiations end without a deal. Failing to plan for such an outcome would amount to a "serious dereliction of duty," the Foreign Affairs Committee said in a report.
Contingency Plans
Davis insisted the government is working on contingency plans.
"It's not just my team, it's the whole of Whitehall, it's every single department," Davis said. "But understand, it's the contingency plan. The aim is to get a good outcome and we are confident, I'm confident I'll get a good outcome."
Foreign Secretary Boris Johnson, one of the architects of the U.K.'s decision to leave the EU, told ITV's "Peston on Sunday" that it would be "perfectly OK" and not "apocalyptic" for Britain to walk away without a pact.
Falling out of the EU without a deal would leave Britain with the worst trading terms of any G20 nation with the bloc, according to research published late on Sunday by Open Britain, a group campaigning for a softer Brexit.
"The government's threat to walk away from negotiations betrays a dangerous complacency about how countries outside the EU currently trade with the EU,'' Pat McFadden, a Labour lawmaker who backs Open Britain, said in an emailed statement. "The government is flirting, as a negotiating tactic, with an option that poses huge dangers to U.K. industry, services and agriculture.''
Before it's here, it's on the Bloomberg Terminal.
LEARN MORE