New York to Get More Rain and Less Snow
By
Snowfall totals are lowered from Washington to New York

Tens of thousands are without power as storm tracks north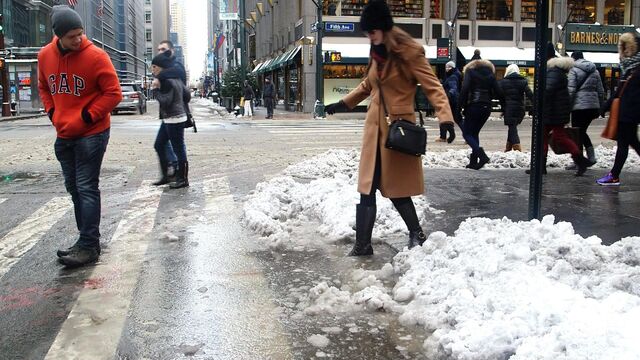 A slight wobble in the path of a late-winter storm will mean more rain and sleet and less snow than predicted for New York and the U.S. East Coast even as the system grows in strength on its journey north.
Washington received about 2 inches (5 centimeters) of snow while New York will see as much as 6 inches, according to the National Weather Service. Some earlier forecasts called for as much as two feet in Manhattan. The weather service canceled a blizzard warning for New York City, though a coastal flood warning for tides that could be 3.5 feet higher than normal remains in effect. About 145,000 homes and businesses in eastern U.S. states were blacked out, according to data compiled by Bloomberg from utility websites.
The storm packing wind gusts of up to 60 miles per hour, forced airlines to cancel thousands of flights, while wholesale power prices were mixed and natural gas futures fell as the system spins up the Atlantic Coast. German Chancellor Angela Merkel delayed her trip to Washington, and President Donald Trump tweeted a picture of himself meeting with Washington Mayor Muriel Bowser about the storm, advising those in its path to be safe.
"The low is a little farther inland, we're talking miles, and it makes all the difference," said Patrick Burke, a senior branch forecaster at the U.S. Weather Prediction Center in College Park, Maryland. "That is the difficulty we live with with all of these storms. In terms of the amount of liquid that is falling out of the sky, we did that very well, it's just a question of how much has fallen as snow."
Even without the high snowfall total, the powerful storm poses risks. About half of the blackouts as of 10:30 a.m. were in Virginia, with power failures spreading northeast through the morning into Maryland, Delaware, southeastern Pennsylvania and New Jersey where about 38,000 had lost power. Dominion Resources Inc., owner of Virginia's largest utility, reported about 41,000 without power and Rappahannock Electric Cooperative had about 2,800 blacked out.
Amtrak suspended all rail service between New York and Boston, as well as to Albany, the federally-run railroad said in a statement.

New York and Boston closed public schools, commodities and stock markets were open and the federal government said it would open after a 3-hour delay. Traders were watching shares of transportation companies and retailers that may decline because of the disruptions.
Burke said the storm will intensify between New York and Boston and a powerful winds will rake the coastal areas. The storm will be followed by more cold, with low temperatures in New York and Boston dropping to 18 degrees (minus 8 Celsius) Fahrenheit Wednesday.
'Pretty Strong'
While it might seem late in the season for a big dump, it's not out of the ordinary, said Marc Chenard, a forecaster at the Weather Prediction Center. "We thought we could get out of the winter without this, but that's not going to happen."
New York has been hit by massive March storms many times. The Blizzard of 1888, which killed 400 across the Northeast and 200 in the city alone, ranks at the top of the historic list, according to Weather Underground in Ann Arbor, Michigan. "This is historic in the sense that we are adding to history, but not unprecedented," said Brian Hurley, senior branch forecaster at the Weather Prediction Center.
For a look at the sectors that traders were watching ahead of the storm, click here.
Natural gas for April delivery was down 7.3 cents, or 2.4 percent, to $2.970 per million British thermal units at 10:57 a.m. on the New York Mercantile Exchange after rising to a one-month high Monday. Gas traders are looking past the weakening storm to the upcoming seasonal demand lull, said Santiago Diaz, an energy trading associate at FCStone Latin America LLC in Miami. Stockpiles of the heating fuel are above normal heading into spring, when consumption drops amid milder weather.
"A few inches of snow in New York isn't enough to keep the market supported, and the storm doesn't look as bad as people were anticipating," Diaz said by phone. "The winter season is basically over for the gas market."
Spot power prices on the 13-state network managed by PJM Interconnection LLC, which serves more than 61 million people from Washington to Chicago, were up 31 percent Tuesday as of 10 a.m., heading for the highest daily average since Jan. 9. In New York, where demand is coming in well below forecasts, spot prices are down 73 percent, which would be the lowest daily average since Sept. 30 if prices stay there.
"There was so much hype, it's like anything with the weather especially if the storm hits New York City," Stephen Schork, president of Schork Group Inc., a consulting group in Villanova, Pennsylvania, said by phone. "Anything short of a three-foot snowfall probably would have been anticlimactic given the headlines." 
Fuel demand was increasing in the U.S. Northeast and Great Lakes regions as consumers bought supplies ahead of the storm, energy distributor Mansfield Energy said in an online update.
Connecticut will temporarily allow truck drivers to work longer hours to allow for extended deliveries of diesel, heating oil, kerosene, propane and gasoline.
Canceled Flights
Amtrak suspended Acela train service between Boston and New York and cut back its schedule to Washington. About 7,890 flights across the U.S. were canceled as of 9:55 a.m. since Monday, FlightAware, a Houston-based airline tracker, said. The storm tracked across the Midwest bringing snow and grounding flights in Chicago as it moved east.
The threat to travel caused Innophos Holdings Inc. in Cranbury, New Jersey, and EPAM Systems Inc. in Newtown, Pennsylvania, to postpone shareholders' meetings. The House of Representatives won't schedule votes for Tuesday in addition to the 3-hour delay to the opening of the federal government. The German chancellor's trip to Washington for talks with Trump was postponed until March 17, White House spokesman Sean Spicer said.
— With assistance by Jim Polson, Mary Schlangenstein, Naureen S Malik, Brian Louis, Joe Sobczyk, Chris Martin, Laura Blewitt, Megan Durisin, Michael Shepard, Laura J Keller, Lisa Du, Sonali Basak, Heesu Lee, Anna Kitanaka, Kelly Gilblom, Mathew Carr, and Christine Buurma
Before it's here, it's on the Bloomberg Terminal.
LEARN MORE