politics
Fillon Doubles Down on French Reform Before Date With Judges
By and
Macron says presidential contenders should discuss the issues

Le Pen indicates she'd relish second-round fight with Macron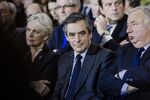 Francois Fillon vowed not to back down on promises to overhaul the French economy at the start of a week that may prove critical for his presidential bid.
The Republican candidate said in an interview on Europe1 radio Monday he won't let the financial scandals that have buffeted his campaign deflect him from his plans to boost economic growth.
"My project remains the same as in the primary, to deliver an immediate shock to competitiveness," Fillon said, adding that he aims to cut the levies on employing workers and increase the spending power of French consumers.
For a dashboard tracking European political risk, click here
With six weeks to go before the first round of voting, the 63-year-old former prime minister is a distant third in the polls, suggesting he would be eliminated as independent Emmanuel Macron and National Front candidate Marine Le Pen go on to contest the runoff on May 7. Having shaken up his campaign team, Fillon in the Monday edition of Les Echos newspaper promised to raise the retirement age, revamp the labor code, lengthen the work week and slash the budget deficit, while dismissing his rivals' plans for reform.
"I'm the only candidate to embody a real break with the past," Fillon said. "I'm the only one to offer hope. Everyone else is proposing either to continue as before -- which is Emmanuel Macron -- or utopias that lead us to catastrophe -- that's Marine Le Pen."
Even so, Macron and Le Pen are roughly tied for first place in terms of voting intention in the first round. Ifop's latest daily rolling poll gives Le Pen 26 percent support and Macron 25.5 percent, while Fillon has just 19.5 percent. Macron leads Le Pen by 21 points in the runoff.

French bonds were little changed on Monday, with the extra yield investors demand to hold French 10-year debt instead of their German equivalents falling 1 basis point to 62 basis points.
Having started the year as front-runner, Fillon stumbled in mid-January when Le Canard Enchaine newspaper reported that he had employed his wife for years as a parliamentary assistant and that she had done little real work for total pay of about 1 million euros. Prosecutors opened an investigation and Fillon received a summons to discuss the matter with judges this Wednesday.
For more on the Fillon family's fake jobs scandal, click here
Asked if he thinks he may be let off in the affair without charges, Fillon told Les Echos that he has "no illusions" about the hearing while repeating that he will eventually be found to have done nothing wrong. On Europe1 Monday, he reiterated he won't drop out of the race if charged by what he called "biased" judges.
"The more I'm under attack the more I'll fight back," he said.
Fillon's latest attempt to turn around his campaign took a knock Sunday with a newspaper report that he had 48,500 euros ($51,700) worth of bespoke suits made in the past five years and that a recent purchase of 13,000 euros was paid for by a friend. Fillon dismissed the report, saying that it's his personal life and he has the right to receive a gift from a friend.
Globalist vs. Patriot
Macron, a 39-year-old independent, said on TF1 television late Sunday that he wants to move on from scandal and that voters need to be able to debate the plans offered by the various candidates. He repeated a promise to leave the retirement age unchanged but create a single regime for both public and private sector workers.
People have had enough of "caricatures, polemics," he said. "We need to discuss the future of the country. And the period we're living through is very serious."
Le Pen, who is running to pull France out of the euro and implement "intelligent protectionism," indicated Sunday that she, too, is ready for that debate.
She signaled that she expects to face Macron in the second round of voting and that the contest would offer the nation a real choice, adding that other candidates who call themselves patriots should support her in the runoff.
"Those who call themselves patriots, who oppose the EU, those who say they oppose immigration -- if they find themselves faced with a second-round choice between Marine Le Pen and Emmanuel Macron, which is to say a proud globalist and a proud patriot, what will they do?" she asked on C8 television. "They should support me and my demand for sovereignty, freedom and defense of identity."
Le Pen Monday also attacked Fillon over the reports of his bespoke suits.
"We have to know who this person is because we have to know about possible conflicts of interest," she said on France Info radio. "Francois Fillon's personality is very different from the austere image he likes to give. He's someone who clearly likes money."
— With assistance by Gregory Viscusi
(
Updates with comments from Monday radio shows from second paragraph.
)
Before it's here, it's on the Bloomberg Terminal.
LEARN MORE