politics
Fed, Economists and Investors Show Rare Harmony on Rate Outlook
By and
Bloomberg survey shows economists expect three hikes in 2017

Risks to GDP and inflation outlook seen weighted to the upside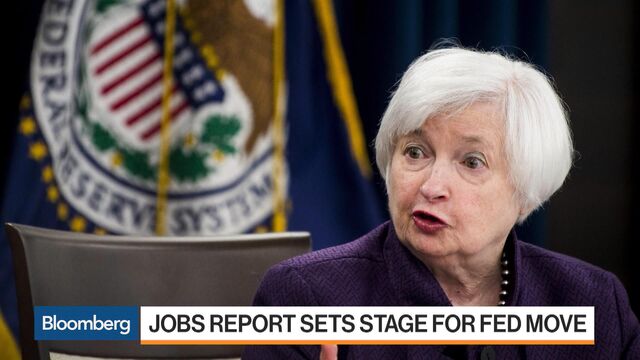 A year ago, the Federal Reserve was forced to back away from its earlier projection for four interest-rate increases in 2016. This year, everyone's coming around to the Fed's view.
A Bloomberg survey of 45 economists conducted on March 7-8 produced a median estimate for three quarter-point hikes in 2017, with moves expected in March, June and December. That's up from two hikes that respondents predicted in a survey in February and now matches the median number of increases that Fed policy makers forecast in December.

Investors also raised their sights recently. The probability of three or more increases this year implied by pricing on contracts in fed funds futures surged above 50 percent for the first time on March 1.
"The Fed is a happy camper," said Thomas Costerg, senior U.S. economist at Standard Chartered Bank. "For once, the Fed and the Street seem to be aligned. That's good news because it means volatility can remain low. There's no need to alter market expectations."
Positive Data
The shifts followed a steady stream of positive economic data and a flurry of remarks from central bankers. Chair Janet Yellen capped off a hawkish week of Fed talk with a speech on March 3 in which she said a hike "would likely be appropriate" at the March 14-15 meeting if the economy stays on track. Policy makers will also submit new forecasts and rate projections at the March meeting of the Federal Open Market Committee.
See which Fed officials give the best policy signals.
The Bloomberg survey also showed economists lifting their average projections for the fed funds rate at the end of 2018 and 2019 by a quarter point, bringing those in line with Fed expectations as well.
| Period | Survey Median | Survey Average | Fed Dec. Projections |
| --- | --- | --- | --- |
| 2017 | 1.4% | 1.4%  | 1.4% |
| 2018 | 2.1 | 2.1 | 2.1 |
| 2019 | 2.9 | 2.9 | 2.9 |
| Long-run | 3.0 | 3.0 | 3.0 |
Economists said they expect the upper bound of the benchmark rate to peak in this tightening cycle at 3 percent in the second quarter of 2019.
As part of the shift among economists, there's growing concern that economic growth and inflation could go higher than expected, with 55 percent saying risks now fall more heavily on the upside. Just 13 percent rated downside risks as more serious, while a third of respondents agreed with the Fed's assessment that risks are roughly balanced.
Potential Shock
Economists also rated a potential external shock to the economy and an abrupt tightening of financial conditions as riskier propositions than the specter of an overshoot on inflation caused either by declining unemployment or an expansionary fiscal policy.
Regarding prospective policies under President Donald Trump, 62 percent of respondents said they expect the net economic impact of government programs -- including fiscal, trade, immigration, health care and others -- to be positive. Twenty-three percent foresee a negative impact and 15 percent a neutral effect.
In additional comments provided by respondents, fiscal policy presented the biggest source of uncertainty. Some economists also made clear they saw major risks despite the potential for Trump to deliver higher growth.

"Over the next two years, Trump economic polices are expected to boost U.S. growth prospects, but the side effects on the fiscal deficit, inflation, health care and trade and immigration policies could do real damage to our country's longer-term growth potential," wrote Scott Anderson, chief economist at Bank of the West in San Francisco.
Promises, Perils
Kurt Karl, chief economist at Swiss Re Ltd., was similarly divided over the promises and perils under Trump.
"Though the administration's policies are likely to be a net positive to the economy, there is a risk that trade protectionism and the curtailment of immigration lead to a weaker economy," he said. "The net positive only holds if we do not end up in a trade war."
Respondents said there's a 15 percent chance that Trump will reappoint Yellen for another four years as chair when her term expires next February. Trump early last year praised Yellen and extolled the value of keeping interest rates low. Later in the campaign he criticized her, saying she was providing stimulus to benefit then-President Barack Obama.
Before it's here, it's on the Bloomberg Terminal.
LEARN MORE