Europe 'Political Circus' Has SNB Bracing for Stronger Franc
By
Quarterly policy announcement due on Thursday in Zurich

Data suggest SNB interventions increased pace last month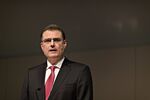 Swiss National Bank President Thomas Jordan may be casting an eye around and getting nervous.
Political events in Europe have the potential to complicate life for the central bank, which since the financial crisis has spent hundreds of billions of francs on interventions. Britain's triggering of Article 50 to leave the European Union or a win by euro-skeptic Marine Le Pen in France's presidential election could send investors into the haven franc.
Already, a rise in apprehension about the state of affairs in Europe appears to have prompted a pickup in SNB market activity to prevent the franc from gaining more ground against the euro. While a rate cut would increase the difference between Swiss and euro-area interest rates, in turn making the franc less attractive, a better global backdrop could mean Jordan and his colleagues have leeway to keep policy unchanged.
"It's a political circus -- there's a lot going on," said Julius Baer Chief Economist Janwillem Acket. "But they've got the room to allow the franc to strengthen versus the euro, given the economic environment, and I therefore don't see the acute need to ease policy," he said, adding he didn't think a rate cut was something the SNB would undertake "willy-nilly."

The SNB holds its next scheduled interest rate announcement at 9:30 a.m. in Zurich on Thursday, hot on the heels of a Dutch parliamentary vote and a U.S. Federal Reserve meeting that is likely to produce a tightening of policy.
The Swiss central bank is expected to keep its deposit rate unchanged at minus 0.75 percent and reiterate its pledge to intervene in currency markets, according to the median estimate in a Bloomberg survey of 33 economists. No press conference is scheduled.
Even after giving up its cap versus the euro two years ago, the central bank continued interventions to curb appreciation pressure on the franc. It last admitted to them in late June, in the wake of Britain's vote to leave the European Union. Sight deposits, which economists regard as an early indicator for SNB interventions, increased 0.4 percent last week.
Pressure has also built on the currency due to a narrowing of bond spreads, with euro-area central banks buying up euro-denominated assets as part of their quantitative easing program and the SNB also a holder of such instruments in its foreign-exchange reserves.

With elections in France and in Germany later this year, as well as possible instability in Italy and U.S. protectionism, the situation is "delicate," Jordan said in an interview with Schweiz am Wochenende earlier this month. He reiterated his pledge to use interventions and negative rates to limit the franc's appeal, and said the SNB has "enough leeway" with its instruments to react to shocks down the road.
"I think the SNB would like something to happen elsewhere and then be able to say that they'd been forced into the step" of easing policy, said Karsten Junius, chief economist of Bank J. Safra Sarasin in Zurich, the only bank to forecast the central bank will cuts its deposit rate this week. "The exchange rate can only be kept if the SNB absorbs the flows."
While the franc has been under appreciation pressure against the euro, expectations of higher interest rates in the U.S. mean the currency has weakened against the dollar in recent weeks. That's helpful to exporters, who've seen profit margins in Europe shrink due to the unfavorable exchange rate. Economic indicators suggest that Swiss momentum will accelerate in the first half of this year, in tandem with an improvement in the neighboring euro area. European Central Bank President Mario Draghi said last week that risks have become "less pronounced."
No Wasting of Gunpowder
Inflation is picking up too, with prices rising at the fastest annual pace since 2011 on the back of higher energy prices. Yet the core rate, which doesn't include prices of volatile items like food and oil, was negative. Along with figures that the prices of domestic goods have risen far less sharply than those of imports, that indicates that -- as in the euro area -- underlying price pressures remain subdued.
The SNB's most recent forecast is for an inflation rate of 0.1 percent this year, picking up to 0.5 percent in 2018. Those predictions are due to be updated on Thursday. The Federal Statistics Office raised its CPI projection for this year to 0.5 percent from a December estimate of 0 percent.
"The SNB will adjust rates only if there's a situation causing a lasting appreciation of the franc," said Manuel Ferreira, head of investment strategy and economic research at Zuercher Kantonalbank. "To react to a political event that may not even happen, that would be wasting your gunpowder."
Watch Next: The Anti-Islam Populist Who Wants to Run the Netherlands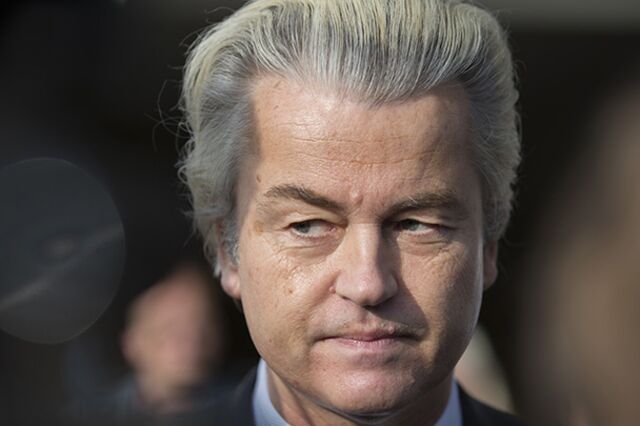 — With assistance by David Goodman, and Josh Robinson
Before it's here, it's on the Bloomberg Terminal.
LEARN MORE