Brexit Bulletin: Are We There Yet?
Theresa May is in touching distance of being able to kick off Brexit.
By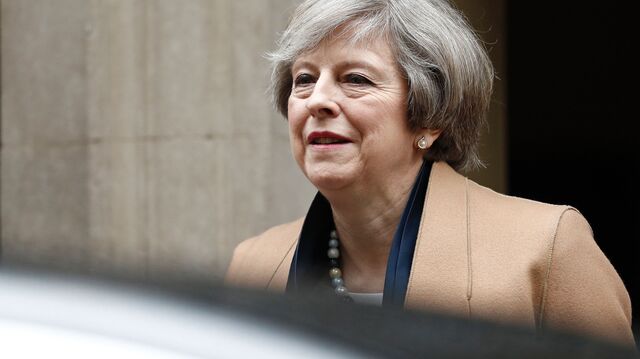 Sign up to receive the Brexit Bulletin in your inbox, and follow @Brexit on Twitter.
The prime minister will try on Monday to rally the House of Commons to back the bill that would empower her to trigger Article 50 of the Lisbon Treaty.
But first she is seeking to persuade lawmakers to overturn the amendments added to it by the House of Lords. They would guarantee the rights of European Union citizens living in the U.K. and give Parliament a binding vote on whatever she negotiates with the EU.

Some in her own Conservative Party are considering backing at least one of those tweaks and Brexit Secretary David Davis took to the airwaves on Sunday to press them not to do so in the interest of giving May a free hand in the upcoming talks.
"Please don't tie the prime minister's hands," Davis told the BBC. 
If May can get the bill passed swiftly, will she pull the trigger? She could in theory do it as soon as Tuesday. One other option, as reported by Bloomberg, is that she uses that day's parliamentary statement to signal she will wait until the end of the month to do so.
Waiting would allow May to avoid obstacles, such as Wednesday's Dutch elections and the March 25 celebration of the EU's founding Treaty of Rome, while keeping to her deadline of acting by the end of the month. It would also enable EU leaders to plan a summit for April 6 at which they would sign off on negotiating guidelines for the European Commission.
Writing on Monday, the Bloomberg View editorial board urged MPs to leave the amendments in place:
Both provisions make sense, and the House of Commons should accept them. Doing so will show supporters of Brexit that it will press the government to make the best possible deal -- and reassure opponents of Brexit that it favors the least harmful deal.
Read more: Our comprehensive Q&A has everything you need to know about what happens next.
Other Weekend News
The Foreign Affairs Committee warned that there was a "real possibility" that Brexit negotiations could end without a deal, and that failing to plan for such an outcome would amount to a "serious dereliction of duty." Foreign Secretary Boris Johnson told ITV it would be "perfectly OK" and not "apocalyptic" for Britain to walk away without a pact, while Davis said contingency planning was taking place.
The Sunday Times reported May will ask the EU to hand back £9 billion of U.K. assets held by the European Investment Bank when she files Article 50.
Can the Government Cope?
The Institute for Government warns today that the talks will test Britain's civil servants to the maximum at a time when fiscal austerity is already biting.
The state must not only help negotiate the withdrawal from the EU and establish a new trading relationship with it, but also write all EU rules into domestic legislation so the government can weed out the ones it doesn't want. At the same time, May will want to demonstrate there is more to her government than managing Brexit (for example, her call for new grammar schools.)
"With limited time and capacity, the pressure on ministers and the civil servants supporting them will increase," said Jill Rutter, a former Treasury official now at the research group. "Successfully delivering Brexit in this context will require agility, leadership and realism."
Special Relationship
Top executives from the largest U.K. and U.S banks have set up a group to foster closer ties in financial services  after Britain leaves the EU. 

TheCityUK, an industry lobby group, has created a steering committee led by managers at Barclays and JPMorgan Chase to explore potential post-Brexit trade and investment deals, Bloomberg's Stephen Morris reports. Barclays Chairman John McFarlane, who also leads TheCityUK, is overseeing the project. The bank's Chief Executive Officer, Jes Staley, is heading a U.S. subcommittee, while JPMorgan's European Chairman, Mark Garvin, has a similar role for the U.K.
They are convening as investment banks in London grow increasingly concerned U.K. and EU negotiators won't reach an agreement over what May has called a "phased implementation period" for Brexit, one of the people said. This would give firms an extra two to three years to restructure their businesses on top of the official two-year negotiation period.
Brexit Bullets
Scotland First Minister Nicola Sturgeon to speak on Brexit on Monday. Daily Telegraph says she may name a date for a new independence referendum
Bank of England to lose Kristin Forbes, a rebel voice against the consensus thinking on Brexit
Poland seeks to move European Banking Authority from London to Warsaw
Britain is asking countries with EU trade deals to copy them for post-Brexit Britain and broaden them later, Daily Telegraph reports
Leaving the EU with no deal would mean less generous terms than any G-20 economy, Open Britain reports, citing research by the House of Commons Library
It will take a decade for the hospitality sector to replace EU staff after Brexit, according to the British Hospitality Association
Britain Thinks research group says polls suggest "expectations for life are sky high" after Brexit
Migration Watch group says 85 percent of EU citizens living in U.K. will be able to apply for permanent residency by the time of Brexit
Chocolate prices in the U.K. may rise without a favorable trade deal with the EU, Mars says
Oxford colleges tell the Times an exodus of European academics has already begun
24,000 National Health Service workers could leave because of Brexit, according to Channel 4
U.K. house prices rose at their fastest in a year, according to Acadata and LSL, while EG London Residential Research reported asking prices for new London homes surpassed £1,000 a square foot for the first time.
On the Markets
There is no consensus among traders on what the invoking of Article 50 means for financial markets. Is it already "priced in" or is there drama ahead? With May on the brink, we look at the potential implications for the pound, gilts and stocks.

And Finally…
The kids are not okay about Brexit. Forty seven percent of parents think departing the EU will leave their children worse off amid a "general sense of anxiousness" among families, according to a Press Association report of a poll by comparethemarket.com and You Gov.
Meanwhile, a survey commissioned by Open Britain, which campaigns against a so-called hard Brexit, suggested two thirds of the 16 percent of students who voted for Brexit now say they wouldn't.
For more on Brexit follow Bloomberg on Twitter, Facebook and Instagram, and see our full coverage at Bloomberg.com
Before it's here, it's on the Bloomberg Terminal.
LEARN MORE