Bank of England to Lose Rebel Voice Against Brexit Consensus
By
Kristin Forbes leaving a year after the EU referendum

Only other female MPC member in controversy over family ties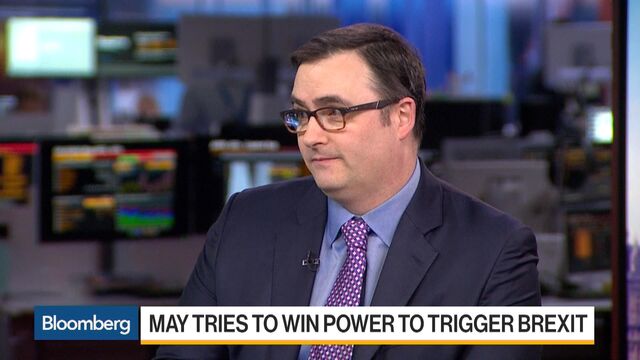 One of the Bank of England's most vocal dissenters is moving on, just as Brexit's surprises make alternative views more valuable.
Kristin Forbes is leaving at the end of June to return to MIT, depriving the nine-member Monetary Policy Committee of a voice that's consistently pushed against consensus. The American, who some say could be a potential candidate for future Federal Reserve posts, is known for her "deep dives" into under-explored topics that have challenged the way the bank thinks.

The 46-year-old has made her mark even more forcefully since the Brexit vote, opposing key parts of last year's stimulus package and becoming the first MPC member since the referendum to leave the European Union to openly suggest that the U.K. may soon need a rate increase. That distinguishes her from colleagues who are prepared to tolerate faster inflation after the pound's sharp drop, rather than put growth in jeopardy.
The central bank announces its next decision on Thursday, when there will be insight into whether divisions on policy have widened further.
"When she was making hawkish arguments I personally didn't share them, but it must be healthy for the committee to have that voice there and that opposing case being made," said Tony Yates, an economics professor at the University of Birmingham and a former BOE official. "There's been a period of incredible unanimity on the MPC while there have been raging controversies in macro and what policy should be doing."
The BOE declined to comment for this story and Forbes wasn't available.
External members of the committee -- four part-time officials appointed by the government -- have been crucial in challenging the five internal rate-setters in the past, a task that Forbes has taken on with gusto.
Every few months, she picks an issue to look at closely to see if she can improve on the bank's approach, according to a person familiar with her methods, drawing first upon the work of BOE staff, and then conducting her own research. With that process she's produced speeches on topics like global spillovers, the potential of emerging markets, the labor market, the current-account deficit, and the contraction in global banking flows.
Her research has led to explanations of why the impact of Brexit-related uncertainty was less adverse than the BOE had initially estimated. Her work on the pass-through of sterling to prices also changed the way the bank understands the issue, the person said. It's gone from using fixed estimates based on what happened during the crisis to a more flexible approach that assumes lower effects of sterling movements.
Such analysis may become even more necessary in the coming months as Britain negotiates Brexit and policy makers' balancing act between supporting growth and managing inflation gets even more complex.

"It's a good challenge to external members that they stir things up," said Kate Barker, an external BOE policy maker from 2001 to 2010. "The internal members can develop a bit of, as it were, group-think," and officials can be tempted to leave an issue by the wayside if it "rubs up against the grain too much," she said.
After the June Brexit vote, Forbes said there was merit in waiting for evidence of a slowdown before acting, a view that contrasted with Governor Mark Carney who advocated almost immediate easing. While she voted with the committee to cut rates in August, she didn't support more bond purchases.
The economy maintained its momentum throughout 2016, a far cry from the risk of recession some had envisaged. Carney attributes the resilience to BOE policy.
Though Forbes didn't join Ian McCafferty in voting for higher interest rates in 2014 and 2015, she has opposed the panel in other areas. Last month, she disagreed with Carney on how low unemployment can fall without fanning consumer prices.
It's important to have policy makers with "technical expertise" to "question and work through the arguments that bank staff are making," said Martin Weale, a former BOE policy maker who sat on the MPC with Forbes for two years. "She brought a very valuable standard of rigor to the discussions."
Her departure highlights issues of inclusion at the bank, which Carney has placed at the fore. Since the BOE's independence in 1997, just seven of 40 MPC members have been women. Forbes' appointment in July 2014 ended a four-year streak of an all-male group.

It also comes amid controversy over the MPC's latest appointment as lawmakers review deputy governor Charlotte Hogg's position after she admitted she didn't disclose that her brother works at Barclays, which the BOE regulates.
Forbes's resume could qualify her for a future at the Fed. She was the youngest person to ever join the White House's Council of Economic Advisers under George W. Bush, and has worked for the World Bank, the U.S. Treasury Department, and Morgan Stanley.
"The Fed is a possibility," said David Blanchflower, a former BOE policy maker and an economics professor at Dartmouth College. "They're obviously looking for people to join."
There will be three open seats on the Fed's board as of next month. Janet Yellen's term as chair expires in February 2018, unless President Donald Trump offers her another four years.
"I'm sure we'll hear a lot more from her in the future," Weale said.