Australia Is 'Prepared to Do More' to Slow Housing, RBA Says
By
Initial effects of macroprudential policy 'may fade over time'

Bullock says impact of lending practices as a whole is key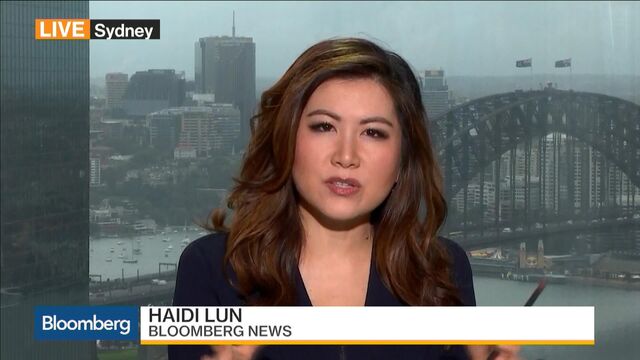 Australia could further curb mortgage lending to investors as the impact of earlier measures wanes and Sydney and Melbourne house prices keep surging, Reserve Bank Assistant Governor Michele Bullock said.
"There is no doubt that the actions did address some of the risks," she said in a Bloomberg Address in Sydney. "While the resilience of both borrowers and lenders has no doubt improved, the initial effects on credit and some other indicators we use to assess risk may fade over time. We are continuing to monitor their ongoing effects and are prepared to do more if needed."

Bullock, in her first speech since taking up oversight of the financial system, stressed that while individual decisions by banks may appear reasonable, regulators' concern is that together they could lower overall lending standards. The backdrop is one where Sydney house prices have rocketed 105 percent since the start of 2009 and Melbourne's have also soared.
Bullock's comments Tuesday also come as Australia's economic community splinters on what the RBA will do next. A record-low cash rate of 1.5 percent -- designed to support the economy's transition to services-driven growth from mining -- is fueling the east coast housing boom and a borrowing binge that's sent the household debt-to-income ratio to a record 187 percent.

On one end is Goldman Sachs Group Inc. that sees a high probability of a rate increase in November; on the other is JPMorgan Chase & Co. that predicts tougher macroprudential measures to cool housing and rate cuts to boost employment and inflation. In the middle is an emerging consensus that expects the housing market to lose momentum naturally and rates to remain on hold.
Bullock was asked about a tweak in the RBA's language toward investor lending measures introduced more than two years ago that sought to limit annual growth to 10 percent, toughen serviceability assessments and test the responsibility of practices. In its policy statement a week ago, the RBA said the measures have contributed to "some strengthening" of lending standards, an apparent softening from February's comment that the measures "have strengthened" practices. 
Bullock said she wouldn't read into the change that the measures have weakened, arguing they have in fact boosted the resilience of banks and households. The loan-servicing standards require banks to test a borrower's capacity to make payments at a higher interest rate than now, ensuring "people won't be badly caught out" by a tightening of policy, she said. The question is simply whether more might need to be done, she added.
"We can make sure that in making lending decisions that the banks as a whole are not lowering their lending standards," Bullock said. "So they haven't been lowered, they have had an impact on resilience, but it doesn't mean that we shouldn't look more at it and make sure that they're continuing to be prudent."
Low Rates
Along with flagging possible new macroprudential measures, Bullock also touched on rates. "There is also some thinking to be done about how monetary policy considerations should factor in financial stability issues, and the role that macroprudential policies might play in addressing system-wide risks in a low interest rate environment," she said.
Citigroup Inc. banking analysts say regulators may consider introducing tighter debt service caps, higher buffers on serviceability rates or strengthening income criteria.
Bullock's comments "that more measures could be deployed to address financial stability risks should not be surprising given the continued rise in household debt to new record levels, the unrelenting brisk pace of house price rises in Sydney and Melbourne and the renewed strength of investor lending," Citi analysts said in a report following Tuesday's speech.