Australia Calls on China to Match Power With Responsibility
By and
Foreign Minister Julie Bishop speaks in Bloomberg TV interview

Bishop dismisses potential threat of U.S.-China trade war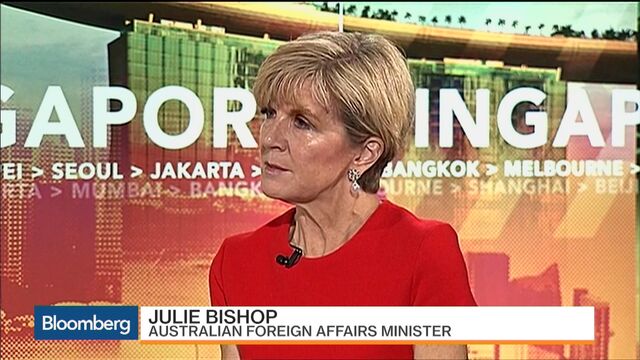 China should commit to being a responsible global player alongside its expanded clout, according to Australian Foreign Minister Julie Bishop.
"It's inevitable that China will continue to grow economically, militarily," Bishop said Monday in a Bloomberg Television interview in Singapore. "It will become increasingly strategically important and the question is whether China will be a responsible global player and that is yet to be seen."
"I would like China to be committed to the rule-based order, abiding by the international rules that have guided countries' behavior since the Second World War," Bishop added. When China "branches out" with initiatives like the Asian Infrastructure Investment Bank or its "One Belt, One Road" trading routes plan, it must be for the benefit of the region and not just one country, she said.
Bishop, whose nation is a key strategic ally of the U.S. and counts China as its largest trading partner, dismissed the likelihood of a trade war between the two powerhouses, saying there was "too much at stake." She said she was convinced the new administration in the U.S. will remain engaged in Asia and repeated her call for President Donald Trump to attend this year's East Asia Summit in the Philippines.
Watch this: Bishop says Australia must argue against protectionism
Australia has for decades walked a fine line between supporting the strategic interests of the U.S. and preserving economic ties with China. The U.S. has Marines based in Australia's northern port town of Darwin, while Australia has pushed back against Beijing's military assertiveness in the South China Sea.
For Australia, the new U.S. administration presents potential regional challenges.
Trump has signaled a less predictable approach to foreign policy that raises doubts about the U.S. commitment to Asia. While he has recently backed military alliances with Japan and South Korea, he has also said countries should pay more for their own security.
Secretary of State Rex Tillerson -- who is due to visit South Korea, Japan and China this week -- is seeking to implement Trump's narrower focus on advancing his "America First" theme. That means largely doing away with the global promotion of democracy and other "soft power" initiatives.
Obama's Rebalance
It's also a departure from Barack Obama's economic and security rebalance toward Asia. In one of his first acts as president, Trump withdrew the U.S. from the 12-nation Trans-Pacific Partnership, a trade pact to which Australia is a party.
Any pullback by the U.S. from Asia would present an opportunity for China. President Xi Jinping has strongly advocated for free trade and globalization in recent speeches, while pledging to boost infrastructure across Asia.
"It's a very competitive world," Bishop said in a separate interview. "There are always opportunities for other countries to fill any vacuum, perceived or real, and I am sure the United States is well aware of that."
Speaking Monday evening in a speech in Singapore, Bishop said China needed to address its own barriers to trade.
"There's no doubt that China sees an opportunity to be an advocate for globalization and more liberalized trade," Bishop said. "But there is more to embracing liberalized trade than saying you are in favor of it."
"There are domestic reforms that would have to take place for China to truly embrace the notion of free and open markets and trade."
South China Sea
Bishop called for a "deescalation of tensions" in the South China Sea. China claims large swaths of the disputed waterway to Australia's north that is an artery for global trade. Other claimants include the Philippines, Vietnam and Malaysia.
Australia has supported the U.S. in its promotion of free navigation in the area. The U.S. has sailed navy ships into waters claimed by China to make that point.
She also said China could more strongly pressure North Korea, which has resumed provocations, firing ballistic missiles into waters near Japan and claiming it is close to building an intercontinental missile capable of hitting North America.
"I believe there is more that China can do given its special relationship with North Korea," she said. "No other country has a relationship with North Korea as China does."
North Korea
Tillerson will use his trip to North Asia to look at new ways of approaching a problem that has vexed American presidents since Bill Clinton -- how to get Pyongyang to drop its nuclear weapons program. For almost two decades the U.S. has refused to engage in direct talks with North Korea.
Last year, North Korea conducted two nuclear weapons tests and fired 24 ballistic missiles. Trump's administration is reviewing all possible options in North Korea, even those that aren't likely to be adopted. According to the Wall Street Journal, the administration is weighing everything from the use of military force to recognizing North Korea as a nuclear state.
Trump has also demanded China do more, as North Korea's main ally and supplier of exports, to rein in Kim Jong Un. Bishop said Beijing still had clout to use.
"I believe that should be tested," she said, referring to China's influence. "I think there's more China can do."
— With assistance by Nasreen Seria
Before it's here, it's on the Bloomberg Terminal.
LEARN MORE