Multinationals Are Rethinking How They Lobby Xi's China
Bloomberg News
Companies focus on party relations instead of government ties

Moves to bolster party a shift from reforms taken in 1980s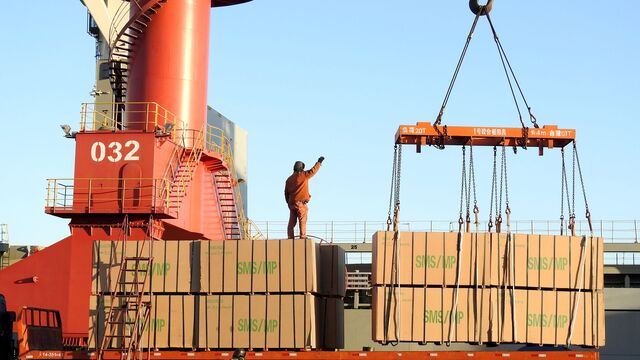 Multinational companies have spent decades mastering the art of government relations in China. Now, as President Xi Jinping extends the Communist Party's reach over policy making, they are starting to shift course.
The Conference Board, whose 1,200 members include Nestle SA and Wal-Mart Stores Inc., is among those exploring how multinationals influence policy, including their greater focus on party organs. The research group expects to publish in May the results of a study on the "changing dynamic of party-state relations" to help foreign companies navigate the country's vast and often secretive political superstructure.

"As the Communist Party of China takes an increasingly active role in policy design and implementation, multinational companies need to think anew about government affairs strategies," said Jude Blanchette, who's managing the project for the Conference Board's China Center. "Instead of going to the State Council to make their case, they're going straight to the party leading small groups because they know that's where the action is."
The party's expanded policy role points to a broader shift in China's political landscape, which had focused on bolstering government bodies in developing the economy after Mao Zedong's ideologically charged leadership led to mass famine and political upheaval. Since taking power four years ago, Xi has reasserted the party's supremacy -- with himself as its "core" leader -- over everything from executive functions to state-owned enterprises to the 3,000-member National People's Congress meeting that wraps up this week in Beijing.
Xi is seeking to centralize power while building a more innovative economy in which markets play a "decisive role." China this month set a 2017 economic growth target of "around 6.5 percent" -- the slowest pace in more than a quarter century -- as it focuses on easing financial risks from a credit boom.
Greater party control doesn't necessarily mean it will be harder for multinational companies to operate in China, according to Andrew Polk, the Beijing-based head of China research at Medley Global Advisors, which advises institutional investors. He cited an announcement earlier this month that gave local governments the ability to offer incentives to attract foreign investment.
"It doesn't make reform more or less likely at all -- it just makes it different," Polk said. "The rules are a little less clear, there's more uncertainty for businesses, but uncertainty can be a positive if it opens up opportunities you didn't otherwise have."

In the 1980s, the architects of China's economic opening sought to separate party and government functions following the catastrophic policy failures under Mao. Former leader Deng Xiaoping warned against "replacing the government with the party" while the reformist party chief Zhao Ziyang and other comrades traded their "Mao suits" for Western business attire. The titles of president and premier also gained prominence.
"History has told us the party was not great at managing the economy," said Deng Yuwen, a public affairs commentator in Beijing and a former deputy editor of Study Times, a leading Communist Party journal. "The reforms in the '80s were a direct response to that lesson. Now, what we're seeing is a thorough turnaround."
Zhao's ouster after the 1989 crackdown on the Tiananmen pro-democracy protests began a shift back to empowering the party. That transition appeared all but complete when Wang Qishan -- the party's No. 6 official and head of Xi's signature anti-graft campaign -- told a March 5 meeting of NPC delegates that there was "only a division of labor between the party and the government, but no separation." 
Leading Groups
Xi's dominance has been emphasized in speech after speech during the NPC, as state leaders, ministers and provincial chiefs credited the country's successes to the party's "core" leader. NPC Chairman Zhang Dejiang called party leadership the "root and soul" of statehood in his March 8 report on legislative affairs. The NPC concludes Wednesday.
The president's chief policy-making instrument has been the "leading small groups," party panels that have long been the ultimate agenda-setters for policies in all major aspects of national development. They have assumed a more hands-on role under Xi, who now leads more than 10 party bodies that set policy, including at least five that he created or took charge of that weren't held by previous top leaders. They include a powerful financial and economic affairs committee previously led by the country's premiers.
Their influence has been on display in recent interactions with U.S. officials. Liu He, who handles the day-to-day affairs of the financial and economic small group, was among the four top Chinese officials that Steven Mnuchin spoke with after his confirmation as U.S. treasury secretary. Mnuchin's predecessor, Jack Lew, similarly contacted Liu instead of Vice Premier Wang Yang -- the treasury chief's traditional counterpart -- when concerns about China's currency flared early last year.
The increased power of the leading small groups has come at the expense of the State Council, China's cabinet led by Premier Li Keqiang, and other parts of the bureaucracy still reeling from Xi's anti-corruption campaign. That poses challenges to foreign companies who have invested decades learning the ins and outs of China's bureaucracy.
Read more about Xi's anti-corruption campaign
The party panels operate largely behind the scenes and their memberships are only sporadically publicized. Public remarks by influential leading group officials are even rarer than those of their government counterparts. Liu, for instance, doesn't give a news briefing during the NPC like People's Bank of China Governor Zhou Xiaochuan or Finance Minister Xiao Jie.
"The problem though is that the Communist Party both by temperament and design is much more closed than the State Council," said Blanchette, the Conference Board's engagement director for China. The group's study aims to help multinationals get their concerns heard by party policy makers, he said.

Xi has created at least four small groups giving him new forums to manage national security, cyberspace and "deepening" economic reform. The latter panel approved 12 policies last month alone, ranging from environmental monitoring to foreign residency to state media's personnel, Xinhua said.
In response, foreign companies have begun petitioning the leading groups. In November, a coalition of 43 international industry associations, including American Chamber of Commerce and the Trans-Atlantic Business Council, wrote the cyberspace panel letters to express concern about cybersecurity regulations.
"They were sent to the leading group because it is a key policy body for cybersecurity issues and the associations wanted to convey their views directly to that organization," said Kenneth Jarrett, president of the American Chamber of Commerce in Shanghai. Technology companies such as Microsoft Corp. and International Business Machines Corp. have questioned the rules, which firms say could force to compromise security or exit the market.
Those kinds of interactions are set to become more frequent. The elevation of the party is a sign that Xi is willing to sacrifice efficiency in policy making for loyalty and stability, according to Zhang Ming, a political science professor at Renmin University in Beijing.  
"Now it's absolutely clear that the party is back to the forefront of state management," he said. "The party is here to stay and won't recede in the future as far as I can see."
— With assistance by Ting Shi, and Peter Martin
Before it's here, it's on the Bloomberg Terminal.
LEARN MORE