China Seeks Stronger 'Great Wall of Iron' in Xinjiang: Eye on Chinese Media
Bloomberg News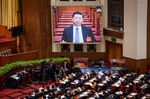 China's economy proved doubters wrong again, but conflicts and problems remain, according to an opinion piece in the Communist Party's People's Daily. "While resisting 'China bears,' we should also be alert to the 'lavishing praises' by 'China bulls'," the paper said. The national legislature concludes its annual session Wednesday, and the final work report will likely keep the growth target of "around 6.5 percent, or higher if possible."
Elsewhere:

China is sending a senior Foreign Ministry official to Chile to pursue Asia-Pacific economic integration, not to attend a Trans-Pacific Partnership meeting, China Daily reported, citing ministry spokeswoman Hua Chunying. Previous media reports indicated the Asian nation would take part in a TPP meeting in Chile, and there was discussion on whether China should fill the void left by the U.S.
The slower-than-expected military budget increase comes in tandem with slowing economic growth, but won't affect the capacity building of its armed forces, according to military researcher Zhou Bo. It also speaks volumes about the nation's confidence in the world order and in the regional situation, Zhou wrote in China Daily. China won't start a war with any other country and will keep the building of the military affordable and sustainable, Zhou said. The defensive budget will increase about 7 percent this year, the slowest increase since as least 1991.
Boeing Co. and Chinese aviation manufacturer Commercial Aircraft Corp. of China Ltd., popularly known as Comac, will begin construction on a 737 completion center in eastern China's Zhoushan city at the end of this month, with first delivery expected in 2018, Xinhua News Agency reported. It's the first overseas facility for the planemaker's 737 model, and it comes as uncertainty still hovers around China-U.S. trade ties.
— With assistance by Miao Han
Before it's here, it's on the Bloomberg Terminal.
LEARN MORE