Treasuries Drop, Stocks Mixed as Fed Meeting Looms: Markets Wrap
Samuel Potter and Jeremy Herron
Treasuries slide, driving 10-year yield past 2.60 percent

Crude holds above $48 a barrel as gold advances with metals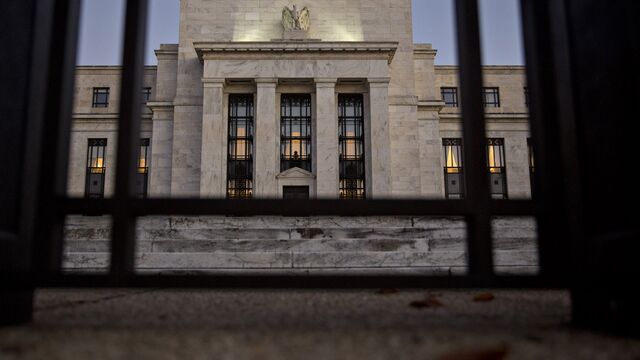 Treasuries fell, pushing yields toward the highest level of the year, as investors anticipate a near-certain rate hike from the Federal Reserve on Wednesday. Stocks and the dollar traded in tight ranges ahead of a week packed with crucial central bank meetings, economic data releases and political risk.
The S&P 500 Index was virtually unchanged, about 1 percent below an all-time high, and European equities rose amid a rally in mining shares after they ended last week at the lowest in two months. The yield on 10-year Treasury notes rose past 2.60 percent. The dollar weakened versus most of its major peers, though moves were modest. Oil slipped but held above $48 a barrel in New York. A major winter storm is expected to hit the U.S. east coast early Tuesday.

Global equities are trading near a record high as indications of firming growth in the U.S. and Europe coincide with China's economy showing signs of improvement. U.S. jobs data at the end of last week cleared the way for the Fed to raise interest rates without forcing it to accelerate the pace for future tightening.
"Markets fully expect a rate rise, so market reaction is likely to be muted unless the Fed disappoints which would lead to lower bond yields and a lower dollar, although that is not our expectation," Mike Bell, global market strategist at JPMorgan Asset Management, wrote in a note. "All attention is likely to be focused on the press conference to see whether a more hawkish tone is struck, if so yields and the dollar could move higher still."
Read our Markets Live blog here.
What's on the watch list this week: 
Traders view a quarter-point Fed hike this week as a virtual certainty after Friday's data, and will be watching the policy decision for signals on what will come next.
The Bank of Japan is set to keep its rates and yield-curve policy unchanged in its policy decision on Thursday. The Bank of England, Swiss National Bank and Bank Indonesia are also expected to stand pat with policy decisions. 
The Netherlands' election takes place March 15 amid a growing diplomatic spat with Turkey.
Earnings reports are due this week from firms including Oracle Corp., Tiffany & Co., and Prudential Plc.
G-20 finance ministers gather in Germany for a series of meetings. 
OPEC will on Tuesday release its latest monthly report, which will offer an insight into the pace of production cuts. The IEA will release similar data on Wednesday.
Here are the main market moves:
Stocks
The S&P 500 added less than 0.1 percent 2,373.64 at 4 p.m. in New York. The index ended lower last week for the first time since January.
The Stoxx Europe 600 Index rose 0.4 percent, for a fourth straight gain. 
The MSCI Emerging Market Index climbed 1.3 percent, its biggest advance since Dec. 8.
Currencies
The pound gained 0.5 percent to $1.2228, strengthening for a second day, as British Prime Minister Theresa May tries to win the power to trigger Brexit. 
Meanwhile, Scottish First Minister Nicola Sturgeon said she'll start the legal process of preparing for a second independence referendum.
The Bloomberg Dollar Spot Index fell less than 0.1 percent, following a 0.6 percent retreat Friday.
The euro traded little changed at $1.0658, after hitting a fresh one-month high at $1.0714.
Bonds
Treasury 10-year yields headed higher for the 10th time in 11 sessions, leaving the rate above the 2.60 percent level that Bill Gross says would herald the start of a bond bear market if it holds for a week.
German 10-year bonds bounced after the comments from Belgium's Jan Smets, interpreted as a rejoinder to Friday's report that the ECB considered whether interest rates could rise before its bond-buying program comes to an end.
The 10-year yield on French bonds dropped three basis points after a weekend poll from BVA boosted expectations for Emmanuel Macron to win the presidential election.
Commodities
Crude futures slipped in New York after falling 9.1 percent last week, the biggest weekly loss since November, as U.S. drillers continued to boost activity, countering OPEC's efforts to drain a global glut.
West Texas Intermediate oil fell 0.2 percent to settle at at $48.40 a barrel.
Gold edged higher to $1,204 an ounce, recovering from biggest weekly loss since November.
Industrial metals extended their rally from a two-month low as investors increased holdings in exchange traded copper funds and China's economy showed signs of improvement. Copper added 1.2 percent to $5,798 a metric ton.
— With assistance by Ben Sharples
Before it's here, it's on the Bloomberg Terminal.
LEARN MORE