Western Australia's Leader Weighed Down by Debt Millstone
By and
Incoming premier McGowan confronts 'enormity' of challenge

Landslide Labor election victory denies One Nation a foothold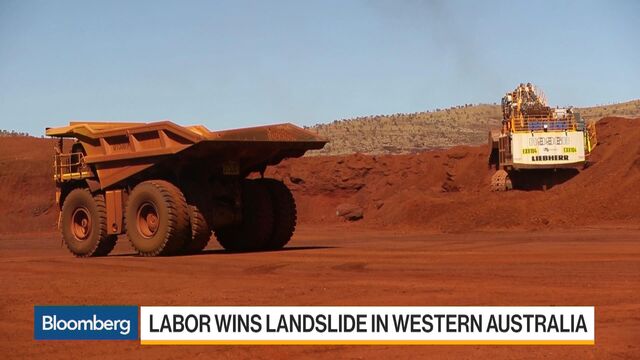 Western Australia's new Labor government faces the twin challenge of reining in record debt and spurring growth in the state's post mining-boom economy after a landslide election win that saw the populist One Nation party fail to gain a significant foothold.
Mark McGowan's Labor swept aside Colin Barnett's Liberal-National coalition, taking 40 of the 59 seats in the lower house, according to Australian Broadcasting Corp. projections. Pauline Hanson's One Nation, which campaigned against Muslim immigration and was tipped to take the balance of power in the upper house, failed to cut through with voters amid party infighting and public gaffes.
McGowan, a 49-year-old former navy officer, inherits an economy weighed by the nation's highest jobless rate and growth that's plunged from 9.1 percent to 1.9 percent in the past five years. His victory may receive a mixed reception from Australian business: while Labor won't proceed with a Nationals proposal to increase a levy on iron ore, it may block future uranium projects and opposes a multi-billion dollar state asset sale -- complicating its mammoth budget repair task.
"Many people in business communities would have still preferred a Liberal-National victory," said Martin Drum, a senior political analyst at the University of Notre Dame Australia near Perth. "But I think they probably see Mark McGowan as reasonably moderate and someone they can work with."

Labor, which has pledged to create 50,000 jobs and boost public transport and services, leads a state that's born the brunt of a downturn in commodity prices. McGowan has said erasing a debt mountain -- forecast to reach A$33.8 billion ($25.5 billion) in June and rising 13 percent next year -- will take decades.
"I am not going to underplay the enormity of the task," McGowan said. He confirmed his government will scrap plans to build the so-called Roe 8 road link in Perth for which a Cimic Group-led consortium has a A$330 million contract. It also won't proceed with the planned sale of 51 percent of electricity grid Western Power.
Future uranium projects are in doubt as Labor opposes mining of the nuclear fuel in the state. After Barnett's government in January approved plans to develop the Yeelirrie deposit, McGowan said he'd wait until after the election to decide if uranium projects green-lighted by the coalition would proceed.
While Labor's majority in the lower house is clear, the fate of the upper house won't be known for days, with votes still being counted. One Nation may win just one senate seat of the 36 that were up for grabs, according to ABC projections. The party took fewer than 5 percent of first-choice votes in the lower house in Saturday's election, after polling as high as 13 percent during the campaign.
Autism, Putin
Hanson was criticized for linking child vaccinations to autism and for lauding the leadership of Russian President Vladimir Putin. She blamed her party's poor result on a so-called preference deal between some Liberal and One Nation candidates, in which they favored each other over other parties on the ballot paper.
"It's hard not to conclude that One Nation lost a huge amount of support because of the way they've conducted themselves during the campaign," said William Bowe, a political analyst at the University of Western Australia.
Barnett's defeat may mark the end of a political career spanning a quarter of a century. During the height of the resources boom in 2010, when unskilled workers were earning A$200,000 salaries and apartment rents in some remote mining towns exceeded those of Manhattan penthouses, the 66-year-old former economist said "China is giving us the ride of our lives."
That went sour when demand for Western Australia's iron ore collapsed, leading state Treasurer Mike Nahan to claim last year the economy had suffered "the greatest hit since the Great Depression." Opponents blamed Barnett's government, in office for eight years, for mismanaging the mining boom and racking up debt with grand infrastructure projects such as a A$2.6 billion quay and football stadium in capital city Perth.
"The overwhelming factor was time -- it is a phenomena, particularly in Australian politics, that the electorate, the voters, only give a government a certain amount of time," Barnett said.

Labor's victory may pressure Prime Minister Malcolm Turnbull, whose own Liberal-National government trails in opinion polls. Saturday's defeat means the Liberals hold power in just two of the nation's eight states and territories.
Foreign Minister Julie Bishop said in an interview Monday that Barnett had led her home state "through a time of great volatility" and that the inevitable downturn in the mining sector had hit Western Australia hard.
"With every election you study the outcome very closely," Bishop said. "If there are lessons to be learned then that's what smart governments do. They take those lessons on board."
— With assistance by Ruth Liew
Before it's here, it's on the Bloomberg Terminal.
LEARN MORE