Korea's Challenge After Park: Fixing a System Mired in Graft
By
Park loses immunity, leaves official residence after ouster

Lawmakers look to change constitution, break up chaebol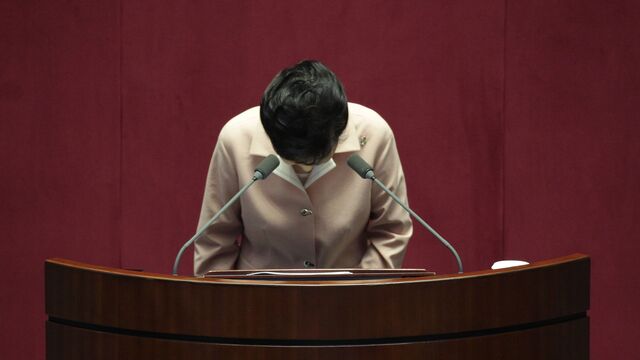 South Korea is turning to a daunting yet familiar task in the aftermath of Park Geun-hye's ouster: Rooting out corruption among political and business leaders.
It's a decades-long dilemma. Since Park's father was assassinated in 1979, nearly every president or their family members have faced graft allegations or spent time in prison. One, Roh Moo-hyun, committed suicide after prosecutors began a bribery probe.
"Absolute power absolutely corrupts," Kweon Seong-dong, a lawmaker with the conservative Bareun party, told reporters shortly after a court on Friday affirmed Park's impeachment. "The scandal proved that Korea Inc. can no longer operate with the current constitution."
Park's downfall has provided a renewed impetus for lawmakers to reduce the powers of the presidency and break up family-run conglomerates called chaebol -- such as Samsung Group -- that have dominated Asia's fourth-biggest economy for decades. Whether they will do so remains to be seen: Similar proposals in the past, often made by candidates campaigning for the presidency, have either died off or been watered down extensively.
Once in office, politicians have tended to back off reform efforts amid lobbying from big corporations. The top 10 chaebol own more than 27 percent of all business assets in South Korea.
Revisiting Constitution
While the chaebol were once seen as drivers of economic development, views on their effectiveness have started to change as growth slows. Shares of chaebol-linked companies trade at lower multiples of earnings than their peers in the U.S., Europe or Japan -- a phenomenon called the Korea discount -- over concern about cronyism and cross-ownership.
Even as politicians across the political spectrum broadly agree on the importance of economic policies such as corporate restructuring, "there have been few proposals to date on structural reforms to bolster economic competitiveness," Shirin Mohammadi, an associate analyst at Moody's Investors Service, said in a report published on Monday.
Read more: Will the Chaebol change?
A bipartisan committee began meeting in January on proposals to rewrite the constitution for the first time since 1987, when mass protests forced a military junta to adopt a direct presidential vote. Lawmakers are weighing everything from British-style parliamentary rules to France's system, where the president handles foreign affairs and prime minister deals with domestic issues.
At the same time, efforts are moving ahead to rein in the chaebol after a public outcry at the close ties between the government and business leaders. Among the roughly 40 indictments handed out in the Park scandal was one for Samsung Electronics Co. heir-apparent Jay Y. Lee, whose trial started last week. He has denied wrongdoing.
Prosecutors have been investigating allegations that Park pressured business executives, including Lee, to donate tens of millions of dollars to foundations run by her friend Choi Soon-sil in return for government favors. Park, who left her official residence on Sunday, lost her immunity after being ousted.
Latest Proposals
There are a dozen proposals pending at the National Assembly to moderate the behavior of large chaebol shareholders. The main ones focus on several options: Introducing electronic shareholder voting, guaranteeing more independence for board members and internal auditors, facilitating legal actions by shareholders against executives and preventing the misuse of treasury shares.
Still, Chae Yi-bai, a lawmaker with the People's Party, isn't optimistic the efforts will amount to much. "Proposals believed to have a real impact on chaebol reform may drag on and it'll be incomplete -- a 20 percent accomplishment."
Meanwhile the top parties are making constitutional change part of their pitch to voters. While an election must take place within 60 days after Park's ouster, authorities have yet to set a date.
In a statement on Sunday, the People's Party said it would start revising the constitution "immediately." It called for stronger local governments and shared presidential power. "The old system under the 1987 constitution has finished its life," it said.
Presidential Candidates
At the center of the debate on charter reform is a proposal to truncate the next president's term to three years to allow for simultaneous presidential and parliamentary elections in 2020.
Moon Jae-in, the frontrunner to replace Park, has said even a single five-year term is too short to achieve his objectives for reform, while fellow Democratic Party of Korea member Ahn Hee-jung said he's open to a shorter term in office if elected.
The constitution has been revised at least eight times since it took effect in the aftermath of World War II. Changing it requires support from two-thirds of the National Assembly, and then a public referendum.
A poll conducted last week by Hanbaek Research on behalf of a labor union found more than 51 percent of South Koreans surveyed think the constitution should be revised by the next president, while nearly 30 percent believe the revision should be done before they take office.
If anything is going to change then officials will need to move quickly, according to Jeon Hak-seon, who teaches constitutional law at the Hankuk University of Foreign Studies.
"If the debate doesn't lead to an actual action in the first two years of a new president's term, then there's little chance for success," he said. "The next presidential candidates start to emerge from the third year" and would complicate the discussions or wouldn't want to share power.
Before it's here, it's on the Bloomberg Terminal.
LEARN MORE