HSBC Said Close to Naming AIA's Mark Tucker as Chairman
By and
Tucker is the CEO of AIA Group, former CEO of Prudential

Flint stepping down after six years in the top position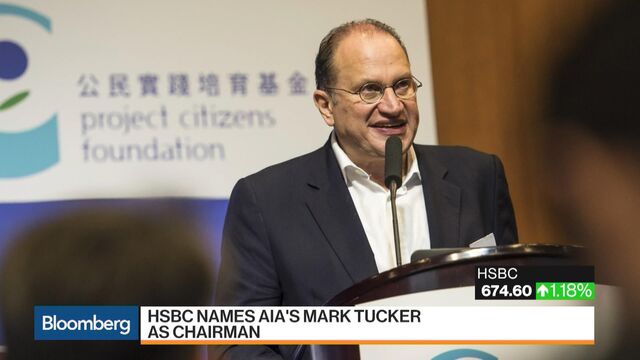 HSBC Holdings Plc is poised to name insurance executive Mark Tucker its next chairman, replacing Douglas Flint, according to people familiar with the decision, as Europe's largest bank takes the first step to overhaul its top management team.
The lender may announce as soon as Monday that it selected Tucker, the 59-year-old chief executive officer of AIA Group Ltd. and former head of Prudential Plc, according to one of the people, who asked not to be identified because the succession process is private. Flint, 61, is expected to step down after six years as executive chairman and 21 years at the bank. HSBC has said the new chairman will start a search for a successor to Chief Executive Officer Stuart Gulliver.

A spokeswoman for the bank, Heidi Ashley, said on Saturday that HSBC will nominate a chairman this year, as announced at its annual meeting. "Our process remains on track and the timetable is unchanged," said said in an email. Sky News first reported Tucker was in talks with HSBC.
HSBC, one of the world's largest lenders with about 235,000 employees in about 70 countries, is restructuring to adapt to tougher regulations, a law requiring the separation of its retail operations from the investment bank in the U.K. and amid a legacy of failed compliance and misconduct. The bank remains under the watch of the U.S. Justice Department after helping South American drug cartels launder money, and faces moderating economic growth in China and the prospect of a post-Brexit slowdown in the U.K., its two most important regions.
Soccer Player
Tucker played professional soccer in his early life and was on several U.K. teams including the Wolverhampton Wanderers, Rochdale and Barnet, according to reports from the Daily Telegraph. He switched to finance after attending the University of Leeds. He was finance director at HBOS Plc and held several leadership jobs at Prudential and Hong Kong-based AIA. Tucker is also on the board of New York-based Goldman Sachs Group Inc.
HSBC has revamped its board after coming under pressure from shareholders unhappy about declining profitability. The bank added Axa SA CEO Henri de Castries and former leader of Diageo Plc Paul Walsh as independent non-executive directors in November. The board's senior independent director Rachel Lomax ran the search for the new chairman, which the bank has said would be an external hire and take a non-executive role.
Scotland-born Flint joined HSBC in 1995, becoming finance director that year before being named executive chairman in 2010. Oxford-educated Gulliver, 57, started at the bank in 1980 and excelled as a trader, rising through the ranks to become CEO in 2011.
Job Cuts
Since 2011, the duo has announced more than 87,000 job cuts and exited more than 80 businesses, reducing HSBC's global footprint. Alongside most other European banks, the executives have been struggling to increase profitability faced with record-low interest rates, misconduct fines and rising compliance and regulatory costs. The shares have increased 2.8 percent so far this year, after a 1.8 percent gain in 2016 that followed declines of 12 percent in 2015 and 8 percent a year earlier.
The pair endured a difficult period in early 2015, when U.K. lawmakers criticized their leadership after fresh details from files leaked in 2008 showed the bank helped drug cartels and arms dealers launder money and advised customers on how to evade tax.
Before it's here, it's on the Bloomberg Terminal.
LEARN MORE