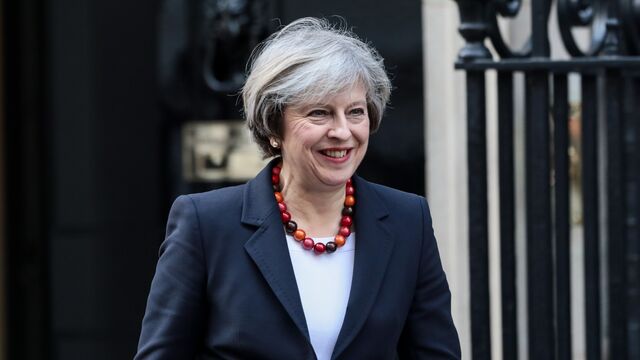 Nine months after Britain voted to leave the European Union, Prime Minister Theresa May is finally close to opening divorce proceedings. The negotiations could turn "vicious," according to Irish Prime Minister Enda Kenny. European Commission President Jean-Claude Juncker says they will be "very, very, very difficult." Both sides will have to determine what is and isn't negotiable.
1. Didn't Brexit already happen?
No. The June 2016 referendum, in which 52 percent of British voters chose to leave the European Union, was just the start of a lengthy proceeding. If May has her way, the actual split will occur around April 2019. Its contours are about to be negotiated.
2. What does Brexit actually mean?
Britain is exiting the 28-country EU bloc, which it joined in 1973. Initially envisaged as a free-trade zone that now includes 500 million consumers, the EU is, in the eyes of many Britons, too bureaucratic, out of touch, expensive and an obstacle to clamping down on immigration. Free movement of citizens is a basic tenet of EU law.
Read more: Why Britain Is Saying 'Adieu' to the European Union
3. How does the exit process work?
Article 50 of the Lisbon Treaty, the EU's guiding document, details how a country leaves the bloc. It's never been activated and is only about 260 words long. It gives the departing country up to two years to negotiate "its future relationship with the Union."
4. When did the two-year clock start ticking?
It hasn't yet. After the U.K. Supreme Court ruled she didn't have the authority to trigger Article 50 by herself, May filed a short (137 words) bill to obtain permission from Parliament. Some parliamentary wrangling is needed before the bill becomes law because, although the House of Commons passed it, the unelected House of Lords rewrote it to demand guarantees for EU citizens already living in Britain and a "meaningful vote" on the final deal. May is asking the House of Commons to overturn both those amendments. Once the bill becomes law, May can start the proceedings. If she doesn't do it in person at an EU summit, a letter must be hand-delivered by a British official to the European Council.
Read more: Why Brexit's Detour Through Parliament Matters
5. When might May actually get to activate Article 50?
She plans to declare Britain's departure by the end of March. Had everything gone her way in Parliament, the bill could have become law on March 8, which would have allowed her to make an announcement around the summit of EU leaders in Brussels on March 9 or 10. Now, March 15 is likely to be her earliest opportunity, although that is the same day as elections in the Netherlands. May probably doesn't want to spoil the March 25 party to celebrate the Treaty of Rome, which founded the EU. Officials have speculated that she may wait until the end of the month.
6. How quickly would talks start?
European leaders will probably call a summit in April to discuss the guidelines they will give to Michel Barnier, the European Commission's chief negotiator. After that, they may choose to delay in-depth conversations until after the French elections finish in May.
7. What will May push for?
She intends to pull the U.K. out of the single market for goods and services -- a "hard" or "clean" Brexit that prioritizes securing control of immigration, laws and her budget over economic concerns. May wants the "best possible deal" for trading with the bloc although she wants the liberty she now lacks to land trade deals with non-EU countries such as the U.S.
Read more: What Makes a 'Hard Brexit' Harder Than a Soft One
Read more: How Does U.K. Want to Trade With EU Post-Brexit?
Read more: Why U.K. Could Leave EU Trade Bloc Amid Brexit
8. What will Europe want?
Remaining EU members don't want the U.K. to "cherry pick" the benefits of membership with none of the responsibilities (like agreeing to freedom of labor movement), lest others be encouraged to leave as well. Many European countries are going to seek a guarantee of the rights of their citizens living in the U.K. May wants the same for Britons living abroad and says this is an issue to resolve early on. The Republic of Ireland, an EU member, says it will fight any attempt to restore a so-called hard border with Northern Ireland, part of the U.K. Then there's the question of the bill the U.K. will be asked to pay.
Read more: Why Northern Ireland Is on Cusp of Crisis Again
Read more: Where Does the EU Stand on Theresa May's Brexit Pitch?
Read more: What the EU Nations Really Want in the Brexit Talks
9. Wait -- there's a bill?
Europe says there is. Barnier has indicated he wants the British to cover budget commitments they agreed to, pension payments promised to EU officials from the U.K., guarantees on loans such as the bailout of Ireland, and pending infrastructure projects. The sum is said to be around 60 billion euros. British Trade Secretary Liam Fox rejected the notion of a bill as "absurd," and The Times reported government lawyers believe there is no legal obligation to pay anything. May has said she won't fund any project initiated after November 2016. She still may be willing to contribute something to win some continued access to the single market.
Read more: Brexit's Costs and Whether Britain Will Pay Up
10. How will the talks be structured?
Barnier wants to focus first on the separation -- settling the bill, resolving citizenship rights and establishing borders. The British would prefer to discuss the split and the new future trade arrangement at the same time to win trade-offs and to resolve matters that businesses are eagerly watching.
11. How long will the talks take?
Article 50 allows two years, which could be extended if all members of the EU, including the U.K., agree. Both sides estimate that they really have until the end of 2018 to reach an accord, because the resulting deal would need to obtain the consent of the European and British parliaments.
12. What happens if no deal is reached?
Britain would leave the EU in two years regardless of whether it's secured a new trade deal. In that case, disagreements may end up in the courts and U.K.-EU commerce will be exposed to World Trade Organization tariffs, following decades of duty-free trade. That could mean taxes of about 10 percent on cars alone. U.K. Brexit Secretary David Davis says this is an "unlikely scenario" but one Britain must prepare for. Businesses worry about a "cliff edge" in which the U.K. falls out of the EU with tariffs and without certainty over the future. May says no deal is better than a bad deal.
13. What could help avert a 'cliff edge'?
The U.K. and EU could agree to a transitional phase in which the existing relationship remains in effect. Businesses would get time to adjust to any new rules, which May says should be phased in. The question is whether the two sides can agree to a transitional phase before businesses, especially banks based in the U.K., shift jobs and services to elsewhere in the EU. Another bugbear for May is if the EU tried to force the U.K. to remain under the oversight of the European Court of Justice.
Read more: Will Brexit Trigger Exodus of Banks From London?
14. Does May have any leverage?
The U.K. loses some power after invoking Article 50 because it starts the countdown clock, limiting the time available to strike a deal. May has argued it would be "economically rational" for the EU to sign up to a free-trade accord since Britons buy so much of its goods. She has warned that the U.K. could provide less security to the region or transform Britain into a low-tax, light-regulation haven for business. She could also try to exploit differences between European capitals.
Read more: How Brexit Means the EU Loses Money, Influence
Read more: Seven Brexit Strategies May Could Use to Erode EU Unity
15. Is Article 50 irrevocable?
Once Article 50 is triggered, there's no chance of Britain staying in the EU, according to Justice Secretary Liz Truss. But former diplomat John Kerr, who helped write the treaty, said a country can change its mind "while the process is going on." A court case is starting soon which may inform the debate.
16. Why does all this matter for the rest of the world?
Presidential candidate Marine Le Pen in France is running on a Brexit-like platform of euroscepticism. In the U.S., President Donald Trump's administration has registered its dislike of multilateral organizations like the EU and may be tempted to offer the U.K. a generous free-trade deal. Russian President Vladimir Putin will likely welcome anything that divides and distracts the EU. Finally, China will be following closely to see if the U.K. remains an attractive investment partner as it raises barriers with the rest of the EU.
Read more: How Do You Know a Populist When You See One?
The Reference Shelf
Before it's here, it's on the Bloomberg Terminal.
LEARN MORE