business
Trump Said to Weigh Political Risks of Firing CFPB's Cordray
By
President tells bankers ousting him could have consequences

Elizabeth Warren has vowed to fight changes to consumer agency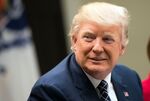 Since Donald Trump's surprise election victory, he's faced demands from Republican lawmakers to quickly oust the head of a controversial financial regulator. The president indicated this week that he's proceeding cautiously.

At a closed-door discussion with community bankers Thursday, Trump said that firing the head of the Consumer Financial Protection Bureau would probably spur a political backlash, according to people who attended the White House meeting. And while the president didn't reveal any plans he has for the agency or its director, Richard Cordray, he acknowledged that there are risks in revamping a regulator set up to protect consumers from abusive lending, the people said.
Cordray has been under attack from Republicans ever since Barack Obama installed him as the CFPB's first director in a 2012 recess appoint. GOP lawmakers argue he has too much power, pursues investigations outside his jurisdiction and has imposed unreasonable fines on financial firms.
But Democrats, including Wall Street critic Elizabeth Warren, a senator from Massachusetts, have aggressively defended Cordray and vowed to fight any efforts to dismantle the agency, arguing that doing so would be a gift to bankers at the expense of consumers.
President Surprised
Trump and White House advisers who were at Thursday's meeting laid out a number of strategies they could pursue to revamp the CFPB. During the discussion, advisers informed Trump that Cordray's term doesn't end until July 2018, which seemed to surprise the president, according to the people who attended.
Read more: Trump's Shot to Defang Dodd-Frank Consumer Bureau
Trump then asked Gary Cohn, the former Goldman Sachs Group Inc. executive who's now director of the National Economic Council, what the options were on Cordray before his term lapses, the people said. Cohn responded that Cordray, who previously served as Ohio's attorney general, could voluntarily step down if he decides to run for governor in his home state, as has been rumored.
A spokesman for the CFPB declined to comment.
Trump has been clear that he believes many of the provisions in the 2010 Dodd-Frank Act, which created the CFPB, have placed unnecessary burdens on American banks and the businesses that rely on them, a White House spokeswoman said in an emailed statement. She declined to comment on the meeting with community bankers.
Washington Debate
There is debate in Washington over how easy it would be for Trump to remove Cordray. A U.S. appeals court in Washington ruled last year that the president has the authority to fire the CFPB director for any reason at any time. But last month, the court granted the agency a second chance to assert that it should be insulated from the White House, meaning the president could only oust the director for cause. A panel of judges is scheduled to hear a re-argument of the case in May.
Overhauling the CFPB is part of Trump's broader promise to dismantle Dodd-Frank. Trump signed an executive order last month directing federal agencies to review the impact of financial regulations, potentially kicking off a regulatory rewrite.
Pursuing a big revamp in Congress will be difficult, especially because lawmakers would probably need some Democratic support in the Senate to advance legislation.
Changing the tone at financial agencies was described as a key administration goal at Thursday's meeting, which Treasury Secretary Steven Mnuchin also attended, the people said. Trump, who has struggled to fill regulatory roles that require Senate confirmation, said he plans to announce his nominees for some vacancies, including at the Federal Reserve, soon.
(
Updates with Trump spokeswoman's comment in seventh paragraph.
)
Before it's here, it's on the Bloomberg Terminal.
LEARN MORE