markets
TD Falls on Reports Tellers Were Pressured to Hit Sales Targets
By
'Fallout could be similar' as at Wells Fargo, analyst says

Lender refutes report, saying 'we have procedures in place'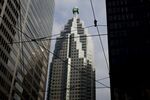 Toronto-Dominion Bank fell the most in more than eight years on Friday as concerns mounted over reports that bank employees may have improperly pressured customers to meet sales goals, a claim the lender disputes.
"Concerns are arising with investors that the fallout could be similar to what happened to Wells Fargo," Barclays Plc analyst John Aiken wrote Friday in a note to clients, referring to the bogus-account scandal that shook the San Francisco-based lender last year.
U.S. regulators announced in September that Wells Fargo & Co. employees sought for years to meet aggressive sales targets by opening unauthorized accounts for customers. The scandal triggered investigations and congressional hearings, prompting the lender to shake up leadership, deny bonuses to executives, and fire some senior managers in the consumer business.
Canadian Broadcasting Corp. reported this week that Toronto-Dominion employees felt pressured to reach sales goals, with some unidentified workers saying they broke the law in order to meet targets and save their jobs. One teller said he secretly increased a customer's line of credit to boost his sales figures, according to CBC's website.
'At Odds'
"The environment described in the media report is very much at odds with how we run our business," Daria Hill, a spokeswoman for the Toronto-based bank, said in an emailed statement, adding that TD investigates and acts on concerns that are raised. "While we are confident our organization does not encourage or permit the type of behavior you describe, if we became aware of such instances occurring, it would be unacceptable to us."
Toronto-Dominion posted a statement on its website disputing the story, adding "we have procedures in place designed to monitor sales practices and to detect issues if they do arise."
"We are in the trust business. Everything we do is about earning and sustaining the trust of those we serve," Bharat Masrani, chief executive officer of TD Bank Group, said in an emailed statement late Friday. "We have a long history of providing great customer service and we do that by listening and responding to our colleagues and our customers. We'll continue to do so."
Toronto-Dominion shares dropped 5.5 percent to C$66.15 in Toronto on Friday, the biggest decline since January 2009 and the worst performance in the eight-company S&P/TSX Commercial Banks Index.
Barclays's Aiken said he'd be surprised if the actions at Toronto-Dominion were as systemic as those at Wells Fargo, and doesn't expect the report to have much of an impact.
"That said, given the damage that the allegations did to Wells, investors will likely remain cautious about the tail risk and the impact on TD's valuation may not dissipate until after an official investigation is concluded," Aiken said.
OSFI Aware
Canada's banking regulator said it's aware of the issue, but doesn't publicly discuss its supervisory work.
"The senior management and board of directors of a financial institution are ultimately responsible for ensuring compliance with the applicable legislation and guidance, and for the day-to-day operations of the bank," Annik Faucher, spokeswoman for the Office of the Superintendent of Financial Institutions, said in an emailed statement.
OSFI intervenes at "an early stage" when potential issues are identified and requires financial firms to implement remedial measures, she said.
— With assistance by Maciej Onoszko
(
Updates with comment from TD CEO in seventh paragraph.
)
Before it's here, it's on the Bloomberg Terminal.
LEARN MORE