business
Ivy League Rolls Out Brand-New Hoops Tourney to Cash In on Brand
By
Billed as #IvyMadness, Princeton-Penn kicks off men's tourney

Conference also inks ESPN deal, pursues corporate sponsors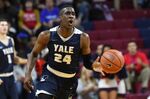 When it comes to college athletics, the Ivy League has long held itself to a standard unlike any other.
Mid-week games? Only if they don't interfere with class. Athletic scholarships? Never. Non-revenue sports like fencing and squash? The more, the better. It's an unrivaled mix of tradition, academics and elitism that's embodied the eight-school conference since its founding in 1954.
But now, after decades of shunning commercial opportunities, that ethos is starting to change. This weekend in Philadelphia, the Ivy League will host its first-ever post-season basketball tournament -- the most visible sign of its newfound embrace of the business of sports. Tied to the tourney, the conference inked a TV deal with ESPN and signed up its first league-wide corporate sponsor in recent memory. All that comes less than a year after the Ivy League agreed to a Friday night football package with NBC Sports -- a break from its traditional Saturday-only schedule.
"Compared to other conferences, we're starting a little bit later," said Patrick O'Neill, who runs partnerships and licensing at Yale. "But with the brands in this league, it's a no-brainer."
The shift is a product of new leadership and the soaring cost of college sports programs. Long cushioned by the largest endowments, Ivy League schools are now feeling some of the financial pressures that athletic departments across the country have had to deal with for years. The conference prides itself on its student experience -- its schools offer, on average, 35 sports, ten more than the next closest conference -- but those endeavors are expensive.
"It's the right thing to do, but how do we pay for it?" said Penn Athletic Director Grace Calhoun. "We're looking for ways to monetize what we're doing, like other conferences, but without compromising our first priority, the educational value of athletics."
The Ivy League is the last of the 32 Division I conferences to create a post-season basketball tournament. The four-team men's and women's events take place this weekend at the Palestra, Penn's home court. The winners receive automatic bids to the NCAA tournament, a structure that's either an exciting new format or an affront to Ivy tradition, depending on who you ask.
It is, however, an unquestionably good business opportunity. The tournament is sponsored by Rhode Island-based Citizens Bank, the Ivy League's first corporate partnership since at least 2009. (The Pac-12, by comparison, has 15 league-wide sponsors). Coca-Cola, Nike and Under Armour are also on board on a limited basis.
The deals were brokered by JMI Sports, hired last year to handle the league's marketing rights. When the conference was interviewing firms, the message from JMI was clear: You guys are the most untapped resource in college sports. JMI helped launch the basketball tournament, and negotiated a deal with ESPN to nationally televise the men's semis and final.
"We're a startup," said Paul Bamundo, hired to run JMI's Ivy partnership. "It's not that companies aren't interested in the Ivy League, it's that this is the first time we've ever approached the marketplace on a comprehensive basis."
The pitch is simple. The Ivy League offers a wealthy, educated alumni base and widely-recognized brand names. All eight schools are among the oldest in the country, and the most diverse. In an era where almost every conference is losing teams and adding others, membership has remained unchanged since its creation.
To be clear, Ivy League sports isn't yet a big money maker. Conference commissioner Robin Harris said she's hoping to break even on the basketball tournament after helping schools pay for costs like travel for its students and bands. But this is a long-term approach. If Ivy athletic departments get more exposure, that helps in recruiting. Better teams means more viewers, which leads to more partnerships and more exposure -- or so goes the argument.
For the past 30 years, the Ivy League has dominated smaller regional sports like squash, rowing, field hockey and lacrosse. That success has started to spread into some of the NCAA's biggest championships. Yale won the 2013 NCAA men's ice hockey tournament; Princeton's women's basketball team started 30-0 in 2015. And the Ivies have even had some success on the biggest stage in men's basketball, with teams winning five NCAA tournament games in the past seven years.
Yale recently signed a 10-year deal with Under Armour worth about the same per year as some Big Ten schools got from Nike.
Those changes came as the Ivy athletic leadership welcomed new faces. In addition to Bamundo and Calhoun, who has experience working in seven different conferences, Princeton in 2014 hired athletic director Mollie Marcoux, who previously managed the Chelsea Piers sports complex in Connecticut. Nine months later, Columbia tapped Peter Pilling, a long-time IMG College executive who had sponsorship experience with the Big 12, Mountain West and West Coast conferences.
Pilling understands that while the Ivy League won't match those conferences from a commercial perspective, it doesn't need to.
"Even if it's not a tremendous amount of money," he said, "if you can bring in an extra $50,000 or $75,000 for each school, ultimately that can make a tremendous difference."
Before it's here, it's on the Bloomberg Terminal.
LEARN MORE