European Stocks Pare Gain on Report That ECB Discussed Rate Rise
By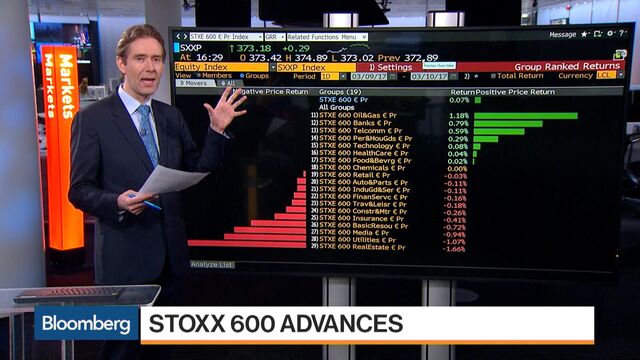 European stocks trimmed earlier gains, trading little changed after people familiar with the matter said the European Central Bank discussed whether interest rates can rise before its bond-buying program comes to an end.
The Stoxx Europe 600 Index added less than 0.1 percent at 4:11 p.m. in London, paring its weekly drop to 0.6 percent. The benchmark yesterday erased an intraday drop after ECB President Mario Draghi said downside risks to the euro-area economy were less pronounced.

ECB Governing Council members meeting on March 9 exchanged views on ways of communicating and sequencing an exit from unconventional stimulus, according to people familiar with the matter.
The Dutch AEX Index rose above its 2015 closing high and headed for its highest level since December 2007.
BT Group Plc rose 3.8 percent after it agreed to legally split off its Openreach network division into a separate entity as demanded by Britain's telecommunications regulator.
Akzo Nobel NV rose 4.6 percent after Het Financieele Dagblad reported PPG Industries is preparing a second bid for the coatings maker.
Energy shares led Stoxx 600 gains after dropping for four straight sessions.
BNP Paribas SA strategists say European equities could outperform the U.S. "Euro-zone equities have outperformed U.S. equities over the past two weeks, since our 'Love Panic' model suggested that investors are pricing excessive optimism for U.S. equities and pessimism for euro-zone equities," the firm's equity and derivatives strategists wrote in a note.
Futures traders are betting that an increase in interest rates at next week's Federal Reserve meeting is a virtual certainty.
Before it's here, it's on the Bloomberg Terminal.
LEARN MORE