business
Park Ouster Adds to Impeachments That Spurred Stock Rallies
By
Brazil, U.S. markets recovered in the wake of past scandals

Kospi has shown signs of recovery since Park's impeachment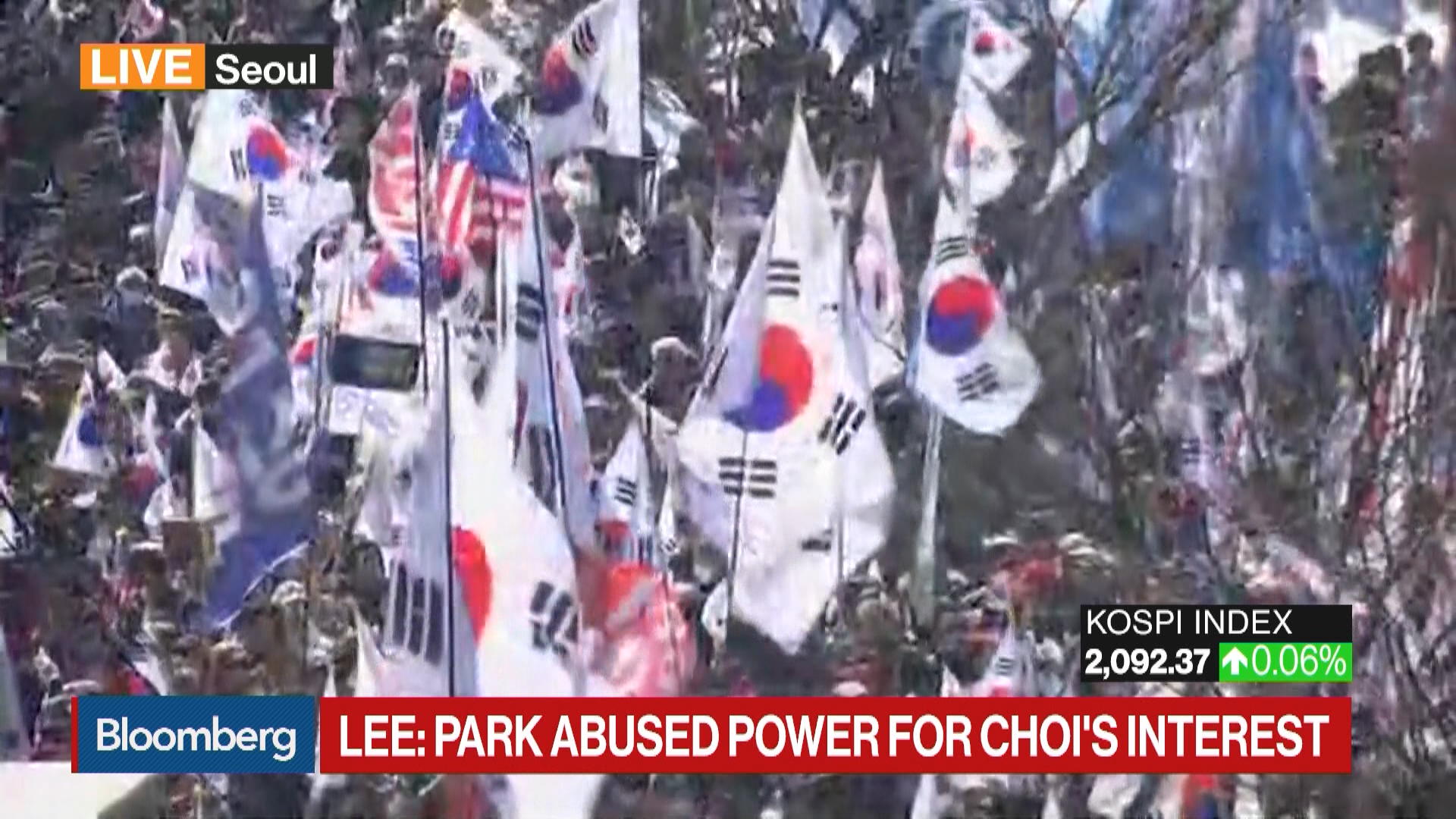 South Koreans taking to the streets to cheer Friday's court ruling to affirm the impeachment of President Park Geun-hye will have another reason to celebrate if history is any guide.
Equity benchmarks in Brazil and the U.S. have both rallied in the wake of past presidential downfalls, according to data compiled by Bloomberg. Korean stocks themselves have already been rising since the impeachment process began.
"Just like the situation in Brazil or the U.S. in 1974 it should help Korean shares move higher from here," said Shane Oliver, head of investment strategy at AMP Capital Investors in Sydney. "This issue provides a degree of closure to the political situation around President Park and enables Korea to move on in a more certain fashion. The only thing that makes me a little less sure is how the situation with the North continues to unfold."
Park's removal comes after lawmakers impeached her in December amid months of massive protests over alleged political corruption and bribery. The probe has engulfed many of the nation's largest conglomerates, including the arrest of Samsung Electronics Co.'s co-Vice Chairman and heir-apparent Jay Y. Lee. Prosecutors have indicted about 40 people so far. The Kospi Index has gained 6.9 percent since falling to a Nov. 9 low at the scandal's height.
"The court's approval brings a huge relief to the markets as it avoids a potentially disastrous scenario of President Park returning to power amid intense public discontent," Commerzbank AG analyst Kai Wei Ang wrote in a report Friday. "The formation of a new administration paves the way for more forceful fiscal measures to be rolled out."

Brazil's Ibovespa Index climbed 19 percent to the highest since 2011 in February, a few months after former president Dilma Rousseff was ousted in September 2016 following a nine-month impeachment saga. The country's senate found Rousseff guilty of bypassing Congress to finance government spending.

In the U.S., investors were sent on a veritable roller-coaster ride when President Richard Nixon's infamous Watergate scandal unfolded. The benchmark for equities sank 48 percent from a record high reached in January 1973 shortly after his re-election to a 12-year low in October 1974, two months after Nixon became the first U.S. president to resign. The index then rallied 35 percent by the following March.

Nixon stepped aside as Congress moved toward impeachment over his ties to a break-in of the Democratic National Committee headquarters at the Watergate complex. He was later pardoned by his successor Gerald Ford.
— With assistance by Malcolm Scott
(
Adds comment on likelihood of fiscal measures in fifth paragraph.
)
Before it's here, it's on the Bloomberg Terminal.
LEARN MORE