Bulls Reign in Brazil as Reform Push Offsets Graft Scandal
By , , and
Traders overlooking sluggish economic growth, chaotic politics

Fidelity and BlackRock among bullish international investors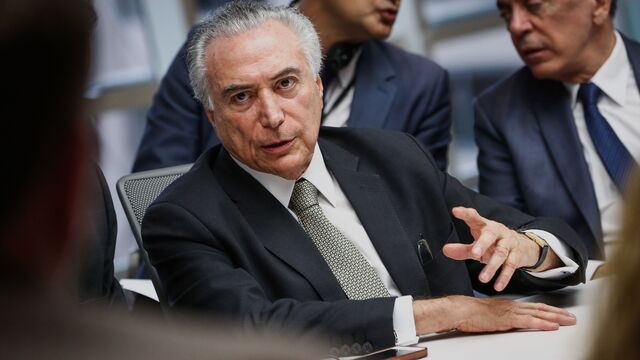 It's hard to find a pessimist among Brazil investors these days, even though there's plenty to be worried about.
Traders who pushed the real and Ibovespa stock index to some of the world's biggest gains over the past year see a rosy outlook for President Michel Temer's chances of pushing through pension, labor and tax reforms that are needed for Brazil to regain investment-grade status. They're ignoring signs of a sluggish economy, chaotic politics and a new chapter in a corruption scandal that threatens to paralyze the government.

That investors are turning a blind eye to Brazil's problems is all the more surprising considering just how recently its markets and economy seemed to be in free fall. The currency plunged to a record in 2015 and stocks sank to a seven-year low amid the worst recession in a century and political turmoil that ended in the president's impeachment. But all was forgiven when Temer took over with a plan to revive growth and shore up the budget, while the central bank pledged interest-rate cuts to help revive the economy.
"Brazil is in the I.C.U. and showing some reaction to a massive dose of medicine," said Paulo Bilyk, the chief investment officer of Rio Bravo Investimentos, which manages 11 billion reais ($3.5 billion) in assets. "But to get out of the hospital, we still need to go through surgery -- pension reform, labor reform, fiscal reform."
Bilyk, who founded Rio Bravo with former central banker Gustavo Franco, says traders are pricing in the government getting 80 percent of what it wants with the fiscal reforms. If the administration caves in to demands to change the unpopular measures by more than that -- say, 50 percent of the original plan -- markets will slide.

The government's reform agenda could be upended by the release of testimony from more than 70 executives at construction giant Odebrecht SA, which has admitted to paying bribes to politicians and political parties in exchange for lucrative contracts. Local media are dubbing the release of details gleaned from their plea bargains "the end of the world" because of the likelihood numerous public figures could be implicated in the schemes.
Leaks splashed across the front pages of newspapers suggest more than 100 politicians will be cited by name, including Temer and some of his top allies and cabinet members -- all of whom have denied wrongdoing. Prosecutor General Rodrigo Janot is expected to request investigations based on the plea-bargain testimony in the next few days.
Adding to the uncertain outlook is an economy that hasn't recovered nearly as quickly as some observers expected under Temer. Data released March 7 show Brazil's economic rout deepened in the fourth quarter as investors and consumers remained on the sidelines amid government austerity measures. Gross domestic product contracted 0.9 percent, worse than the median analyst estimate for a 0.5 percent decline.
While economists forecast Brazil's GDP will expand in 2017 for the first time in three years, even the most optimistic investors point to growth as one of their main concerns. Consumers are still highly indebted and companies reluctant to invest, and there are signs that the commodities rally that has supported the country's exports is coming to an end. Prices are starting to falter on concern demand won't soak up supply.
"What's conspicuously missing is economic growth," said Nicholas Spiro, a partner at London-based Lauressa Advisory Ltd., which advises asset managers. "The economy remains mired in recession, which makes it that much harder to implement fiscal reforms and drives a dangerous wedge between sentiment and underlying fundamentals."
But bulls are focused elsewhere, mainly Temer's pledges to get the economy humming again and fix the fiscal mess that caused Brazil to be downgraded to junk in 2015. They point out that so far, the new government has consistently delivered on its promises.
That's helped send stocks up 55 percent in dollar terms over the past 12 months and the real up 16 percent. State-run companies including Petroleo Brasileiro SA and Banco do Brasil SA have doubled in value, while bond risk as measured by credit-default swaps has fallen by nearly half. Brazil's real advanced 1.2 percent to 3.1546 per dollar Friday as of 10:13 a.m. in New York.
And even Bilyk, despite his reservations about government stability, recently added to his equity holdings, betting stocks will rise another 10 percent by the end of the year. Other large names including BlackRock Inc. and Fidelity are also confident the rally will continue on the back of falling interest rates, slowing inflation, an improving economy and, above all, the government delivering on economic reforms.

Amaury Bier, the chief executive officer at asset manager Gavea Investimentos, said in December he was "extremely negative" about the economic outlook and "deeply concerned" about the political outlook the political moves amid difficult reforms and plea bargains. He is now much more encouraged.
"The recovery won't be quick, but very few people were actually counting on that," he said. "I'm still overall careful, but I have been positively surprised."
— With assistance by Sebastian Boyd
Before it's here, it's on the Bloomberg Terminal.
LEARN MORE