BT Ends Feud With Regulators in Deal to Split Off Network
By and
Agreement contingent on pension deal for 32,000 employees

New company will be owned by BT but run independently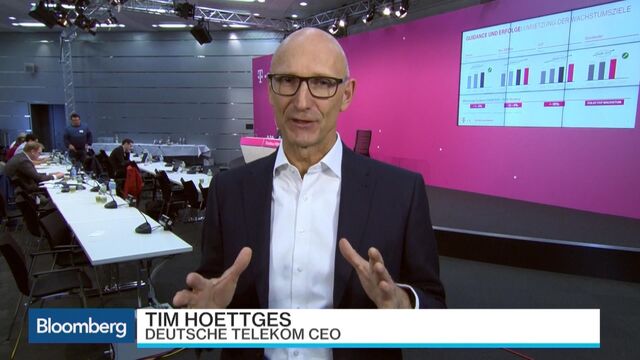 BT Group Plc agreed to split its Openreach telecommunications network into a separate legal entity, resolving a yearlong dispute with U.K. regulators and sending the stock up the most in almost nine months.

The accord ends a major distraction that has weighed on BT shares and frees Chief Executive Officer Gavin Patterson to address other pressing issues, including an accounting scandal in Italy and a slowdown in the company's outsourcing business to government and corporate clients.
Openreach, BT's most profitable unit, will have its own staff, management and strategy, and will be legally required to serve all of its customers equally, communications regulator Ofcom said in a statement Friday. While Openreach will be run independently, it will continue to be owned by BT, the U.K.'s former phone monopoly.
"It's been a tough negotiation but ultimately I think this is a fair outcome," Patterson said on a call with journalists. "BT and Openreach now have the regulatory clarity and certainty in order to continue to invest and a giant shadow has been removed from our business, our staff, our pensioners, our trustee and our investors."

The agreement is subject to the passage of a law that ensures the pensions of 32,000 employees being transferred to the new Openreach will continue to be guaranteed by the government, BT said in a separate statement. Bloomberg News reported last week that the government was considering a fresh pledge to resolve the impasse.
The new structure follows the outlines of an Ofcom proposal in November while incorporating many governance changes volunteered by the company. While BT will still own Openreach, the unit will be run at arm's length, with its own branding and a separate board. Its CEO will report to the Openreach Chairman Mike McTighe with a dotted line to Patterson on some legal and fiduciary matters. Openreach will be free to explore coinvestments with third parties.
Peace with BT carries the additional benefit for Ofcom of avoiding a drawn-out legal battle at the European Union, and it clarifies the investment outlook for the U.K.'s telecommunications industry, key to the government's economic strategy as it prepares to divorce from the EU.
Competition Concerns
Ofcom has sought to improve access to Openreach's national telecommunications grid, a network of copper and fiber lines that rivals including Sky Plc, TalkTalk Telecom Group Plc and Vodafone Group Plc rely on to provide broadband to consumers. Several of its competitor-customers had been seeking "structural separation" of the unit, saying it should be turned into an independent company with no ownership links to BT.
"BT has agreed to all of the changes needed to address Ofcom's competition concerns," the regulator said. "As a result, Ofcom will no longer need to impose these changes through regulation."
In separate statements, Sky, TalkTalk and Vodafone said they welcomed the legal separation of Openreach, but emphasized that the arrangement will need to be monitored closely. Liberty Global Plc's Virgin Media, which is expanding its broadband system, took the opportunity to tout its own network speeds.
"Openreach is just the same old snail's paced network with a new shell," Tom Mockridge, Virgin Media's CEO, said in a statement. "Call it what you like but it's still BT, four times slower than Virgin Media."
Pension Deficit
One issue of contention between BT and regulators was that transferring Openreach employees and assets into a new company would put the former monopoly's pension system at risk. A revamped government guarantee of BT's 48.9 billion-pound ($59.4 billion) pension could come as soon as this month, people familiar with the matter told Bloomberg News last week. At Dec. 31, the pension had a deficit of 9.2 billion pounds after adjustment for taxes. The assets will stay with the parent company, which protects BT's pension covenant.
Patterson said he's optimistic the U.K. government will follow through with a change to the company's pension guarantee, which could take a few months.
While Openreach's investment plan is the same for now, the agreement allows Openreach to consult with the wider industry on how to invest, including outside commitments that could benefit all of Openreach or only one communications provider, subject to further discussion, Patterson said. BT has emerged from the talks with a good and even strengthened relationship with Ofcom, Patterson said.
BT shares advanced as much as 5.7 percent in London, the most since June 2016. They were up 4.2 percent to 344 pence at 10:12 a.m. local time.
The agreement with Ofcom is a near-term positive for BT as it avoids a company breakup, but negative in the long run because it eliminates BT's brand from the best fixed-line network in the U.K., Stephane Beyazian, an analyst with Raymond James in London, wrote in a note. He said it also allows competitors to lobby Openreach confidentially on network strategy, and product prices, potentially delaying BT's strategy.
BT stock is down 23 percent over the past year as Patterson faces battles on multiple fronts: The accounting scandal in Italy and revenue declines among its public-sector and international corporate businesses led to writedowns and profit warning in January.
A new chairman, Jan du Plessis, will take over as Patterson's boss on Nov. 1, after joining the board on June 1.
— With assistance by Joe Mayes
Before it's here, it's on the Bloomberg Terminal.
LEARN MORE