Brexit Bulletin: A Taxing Week
Tory tax revolt is a reminder to May that her Brexit allies could quickly turn.
By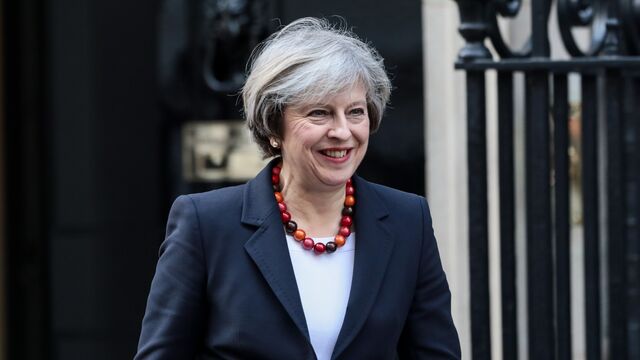 Sign up to receive the Brexit Bulletin in your inbox, and follow @Brexit on Twitter.
Theresa May's new tax troubles reveal how fickle members of her Conservative Party can be.
As she is forced to defend this week's decision to raise taxes on the self-employed, the growing revolt will remind the prime minister of the traditional willingness of Tory lawmakers to turn difficult over issues in which they have an ideological or electoral stake, reports Rob Hutton.

The lesson of the week is that the Tory awkward squad is only pacified so long as they agree with what the premier is doing. And it's this dynamic that has led May to pursue a clean break with the EU, appeasing those lawmakers who spent a lifetime criticizing the bloc.
But the complaints about the budget suggest May won less goodwill than she'd thought. Among the critics are some prominent campaigners for Brexit: former Justice Minister Dominic Raab and former Pensions Secretary Iain Duncan Smith. Rob Ford, professor of politics at Manchester University, said:
"If they get this stroppy about a minor increase in tax for self-employed people, imagine how stroppy they're going to get when Angela Merkel demands something significant in the Brexit negotiations. The only reason they've been behaving is that up till now she's given them essentially everything they want."
Brussels Spouts
May spent yesterday at a Brussels summit being reminded of the harsh truth of the looming Brexit negotiations.
In a memo obtained by Bloomberg News, German Chancellor Merkel's government told staff its chief aim in the talks is to stop the U.K. from dividing the EU, stressing that the benefits of European integration during the past seven decades must be safeguarded.
The document dashes hopes within the U.K. government that Germany would prove an ally in the talks given the amount it exports to Britain. "Brexit will mean less cooperation and economic integration compared to EU membership," and the U.K will be treated as a "third country," it said.
Germany argued the details of Britain's exit will have to be settled before discussions turn to a future relationship, another disappointment to May who wants the conversations to be carried out in concert.

In another blow for the premier, Danish Foreign Minister Anders Samuelsen said in an interview in Brussels that it could take more than a decade to arrange a new trade accord. Such a long timeframe will unnerve May, who talks of sealing a deal within two years.
"The question is, can we do it in two years or will we take 15 years? We don't know," said Samuelson.
May said she's "optimistic that we can achieve a good and comprehensive free-trade deal" and Brexit Secretary David Davis said Britain is seeking an arrangement "with the minimum possible barriers, the minimum possible impediment."
Meanwhile, Irish Prime Minister Enda Kenny, who described himself as a "friend" of the U.K., warned that May would face a severance bill. Foreign Secretary Boris Johnson told the BBC that it wouldn't be "reasonable" to expect the U.K. to pay a "vast" amount.
For all the likely cut and thrust, Luxembourg Prime Minister Xavier Bettel told the Independent that Britain could reverse its withdrawal if it decides to tell Europe "we love you."
To learn more of what comes after May triggers Brexit, check out Bloomberg's new QuickTake Q&A.
The City Is Still Guessing
JPMorgan Chief Executive Officer Jamie Dimon says he's still "guessing at this point" over how many jobs and services to shift from London.
"On day one, JPMorgan has to be able to conduct business with our clients in Europe," he said in an interview on Thursday with Bloomberg Television's Francine Lacqua. "What nobody wants is to disrupt financial markets on day one so you can't finance companies. That could be devastating."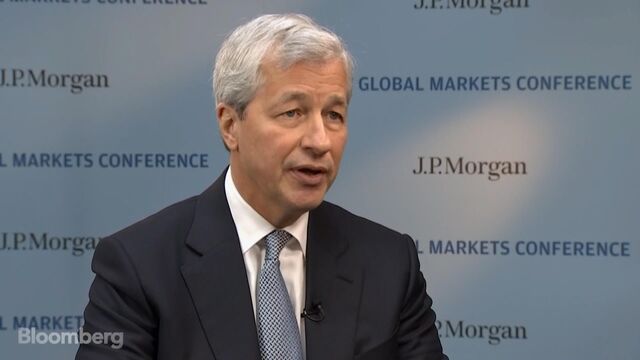 May this week met with bosses from Morgan Stanley, Aberdeen Asset Management and HSBC to tell them she will seek to protect London's status as a global financial hub, Sky News reported.
Meanwhile Ireland's Kenny said in Brussels that a "substantial number of financial institutions or banks intend to move sections or sectors of their business out of London." Private equity firms looking to leave London are "tending to decide for Luxembourg," said Finance Minister Pierre Gramegna.
Brexit Bullets
EU law should be changed to ensure that the clearing and supervision of euro-denominated derivatives trades is controlled by EU institutions after Brexit, say lawmakers in the bloc's parliament
Norway sees "no benefits" from Brexit, says Frank Bakke-Jensen, its EU affairs minister
The EU should maintain access to financial services in London after Brexit, says Hans-Peter Friedrich, head of the Brexit working group in Merkel's Christian Democrat-led caucus
Scottish First Minister Nicola Sturgeon says another independence vote could take place next year
A third of payments companies responding to a survey by Saxo Payments said they are considering moving operations from the U.K.
On the Markets
The pound's tumble is proving too much for grocers Wm Morrison and Waitrose, which both said on Thursday that unwavering competition means they can't completely offset sterling's slide via price increases.
That's raising the prospect of a squeeze on profit margins even as prices accelerate.
"I'm seeing more price increases coming through to be discussed," Morrison's Chief Executive Officer David Potts said. "Some we try to hold off and some we try to reduce, but the industry can't defy gravity."
And Finally…
To those worrying about the future of British trade, New Zealand Trade Minister Todd McClay has some calming words. When the U.K. joined the European Economic Community in 1973 it robbed the Kiwis of preferential access to a country they sent about their half of its exports to.

They responded by seeking closer trade links with Asian nations and reducing tariff barriers, avenues likely to be pursued by Britain once outside of the EU.
"It was a very challenging period when the U.K. joined the common market," McClay told reporters in London on Thursday. "It turned out much better for us than people predicted at the time."
For more on Brexit follow Bloomberg on Twitter, Facebook and Instagram, and see our full coverage at Bloomberg.com