Brazil Inflation Surprise Firms Up Bets on Faster Rate Cuts
By
February inflation slowed more than forecast by all analysts

Planning minister said inflation may end 2017 below target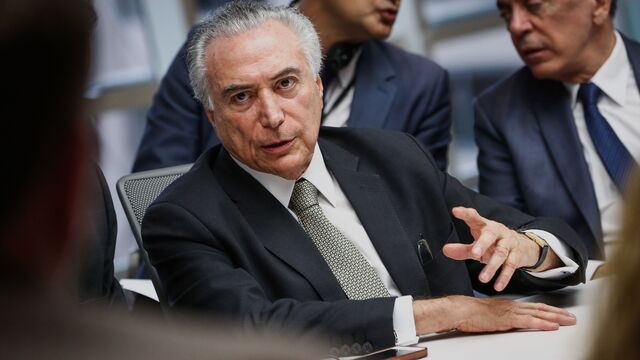 Brazil's inflation surprised analysts by slowing in February, prompting traders to increase wagers the central bank has room to accelerate monetary easing next month.
The benchmark IPCA index climbed 0.33 percent in February, below the median 0.43 percent forecast from 47 analysts surveyed by Bloomberg, whose lowest estimate was 0.36 percent. It was also the lowest reading for the month since 2000, the national statistics institute reported Friday. In the 12 months through February, consumer prices rose 4.76 percent, the slowest since September 2010.
Annual inflation in Latin America's largest economy has been slowing rapidly toward the 4.5 percent target as demand plummets. Gross domestic product data released this week showed Brazil's recession deepening in the fourth quarter, driven by drops in both investment and family spending. The market is betting the combination of recession and lower price increases will pave the way for the central bank, led by Ilan Goldfajn, to take bolder action.
"This is going to generate pressure on the central bank to cut the Selic in a stronger way," Andre Perfeito, chief economist at Gradual Investimentos, said regarding the benchmark interest rate. "It seems like it will motivate two 100-basis-point cuts. It's good news."

Food and beverage prices fell 0.45 percent, after a 0.35 percent jump the prior month, the statistics institute said. That was the biggest drop since 2010. The cost of apparel fell 0.13 percent, and transport price increases eased to 0.24 percent.
Inflation estimates for 2017 have declined for the past year, and economists surveyed by the central bank expect the IPCA index to finish the year at 4.36 percent. Brazil's interim planning and budget minister Dyogo Oliveira corroborated those expectations at a Bloomberg event in Brasilia on Wednesday, saying inflation may end the year below target.
The favorable shock in inflation, prompted by the drop in food prices, will "really drive expectations down," said Roberto Padovani, chief economist at Banco Votorantim SA.

Swap rates on the contract maturing in January 2019, a gauge of future interest rate moves, fell 14 basis points to 9.66 percent at 9:51 a.m. local time. Brazil's real strengthened 0.46 percent to 3.1784 per U.S. dollar.
The central bank in February reduced the benchmark Selic rate by 75 basis points for the second straight meeting, to 12.25 percent, following two quarter-point cuts last year. Annual inflation may fall below policy makers' target as soon as March, which will allow the central bank to ease more, according to Daniel Weeks, chief economist at Garde Asset Management.
"Brazil's disinflation is widely disseminated," Weeks said by phone. "It's clear that it's not just food and beverages. There's no reason why the central bank can't accelerate the pace of rate cuts."