BHP-Vale Mine Restart Threatened by Request to Protect Forest
By and
Blocking licence for Alegria Sul pit could impede restart

Samarco is behind on about $4 billion in debt obligations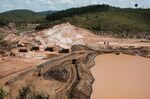 The Samarco iron mine in Brazil is facing one more obstacle to restarting operations later this year after a court accepted a request by prosecutors to protect a forested area that encompasses a pit the venture had planned to use for storing waste.
The BHP Billiton Ltd.-Vale SA joint venture had hoped to resume operations later this year after a 2015 dam collapse that killed as many as 19 people. The company's ability to service about $4 billion in debt obligations hinges on the restart.
A court issued a temporary ban on "issuing licenses or permits for environmental intervention" in a section of the Uaimii forest, according to a document posted on the Minas Gerais state judiciary's website dated Jan. 11. In a letter sent last month, state prosecutor Lyssandro Norton Siqueira informed the regulator in charge of granting licenses to Samarco of the court's decision.
Siqueira didn't respond when asked to confirm that the court's decision will prevent the granting of licenses to Samarco.
The Alegria Sul pit that Samarco had planned to use for waste storage, in lieu of building another tailings dam, was meant to be a quick solution that would allow the company to restart at partial capacity.
The company maintains its expectation of resuming operations in the second half of this year, it said when asked to comment on the ruling.
For several months, state regulators have been evaluating Samarco's proposed plan to begin mining again. The company was at one point the second largest iron ore pellet mine in the world, generating more than 2 billion reais in annual profit.