Boris Johnson Says Vast Brexit Bill Wouldn't Be Reasonable
By and
Foreign secretary invokes Thatcher's 1980s EU budget rebate

Austrian chancellor Kern put EU demand at 60 billion euros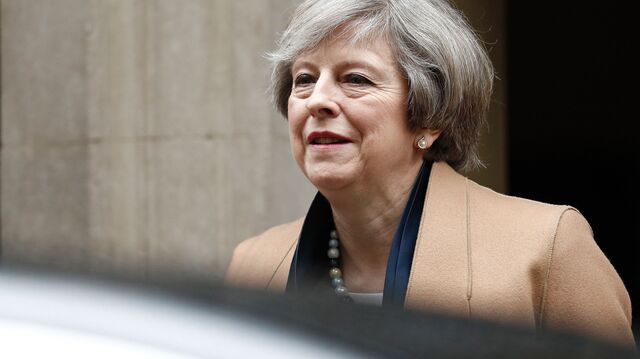 U.K. Foreign Secretary Boris Johnson said it wouldn't be "reasonable" for the European Union to expect Britain to accept a "vast" bill to settle its liabilities after Brexit, suggesting his government would fight any demand for payment.
Johnson's comments, aired Thursday night in a BBC Television program, come after Austrian Chancellor Christian Kern last month became the first EU leader to put a value on the size of the expected bill, mentioning a sum of 60 billion euros ($63 billion) in an interview with Bloomberg Television. 
"It is not reasonable, I don't think for the U.K. having left the EU, to continue to make vast budget payments," Johnson, who campaigned for Brexit, told the BBC when asked if the U.K. would accept a bill for about 50 billion pounds ($60 billion), according to a partial transcript. "I think everybody understands that and that's the reality."
Similar estimates about the bill to be presented to Britain by the EU's chief negotiator, Michel Barnier, had been circulating for months before Kern's confirmation. Haggling over the amount to be paid looks set to mark a testy start to the Brexit negotiations once Prime Minister Theresa May invokes Article 50 of the EU's Lisbon Treaty by the end of this month.
"Boris is clear and I am clear that when people voted to leave, they voted for us in the future not paying huge sums of money into the European Union every year," May told reporters at an EU summit in Brussels. "When we leave the EU that will be the case."
While the bill allowing her to trigger Brexit has yet to pass through Parliament, following opposition in the upper house, May has already warned she's prepared to walk away from negotiations should the EU offer Britain a "bad deal." Even so, Chancellor of the Exchequer Philip Hammond said on Sunday Britain would abide by its international obligations. 
'Money Back'
In the BBC program, Johnson invoked an "illustrious precedent" in the shape of Margaret Thatcher's success in obtaining an EU budget rebate in the 1980s. "Mrs. Thatcher said she wanted her money back and I think that is exactly what we will get."
Irish Prime Minister Enda Kenny, who described himself as a "friend" of the U.K., warned that May would have to face up to paying for Britain's previous commitments to the EU.
"When you sign on for contracts you commit yourself to participation and obviously the extent of that level of money will be determined," Kenny told reporters at the EU summit in Brussels. "Barnier is the lead negotiator for the European Union and Britain will have a say. That, no more than any other problem, will have to be faced, and will have to be dealt with and will be dealt with."
Brexit Secretary David Davis told the BBC Britain has to prepare for all outcomes in the coming talks, though he remains optimistic an agreement will be reached.
'Plan A'
"It's our responsibility as a government to make preparations for all possible outcomes," Davis said. "We're going in to a negotiation, we don't control the whole thing. By far and away the highest probability is plan A, or some variant of it, namely a comprehensive free-trade deal."
May told reporters she's "optimistic that we can achieve a good and comprehensive free-trade deal with the European Union," arguing that "it's not just about what's in the U.K.'s interests, it's also about what is in the interests of the European Union."
— With assistance by Ian Wishart
Before it's here, it's on the Bloomberg Terminal.
LEARN MORE