The Lawsuits Keep Coming for Johnson & Johnson
After six of the biggest judgments in 2016, this year could be worse.
By and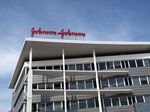 Johnson & Johnson was hit with six of the seven largest product-defect verdicts of 2016, and 2017 could also wind up costing the company hundreds of millions of dollars, if not more.
The company is facing at least 17 trials in state and federal courts this year in cases blaming five J&J products for injuries and death. They follow trial losses on some of those products, including a $1 billion verdict against the company in December over hip implants and an earlier $72 million verdict over claims its talcum powder causes ovarian cancer.

While litigation is routine for drugmakers, including Johnson & Johnson—the total number of pending claims against the company is 100,000 and growing—the pileup of bad verdicts is rare. With $42 billion of cash on hand, analysts aren't itching to change their buy ratings, says Jason McGorman, an analyst with Bloomberg Intelligence, but the mushrooming caseload combined with product recalls and little innovation have affected growth and earnings. "I think that has been part of what has weighed on J&J's shares the past few years," McGorman says. Jeff Jonas, a portfolio manager at Gabelli Funds LLC, says the verdicts have also caused some reputational damage.
J&J disputes the claims in the suits and is fighting them, says spokeswoman Samantha Gilham. The coming cases include the first trials, starting in April, about claims that blood thinner Xarelto causes uncontrolled bleeding. In Philadelphia state court, at least three trials are set over allegations that the antipsychotic drug Risperdal causes boys to develop female breasts.
Two hip-implant verdicts last year, the aforementioned $1 billion suit and another for $500 million, were reduced by judges after trial. J&J is appealing those verdicts as well as the others of 2016. "We believe we have strong grounds for reversal," Gilham says.
The real danger isn't the losses or even the risk of this year's trials, legal experts say. Rather, it's that more bad verdicts could encourage others to file, raising the costs of fighting and settling.
Some of the trials will serve as test cases for what the company might have to pay. In December, J&J lost an appeal to throw out an $11.1 million award to a South Dakota woman who sued over the pain caused by the company's vaginal mesh implant, used to strengthen weak pelvic muscles. Almost 55,000 claims over the mesh are pending in courts across the U.S. New cases over the various products at issue in all the trials are continually being filed, J&J said in a securities filing on Feb. 27.
Winning could lead plaintiffs to drop their cases and discourage new filings, while a continued losing streak would put J&J at risk for even bigger losses. "The initial strategy should always be to litigate vigorously, not give an inch or settle prematurely," says Anthony Sabino, a law professor at St. John's University.
 
—With Joel Rosenblatt
The bottom line: Snowballing product-defect cases could lead to more big verdicts and encourage additional suits against J&J in 2017.
Before it's here, it's on the Bloomberg Terminal.
LEARN MORE