Seven Charts That Show the Search for Yield Is Alive and Well
By and
Risk premia on corporate credit, emerging-market debt falling

Federal Reserve rate hike can't hold back spread compression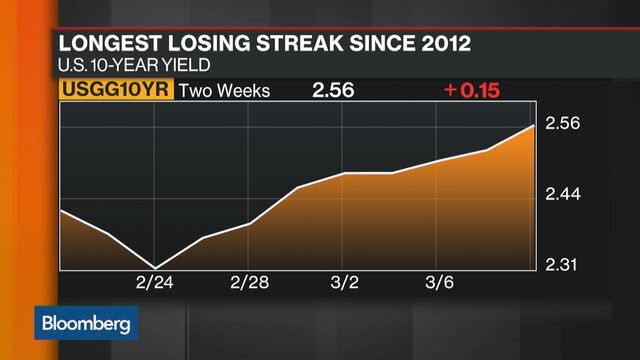 How low can you go?
The extra compensation investors ask in return for buying riskier securities is drifting toward multi-year lows on assets including emerging-market debt, bonds sold by the weakest U.S. corporates, and even longer-dated U.S. Treasuries.
These yields are falling despite a torrent of headwinds including an interest-rate hike from the Federal Reserve that looks all but certain, looming European elections that threaten the future of the single currency union, and latent political turmoil in Asia. That's prompted analysts from banks including Goldman Sachs Group Inc. and Citigroup Inc. to question whether the valuations are sustainable.
The reason for healthy investor appetite so far? Signs of a healing global economy and expectations of fiscal stimulus under U.S. President Donald Trump have fueled optimism, at the same time as central banks in Europe and Japan continue to pump trillions into their economies. Meanwhile, recovering commodity prices and stabilizing debt metrics in China have kept prices buoyant in developing markets.
"While the global economy is undoubtedly improving, we think market strength owes more to lingering global monetary and credit stimulus than to fundamentals," Citi strategist Matt King wrote in a report published last week.
Here's a tour of risk premia around the world.

Investors are accepting less yield from U.S. companies with the weakest balance sheets, pushing the option-adjusted spread on the Bloomberg Barclays U.S. Corporate High-Yield to its lowest since 2014. At 368 basis points, it's not far from the 275 basis points post-2000s low seen in 2006, before the U.S. credit bubble popped.
Stretched valuations in junk-rated U.S. corporate debt prompted Goldman analysts led by Bridget Bartlett to warn this week: "Overall, the combination of tight valuations in high-yield coupled with rising policy risk, and thus volatility, should fuel decompression ahead in the credit markets."

A similar dynamic is at play in Europe, with spreads on the region's junk-rated corporate debt drifting to 354 basis points -- the smallest premium over bunds since 2014, according to data compiled by Bloomberg. Ultra-low yields on the world's riskiest assets have prompted analysts including King's colleague at Citi, Hans Lorenzen, to ask whether "mediocre yield" is the "new high yield."

Overall, unabated demand for yield has helped push prices on corporate bonds to the highest levels since 2014 relative to U.S. Treasuries, and fueled a stampede by companies to borrow more. Corporate spreads sit at 109 basis points -- just 10 basis points higher than a post-financial crisis record of 96 basis points set in 2014. Spreads on securitized bundles of corporate credit such as leveraged loans are also plumbing fresh lows, according to Morgan Stanley.

Emerging-market assets, meanwhile, have largely defied the prospect of rising rates and trade protectionism under President Trump, with the premium investors demand for lending to developing countries instead of the U.S. government also shrinking to less than 300 basis points for the first time since 2014.

Even in the government bond market, where yields on benchmark 10-year U.S. Treasuries have recently reached 2.58 percent, investors are no longer demanding extra compensation to own the longer-dated debt in place of shorter-term securities. That's shrinking a spread known as the term premium.

Still-buoyant demand for debt has combined with animal spirits to help fuel stock markets, with major indexes including the S&P 500 reaching an all-time high earlier this month. One measure of the equity risk premium -- which gauges the expensiveness of stocks relative to government bonds -- has surged to its highest since the 2008 financial crisis.

Even the phrase "search for yield" is alive and well, with a monthly count of news stories that include the term showing a resurgence in 2016. While investors' demand for yield in an era of low interest rates is far from ailing, whether it proves healthy for markets overall remains to be seen.
Before it's here, it's on the Bloomberg Terminal.
LEARN MORE