Tusk Re-Elected as EU Council Chief in Face of Polish Opposition
By and
EU leaders voted on council president at summit in Brussels

Poland sought to derail Tusk's second term for new candidate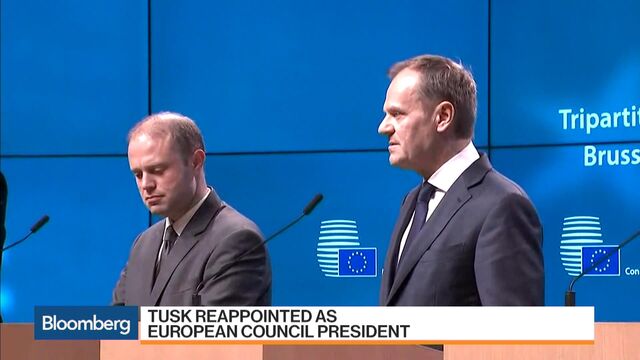 European Union leaders re-elected Donald Tusk as European Council president despite the Poland's attempt to derail the former Polish prime minister's bid for a second term.
Twenty-seven of the 28 EU leaders meeting in Brussels on Thursday voted for Tusk, according to an EU government official, who asked not to be identified because the proceedings were private. The current Polish government was the only one to vote against his bid for another 2 1/2 years as the coordinator of EU policy on behalf of the bloc's members.
Tusk said on Twitter that he was grateful for the trust and positive assessment by the council. "I will do my best to make the EU better," he wrote.

Poland kicked up a fuss over Tusk, the former leader of the current opposition Civic Platform party, saying he's part of a Brussels establishment that has unfairly accused the government of eroding democratic standards. Poland threatened to not sign off on the summit's decisions if its own candidate, who hasn't been publicly supported by any other nation, isn't allowed to present his views, Foreign Minister Witold Waszczykowski said.
"We won't allow the head of the European Council to be picked without the backing of his home country," Polish Premier Beata Szydlo told reporters earlier in the day. "This is about principles." She did not specify what actions Poland planned to take at the summit.
EU leaders from German Chancellor Angela Merkel to French President Francois Hollande and Maltese Prime Minister Joseph Muscat pledged their backing for Tusk on their way into the summit.
"Donald Tusk should stay; he's an outstanding man and president," Dutch Prime Minister Mark Rutte said before Tusk was re-elected. "The president of the European Council is appointed by an ordinary majority and it is my assessment that the majority is very large."
While technically the president can be elected without unanimity of the 28 leaders, the EU prefers to avoid a vote and approve the appointment by consensus. Manfred Weber, the leader of the Christian Democrats in the European Parliament, said that Poland is "totally isolated" since 26 EU members will support Tusk, with the U.K. abstaining because it plans to leave the bloc.
"We have a better candidate, and he should be guaranteed the possibility to present himself," Waszczykowski told TVN24 hours before the summit. "There's no need to pick in a hurry. We will do everything so that there's no vote. We will be making clear that the summit is in danger."
Law & Justice
Poland's Law & Justice party won a general election in 2015 after promising to stand up for national interests and ditch the "European mainstream" policies pursued by its predecessor, Tusk's former party. The EU's executive has launched unprecedented procedures to try to force the government in Warsaw to adhere to the bloc's democratic standards after Poland failed to publish the rulings of the country's Constitutional Tribunal it didn't agree with.
Click here to read more on Poland's turn toward populism.
Poland named EU lawmaker and former diplomat Jacek Saryusz-Wolski on Saturday as its candidate for the post of EU president but wasn't able to convince anyone else to back him. Tusk, whose term runs out in May, was actively supported by the bloc's paymaster, Germany. Merkel told the German parliament on Thursday that his re-election would help stabilize the bloc, which has been strained by the economic and migrant crisis as well as Brexit.
Poland alone couldn't prevent Tusk from being chosen as it doesn't command enough votes to form a blocking minority. Waszczykowski said Saryusz-Wolski hadn't been summoned to the summit, which meant that he couldn't present Poland's viewpoint.
Austrian Chancellor Christian Kern said there was a need for Tusk's reappointment to be "pushed through quickly" or risk "plunging Europe into a senseless crisis."
"If most other countries have reached a broad agreement, it's really not a good occasion for Poland to sow disagreement at the level of the European Union," Kern told reporters as he arrived for the summit. 
— With assistance by Adrian Krajewski, Maciej Martewicz, Michael Winfrey, Balazs Penz, Ian Wishart, Jonathan Stearns, Nikos Chrysoloras, Marine Strauss, Chiara Albanese, and Tim Ross
Before it's here, it's on the Bloomberg Terminal.
LEARN MORE