Nigerian President Due Home After 7-Week Sick Leave in U.K.
By
Buhari extended vacation abroad on doctors' recommendations

Oil-producing African economy has slipped into a recession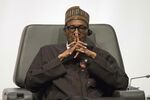 Nigerian President Muhammadu Buhari will return to the country on Friday after spending more than seven weeks on sick leave abroad, according to State House.
The leader of one of Africa's biggest oil producers left on Jan. 19 for a vacation and "routine" medical checkup in the U.K., according to the emailed statement from his office. Buhari extended the holiday on the recommendation by doctors to get further tests and rest.
Buhari, 74, has been facing growing opposition in a nation suffering an economic recession, amid the oil slump, and an Islamic insurgency in the nation's northeast that he's failed to quell.
Buhari's absence has heightened concerns about government paralysis. The government has rejected speculation that the leader is facing any serious illness.
Before it's here, it's on the Bloomberg Terminal.
LEARN MORE