Modi Has Edge in High-Stakes Uttar Pradesh Vote, Exit Polls Show
By and
Some predict possibility of a hung assembly in Uttar Pradesh

Most say BJP to win maximum seats, but fall short of majority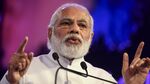 Indian Prime Minister Narendra Modi's attempt to grab power in a key state hangs in the balance two days before final results are revealed in an election that's widely viewed as a referendum on his leadership.
Exit poll results Thursday were indecisive for Uttar Pradesh, the country's most populous and politically crucial state. Four of the six polls predicted Modi's Bharatiya Janata Party will emerge the single largest party but may fall short of gaining the 202 seats need to govern in its own right in the 403-member assembly.
Two other polls, including the one that forecast Modi winning a majority in the 2014 national elections, expect Modi's party to sweep to power in a decisive victory.
The Samajwadi Party-Congress alliance of the state's current chief minister, Akhilesh Yadav, is forecast to be the second largest bloc in all polls. The winner will emerge when ballots are counted on Saturday.
Read more: India State Vote Holds Key to Modi's Future: QuickTake Q&A
Measure of Modi
The elections -- held across five states -- are seen as measure of Modi's success half-way through his term as prime minister and will test the acceptance of his shock decision on Nov. 8 to remove high-value notes from circulation in an attempt to target corruption. A strong win will also help his bid for a second term in the national poll in 2019.
"There's been a lot of talk about the Modi wave having receded -- and yet Modi continues to be a popular figure, even if he no longer has the walking-on-water status he enjoyed in the first few months after taking office," said Michael Kugelman, senior associate for South Asia at the Washington-based Woodrow Wilson Center.
If Modi's group falls short of a majority, it could spur a period of political bargaining to establish a government in one of India's poorest states. At stake for Modi is his economic program and his ability to push difficult legislation such as land and labor reforms through the parliament.
"Even with a loss, BJP would still be highly competitive there in 2019's national polls," said Milan Vaishnav, a senior fellow in the South Asia Program at the Carnegie Endowment for International Peace. "In recent years, voters have shown a distinct trend toward voting differentially in state versus national elections."
Crucial State
With a population of 204 million -- about the size of Brazil -- Uttar Pradesh sends more lawmakers than any other state to both houses of Parliament, and it's produced eight of India's 15 prime ministers. 
With such high stakes, Modi has invested heavily in campaigning in the highly caste-ridden state, holding about two dozen rallies and roadshows to highlight his policies on farmers and the poor.
The BJP is predicted to show impressive results in three of the other four states undergoing elections. Most exit polls predicted a BJP victory in Uttarakhand. In Goa, the BJP is likely to retain power, while in Manipur, it is unclear whether the Hindu-nationalist party can form government, polls said. 
In Punjab, the BJP and its alliance partner, Shiromani Akali Dal, will face a drubbing, while Congress and Arvind Kejriwal's Aam Aadmi Party could be neck-and-neck, most of the exit polls predicted.
A BJP victory in Uttar Pradesh will strengthen Modi's national standing "in light of an opposition that is in disarray," said Shailesh Kumar, a senior Asia analyst with the New York-based political risk firm Eurasia Group. "A win will prompt him to focus even more on corruption and governance as he gears up for 2019."
Before it's here, it's on the Bloomberg Terminal.
LEARN MORE